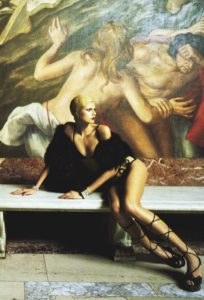 Iron Butterflies fashion editorial, photo Steven Meisel for Vogue Italia, June 2004
At Tranoi last year, Tonatto Profumi impressed me with its beautifully constructed fragrances (Ápeiron, the house's most recent fragrance, was one of our top new perfumes at Tranoi). Each has its own distinctive voice yet is harmonious with its sisters, marked by a shared gracefulness and thoughtful composition. With their crystalline elegance and large proportion of natural essences, not one smells of artifice. Tonatto's particular blend of ebullience and restraint gives their brand of classical Italian perfumery a modern panache.
The Supper at Emmaus, Caravaggio, 1601, National Gallery, London
Begun in 2000, the brand has always focused on craftsmanship and the intersection of perfume and art. A fascinating side note is that the company has galleries in Rome and Turin housing special olfactory installations that instill scent into paintings, sculptures and even moving images (this year, Tonatto created "an olfactory portrait" for Caravaggio's The Supper at Emmaus).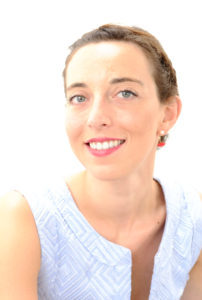 Creative Director Diletta Tonatto
Today, Tonatto is led by Creative Director Diletta Tonatto. Under Dilleta's leadership, Tonatto continues to turn out polished yet accessible fragrances of consistently high quality. Here are three that sparkle on even the steamiest of days.
Viburnum (2016, Creative Director Diletta Tonatto)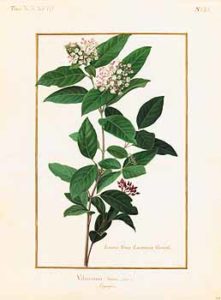 Viburnum, illustration from collection of Muséum National d'Histoire Naturelle, Paris
Viburnum, whose puffy white flowers hang like snowfall, takes its inspiration from Giovanni Pascoli's poem Night Blooming Jasmine. The perfume centers on the creamy sweetness of night blooming jasmine. It opens on a cloud of radiant jasmine, lactonic and dreamy, cushioned with a touch of dusty violet and metallic iris. A sly, juicy strawberry peeks in as Viburnum warms on the skin, adding a lighthearted aspect. Then, Viburnum takes a sexy turn, as carnation comes forward, adding a hint of clove spice, rounded out with the fleshy aroma of tuberose.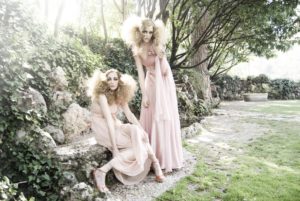 Essence of Flowers, photo by Ale Megale for Wow Berlin, Spring- Summer 2013 ©
As with so many other Tonatto perfumes, the supporting notes are seamless, and are used to add dimension and substance rather than to eclipse the star. Viburnum is very much jasmine-centric, yet its composition is so well-balanced by other flowers that it smells less like jasmine and more like a summer bouquet on a warm night. Wear this when you want to feel downright pretty. Notes: Night blooming jasmine, violet, iris and lily, strawberry, carnation, tuberose, vanilla and white musk.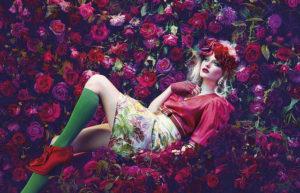 Photo from Alannah Hill Garden of Roses autumn/winter 2010 collection ©
Soglie (Laura Tonatto, 2013): You're in a dense thicket of purple-red roses, crushed woodland violet underfoot, jasmine petals scattering in the air every time the breeze blows. Suddenly, a sharp tang of bitter orange catches you off guard, like a glint of sunlight in your eyes. This is Soglie.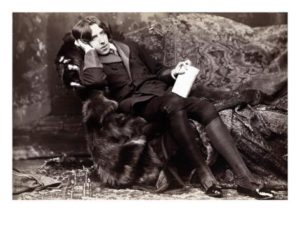 Oscar Wilde in Flamboyant Costume, portrait by Napoleon, 1882©
With its ping pong of saturated flowers against that zingy petitgrain, Soglie is perhaps the most off-beat in the Tonatto collection, and one of my favorites. It has a posh eccentricity I think would have appealed to Oscar Wilde. I'd put this on when you aim to raise a well-bred eyebrow or two. Notes: Petit grain, orange blossom, taif rose, jasmine, tuberose, lily of the valley, violet, gardenia, amber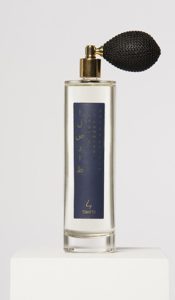 The Path ( Creative Director Diletta Tonnato 2015)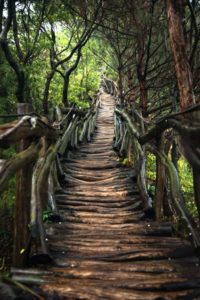 The hard path, wood stairs through the forest in Taichung, Taiwan, photo found on Pinterest via Google search
The Path is designed as an intimate, almost spiritual scent, taking a concept of walking and being grounded and translating it into fragrance. With its sole listed ingredient of oud, it takes a quite different route from the bevy of floral beauties, sparkly citrus and classy fougères that abound in the Tonatto line. However, this oud is multidimensional; dry not bitter, the opening bringing aromas of old leather, creamy sandalwood, spice and pipe smoke.
A horseman, Andalucía, Spain, photo found on Pinterest via Google search
Path is an apt name – its development is like tracing a rider through a woodland trail on an arid day; the warm smells of worn saddle leather, tobacco in pouch, the slight peppery-cumin smell of human sweat. In the middle stages, a deliciously skanky note slithers in, bringing a sexy touch of animal. Though listed as a masculine scent, I find it genderless. If you like your ouds straight up but with a twist, The Path is right up your alley.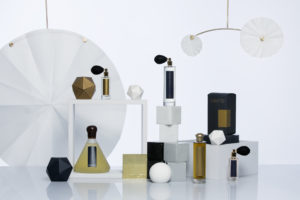 Photo via Tonnato Profumi
With their emphasis on top-quality ingredients and timeless sophistication, Tonatto fragrances are a lovely representation of modern Italian perfumery: beautifully made, artistic in conception and eminently wearable. They deserve a wide audience.
Disclaimer: Samples provided by Tonatto Profumi – many thanks. My opinions are my own.
— Lauryn Beer, Senior Editor

Thanks to the generosity of Diletta Tonatto and Tonatto Profumi, we have a 30ml vaporisateur vintage to give to one registered reader in the US, Canada or Europe. Please be sure to register or your comment will not count. To be eligible, please tell us what appeals to you about Soglie, The Path and/or Viburnum based on Lauryn's review, where you live and which you would choose to win. Draw ends 7/29/17.
We announce the winners only on site and on our Facebook page, so like Cafleurebon on Facebook and Instagram and use our RSS Feed… or your dream prize will be just spilled perfume.