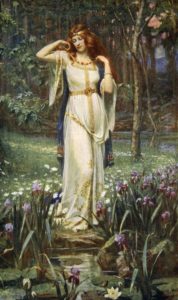 Freyja and the Necklace by James Doyle Penrose, 1890
Freyja, in Norse mythology, is a goddess supreme, the deity of beauty, sex, earthly delights and the heavenly afterlife. Driving around the heavens in her chariot pulled by cats, Freyja may seem something of a goodtime gal. But this lady can pull out the badass when she needs to: she is a seer and shaman, a shapeshifter who can one up the trickster Loki. In Tonatto Profumi's Freyja perfume, the goddess has found her calling card scent: Freyja perfume is unpredictable, sensual, spiritual and alluringly addictive.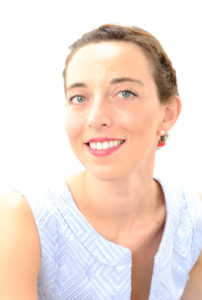 Diletta Tonatto
Creative Director and nose Diletta Tonatto explains Freyja's raison d'etre: "I wanted to play a little game of contrast …to unveil the authentic from the mask, the trickster. I think that sense of smell can connect us with authenticity in this globalized world, and allows to unmask the trickster".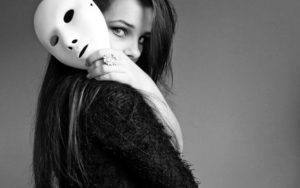 Girl with mask, stock photo
The fact that fragrance interacts with the skin and thus is always unique leads me to argue against the platonic vision of perfumes as sophistic masks. This is what I have been exploring and studying whilst making Tonatto Freyja perfume."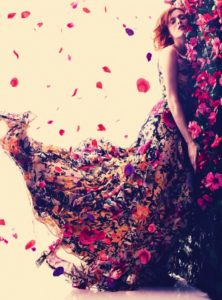 Karen Elson, photo by Tim Walker for Love magazine, Sept 2013©
In the style of its eponymous heroine, Freyja starts with a spiritual note and injects into it a wry playfulness. That green note is a trompe nez, turning out to be a single sly drop of particularly heady lavender mixed into the heart of the incense that somehow give the effect of galbanum. The green smokiness hangs around for quite some time. But just when you think Freyja will turn out to be a quirky incense, sister to Anatole Lebreton's wonderful Grimoire, she proves she has another side in store.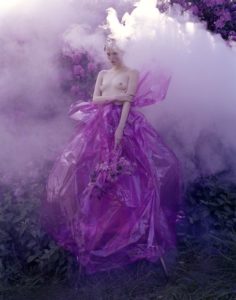 Karen Elson, photo by Alexi Lubomirski for Harper's Bazaar UK, Apr 2013©
Deep in the second stage of the perfume's trajectory, Freyja suddenly softens and warms, laying her smoky mask down on a sensual floral heart. A creamy, spicy carnation blossoms, a rather full-bodied vanilla just behind it. Although it is not listed in my notes, I could swear there is a bit of labdanum in here; a slightly dirty hint of sweetness. In the dry-down, the green incense, carnation, vanilla and amber coalesce, and Freyja perfume becomes delightfully snuggly and sensual. It is at this point that Freyja perfume seems most like a Tonatto perfume: the carnation is warm but restrained, the base of amber and patchouli so well melded that they do not announce their presence. The balance of the notes seems almost symmetrical. Almost.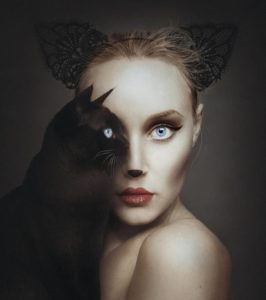 Human Animal, photo by Flora Borsi©
Fortunately, Freyja perfume never quite loses its idiosyncratic edge. With its bold opening, Freyja marks a departure from the serene elegance of the rest of the Tonatto line. But at the same time, it is not out of place. The noticeably high-quality ingredients and layered florals the brand is known for are here, as is Tonatto's painstaking craftsmanship. But they are stretched into new, oblique directions that show inventiveness and a willingness to take a few well-chosen risks. With its piney aspect and wafts of incense, Freyja is also perfect holiday fragrance. It is wearable, fun, and just quirky enough to feel like the signature scent of a rather frisky goddess.
Notes: Incense, lavender, amber, patchouli, vanilla, carnation
– Lauryn Beer, Senior Editor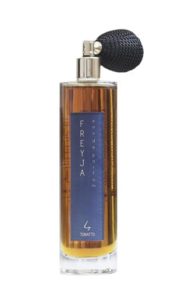 Tonatto Freyja Perfume
Thanks to the generosity of Diletta Tonatto and Tonatto Profumi, we have a 100 ml bottle of Freyja Perfume for 1 registered anywhere in the world. To be eligible, please leave a comment saying what appeals to you about Freyja based on Lauryn's review and where you live and which Norse god or goddess do you think could inspire a perfume. Draw closes 12/16/2017.
We announce the winners only on our website and on our Facebook page, so like Cafleurebon and use our site feed … or your dream prize will be just spilled perfume.