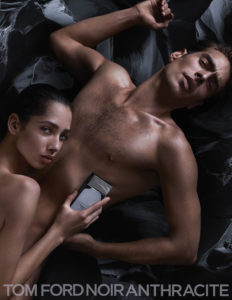 Tom Ford Noir Anthracite Mert & Marcus
A 60+ year old woman walks into Sephora and sprays the latest Tom Ford Noir Anthracite perfume. She begins to laugh, peers about stealthily, and realizes that there's no one, not a soul in the joint – who would understand her Eureka moment. They're way too young. And who cares, anyway?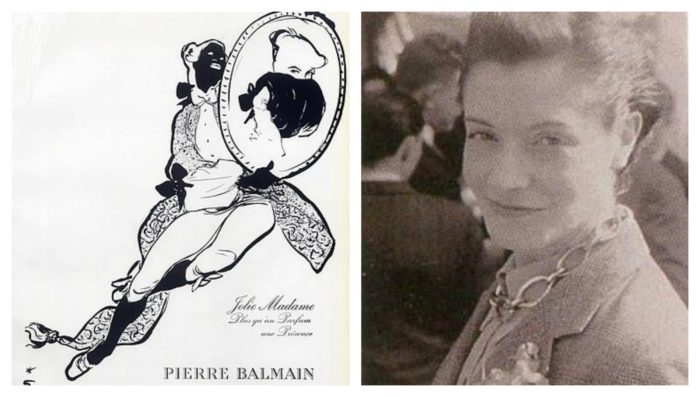 Vintage Balmain Jolie Madam ad and Germaine Cellier MC
I CARE. My nose screams Germaine Cellier. Yes indeed. Mme. Honorine Blanc, consciously or not – has tapped into the classics and the soul of Cellier in particular. Tom Ford Noir Anthracite Perfume, especially on my pale female flesh – smells as if, when all the smoldering spicy woods simmer down – indolic florals come out of hiding to wage merry mischief. No one hints at which ones they are; florals are barely mentioned in passing… I'm gobsmacked and wonder if something's gone awry with my snout, so I return to have samples made. I spray it on my wrists just to be certain. The drydown leaves little doubt: it's as if someone decided to create a classical Jolie Madame-Slightly-Snogging-Miss Balmain for Men with Woods. It's gorgeous, it's classified as a chypre – and it works. This is no flanker, it's an Original. Tom Ford Noir Anthracite has both a pedigree and a lineage. I want to sort this one out.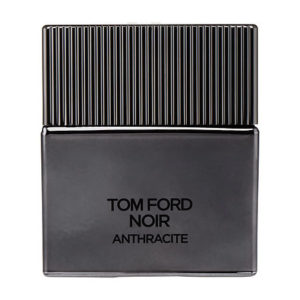 Tom Ford Anthracite Noir Perfume via Sephora.com
I decided to do a threefold test: Tom Ford Noir Anthracite Perfume, vintage Miss Balmain parfum, and vintage Jolie Madame parfum on various body parts so as not to confuse myself. Mme .Cellier infamously overdosed galbanum in her parfum Vent Vert de Balmain (1947); our Tom Ford Anthracite Noir Perfume possesses a hefty galbanum dose itself, but there the similarity ends. Miss Balmain (1967) vintage parfum waxes green with coriander and thujone (a menthol aromatic found in absinthe). The spiciness of carnation couples with barnyard narcissus and other florals ensconced upon a drily leathery base – some say 'ashtray'. Jolie Madame (1953) vintage parfum begins with verdant aromatics as well: artemisia and coriander garnished with bergamot and neroli. The star of its heartnotes is a vivid tuberose – that which I distinctly smell in Noir Anthracite. Both Balmains share that earthy dirty leathery base, much as their hearts contain jonquil, rose, jasmine and orris.
What does all this actually mean? What's the correlation?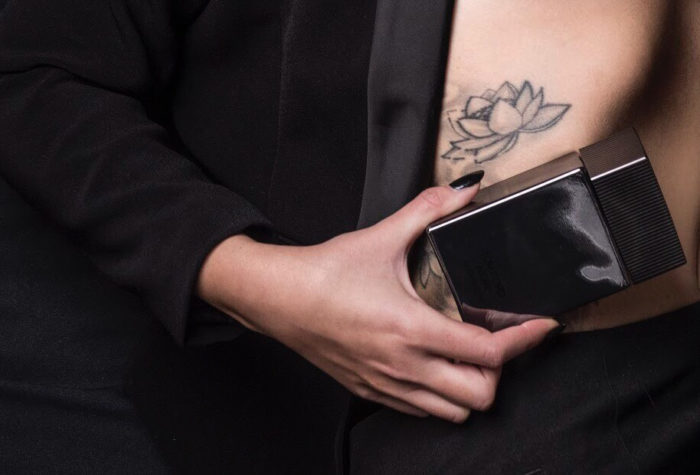 Tom Ford Noir Anthracite photography Miroslava Dermendjieva
The exquisite spicy verdancy and citrus topnotes in each fragrance create a perfect foil for a glorious floral coeur which sings to me foremost of indolic white blossoms. The varied woods in Tom Ford edge out Cellier's leathery, earthy bases – but it's primarily the smoky ever-present ringlets in Tom Ford Noir Anthracite Perfume which signal a blazing of its own trail. Tom Ford Noir Anthracite perfume stands on its own two feet upon a bewitching pedestal of quirky classicism.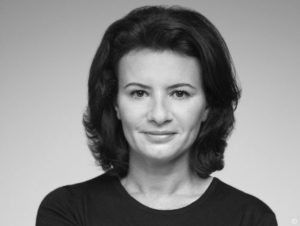 Honorine Blanc via Firmenich©
Mme. Blanc, this is a coup. You've set the new bar.
Notes: bergamot, Sichuan pepper, ginger, spices, galbanum, floral notes (tuberose?), sandalwood, cedarwood, ebony (Macassar wood).
Many thanks to the dear folks at my local Sephora (Boston's Prudential Center) for the samples! They're like another family. My nose is my own…
~ Ida Meister, Senior Editor
~ Art Direction by Michelyn Camen, Editor-in-Chief