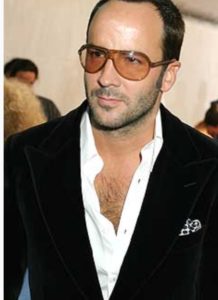 via Wiki Tom Ford in 2004
"Everyone has had an Estée Lauder moment." – Tom Ford
In 2004, after ten years as creative director at Gucci, transforming the company into a global fashion powerhouse, Tom Ford, made the move to focus his eclectic (and often controversial) talents and business savvy within the venerable Estée Lauder Companies. Tom Ford, iconic fashion and beauty designer (also film producer, director and photographer) secured not only his own eponymous brand in the Estée Lauder group but also infused the legendary Lauder beauty and fragrance line with his upbeat, contemporary image and signature sex appeal. One of the designer's first projects under the aegis of Estée Lauder was the reinvention of their groundbreaking 1953 blockbuster, Youth Dew.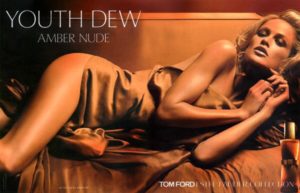 Ad for Youth Dew Amber Nude/Tom Ford 2005
With the creation of Tom Ford Youth Dew Amber Nude in 2005, Ford, collaborating with perfumer Christophe Laudamiel, married the dark, heavy and languorous chords and sonorities of the original Youth Dew to the melodious, spicy oriental DNA of ever-popular fragrance bombshells like Yves Saint Laurent Opium and Estée Lauder Cinnabar. Ford blessed the union with his tawny, suave and lush textures, colors and scents. The resulting Tom Ford Estee Lauder Amber Nude, now unfortunately discontinued, is for me one of the most sensual perfumes I own, an enticing "come hither" fragrance, beckoning the wearer, and those in close proximity, with warmth and pleasure, seducing and at the same time managing to stay within the bounds of propriety.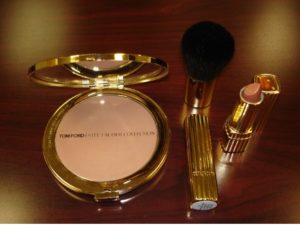 Photo via blogdorfgoodman.com
Let me begin with the packaging and presentation: Tom Ford Youth Dew Amber Nude and its ancillary beauty products, compacts and lipsticks, are pure Tom Ford, opulent, luxurious, and elegantly crafted in metals and ribbed glass. I love holding the bottles in my hands and wish I would have had the foresight to purchase the compacts when they were available. The perfume itself is unmistakably the daughter of Youth Dew. I detect the family resemblance in undertones of dense sweet balsam and dark patchouli. But Tom Ford Estee Lauder Youth Dew Amber Nude, the daughter, goes beyond anything the mother ever dared. From the very first breath, Amber Nude flaunts a golden shimmer of tanned and toasted spices, magnolia and the sharp bite of ginger and tart grapefruit. The juicy opening gradually oozes into a peppered dustiness, recalling bronzed limbs and warm beaches. This phase of the fragrance, while not opaque by any means, has a certain chalky quality, a vague, powdery appeal that is never too sweet or heavy. I sense the dry touch of ground Ceylon cinnamon served up with a taste of tannic black tea, plenty of amber and hints of chocolate and vanilla floating over the ever-present balsam.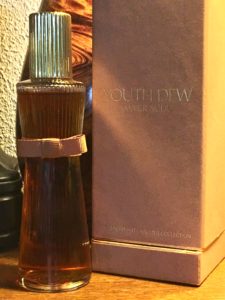 Gail's Bottle of Tom Ford Estée Lauder Youth Dew Amber Nude
I luxuriate in this blatant sensuality for at least two hours before the heart of Tom Ford Youth Dew Amber Nude manifests as a rich and mouthwatering fruit preserve of rose hips and black cherries, glazed with floral nuances of jasmine, ylang-ylang, wet, spicy carnation and a whisper of clove. The jammy center remains in place for several hours before beginning a slow dry down, progressing through transparent impressions of sandalwood and musk.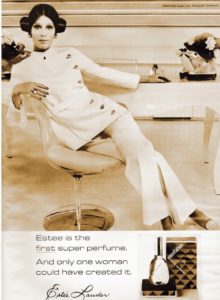 Estee Lauder Youth Dew Vintage Ad
Estee Lauder 1950s via Estee Lauder©
Tom Ford Youth Dew Amber Nude is a testament to the genius of the designer and the perfumer Christophe Laudamiel, the perfect example of how to bring new life to a classic beauty. I find Amber Nude a far more provocative fragrance than the original Youth Dew, but at once more discreet. The sillage is never overwhelming, the longevity epic. After twenty-four hours I am greeted by traces of the scent on clothing. When Tom Ford Amber Nude, the daughter, finally vanishes, the aromatic mother, the original and unforgettable Youth Dew, has the last word, reminding me of my own mother – and my first Estée Lauder moment. Notes: Ginger, magnolia, grapefruit, tea, spices, black rose, carnation, jasmine, ylang-ylang, patchouli, amber, vetiver, chocolate, sandalwood, balsam, musk and vanilla.
Disclaimer: The vintage bottles sampled for this review are from my own collection. My opinions are my own.
Gail Gross – Senior Editor
Art Director – Michelyn Camen, Editor in Chief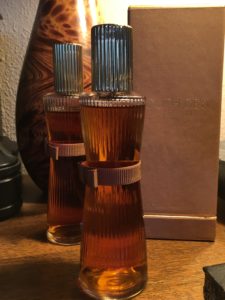 2005 Tom Ford Estée Lauder Youth Dew Amber Nude from Gail's collection
For today's draw Gail has one 5 ml decant from her collection of the discontinued Tom Ford Estée Lauder Youth Dew Amber Nude available to one registered reader in the US only (be sure to register or your comment will not count). To be eligible, tell us what appeals to you about Amber Nude, based on Gail's review. Also let us know if you have tried Youth Dew or Amber Nude, and if you have ever had your own Estée Lauder moment! Draw closes 1/10/2017
We announce the winners only on site and on our Facebook page, so Like Cafleurebon and use our RSS feed…or your dream prize will be just spilled perfume.