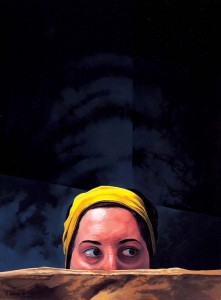 Peek-A-Boo Sunshine Painting by Steve Russel Black
"What has been will be, what has been done is what will be done; and there is nothing new under the sun." (Ecclesiastes 1:9). While I can't argue with wise king Solomon's worldview I find I have to tweak it a bit when it comes to fragrance. Perfumers have, for many years now, been creating scents that are, for wont of a better description, "extra terrestrial" – scents that can't be found anywhere on planet earth, except as aroma chemicals or as finished fragrances inside perfume bottles.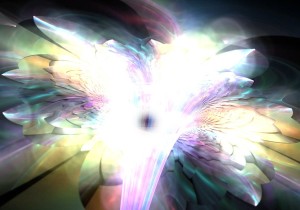 Fractal Flower 2 by Geannunziataaustin
Innovation in scent is blossoming everywhere, especially via the noses of a new generation of independent, artisan perfumers. While there has been a resurgence of classical styles and formulas, modified for contemporary tastes, there are also new and unexpected trends. I've been watching and sniffing for years and I've finally figured out what most perfumistas already know: More often than not, trends begin with the self expression, freedom and scent exploration of artisans, who operate with little or no restriction, expectations or preconceived notions. It is often the individual who takes the creative risks. Once proven, the new ideas are ripe for adoption, recycling, polishing and promotion by niche and designer alike, redefining the public perception of what is beautiful and fashionable.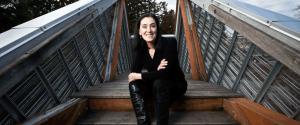 Dr. Ellen Covey photo courtesy Art & Olfaction
Masterpieces are born from this interplay of ideas, raw materials and inspiration. One of the most innovative perfumers in today's Indie scene is Ellen Covey of Olympic Orchids. Whether inspired by places in the heart, nature, art, poetry, inner or outer space, Ellen has a knack for putting her finger (nose) on a beautiful scent and bringing it to life as perfume. Today I am reviewing three of Ellen's fragrances that have expanded my notions of beauty and opened my mind (and nose) to new fragrant possibilities and I believe many of our readers may not have experienced.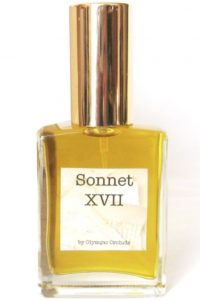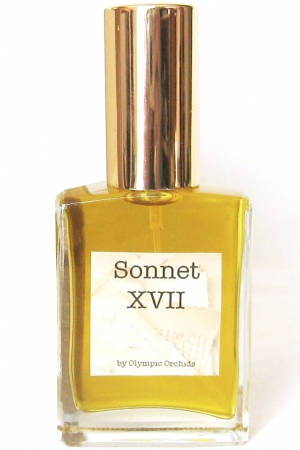 The perfume Sonnet XVII was conceived from an inspired conversation between Dr. Ellen Covey and CaFleureBon's Editor-in-Chief Michelyn Camen. Both the perfumer and the editor/artist love and appreciate the poetry of Pablo Neruda. The poem Sonnet XVII reads:
"I do not love you as if you were salt-rose, or topaz,
or the arrow of carnations the fire shoots off.
I love you as certain dark things are to be loved,
in secret, between the shadow and the soul".
I love you as the plant that never blooms
but carries in itself the light of hidden flowers;
thanks to your love a certain solid fragrance,
risen from the earth, lives darkly in my body…" – Pablo Neruda, One Hundred Love Sonnets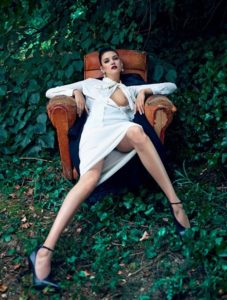 STYLIST FRANCE Diana Moldovan by Hong Jang Hyun.
Sonnet XVII is one of the most primal fragrances in my collection. The initial breath speaks to me of the rich, dark scents of newly turned earth and hay, a bit of barnyard but still fresh with a piney, coolness of dried leaves, needles and flowers from the winter garden. As the fragrance develops it ferments to a pungent, intoxicating sophisticated combination of warm champaca, lactonic osmanthus and resinous spikenard, infused with the mossy sweetness of ambergris. This heady phase lasts for several hours eventually drying to a veneer of powdery vanilla, ambergris and musk. Sonnet XVII is a complex, delicate and focused perfume with an intimate to moderate sillage that lasts for at least twelve hours on skin and forever on clothing. It is Dr.Covey's personal fragrance, one she wears more than any other in her line. Fragrance notes and accords include citron, cubeb, white champa, mastic spikenard (Nard), oakmoss, Haitian vetiver, Bourbon vanilla, woods and musks, with a touch of natural ambergris.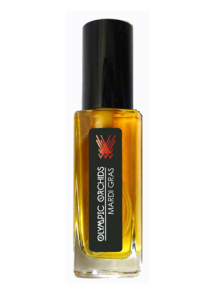 In 2011 Ellen Covey sent me a very unusual gift, two 15 ml prototypes of one of her best-selling fragrances. The bottles were labeled Version #1 and Version #3. For whatever reason these perfumes had not made the cut and had never been offered for sale. I fell in love with Version #1, a skanky, humid, outrageous lady, replete with synthetic orange blossoms and honey, raunchy but with good manners, reminding me a little bit of the New Orleans French Quarter. As far as I knew no one else was wearing this prototype dazzler and I began to consider #1 my personal, one of a kind fragrance.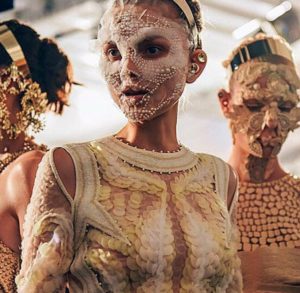 Givenchy S/Summer 2015
In 2014 Olympic Orchids (with a little prompting) reconsidered the possibilities of Version #1. Ellen toned down the slutty first impression with natural orange blossom and neroli, smoothed and reinforced the cistus with benzoin and tweaked the animalic dry down. I suggested a name and the new fragrance debuted in early 2015 as Mardi Gras – the same outrageous lady but this time presenting herself as refined southern belle. Now, behind the festive mask, there remain the same dark undercurrents that attracted me to #1, but in Mardi Gras the voodoo and hoodoo are partially disguised behind a polite, façade of natural, honeyed orange blossom and vanilla. Mardi Gras is a powerful, seductive perfume with amazing longevity, the sillage of a "parfum de puta" but with the deceptive "innocence" of a sultry southern beauty. Fragrance notes and accords include orange blossom, neroli, cistus, benzoin, vanilla, civet and special musk blend.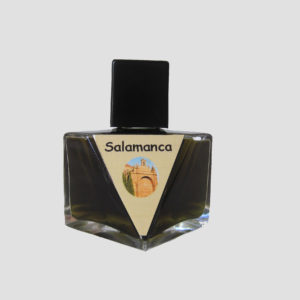 The perfume Salamanca was first created in 2012, inspired by Ellen's visit to the ancient Spanish university town of Salamanca, located between Madrid and the Portuguese border. Salamanca is one of Ellen's amazing "scents of place". Her olfactory memory is so extraordinary that she can retain the atmosphere and smells of places she has lived or visited and duplicate them for others to share as perfume.
Joan Miro Salamaca
The scent to Salamanca opens with a sweet and smoky accord, a bit like fire fueled with high clay content paper. There is a suggestion of oiled leather and the scent of dry earth, grass and anonymous wildflowers. As the fragrance develops the mitti attar reproduces the effect of water evaporating from wet stones. At about two hours the smoke all but disappears leaving leather, hay and wildflowers over a light sheen of vetiver. This effect stays in place for several more hours finishing with the scent of a grassy meadow in mid summer. The sillage is moderate through the life of the fragrance. While Salamanca is a representative of something old and, technically, "nothing new under the sun", it nevertheless evokes a timeless moment, unique in my experience. Notes include French hay absolute, tonka, mitti (an attar made in India by distilling the scent of clay), vetiver, immortelle absolute, African helichrysum oil, labdanum absolute, opoponax, a leather accord created especially for use in this fragrance, and a touch of yellow mimosa absolute, which lends a subtle floral quality that perfectly complements the leather.
I have purchased and/or been gifted Sonnet XVII, Mardi Gras and Salamanca. My opinions are my own.
Gail Gross – Sr. Contributor
Michelyn Camen Art Director
Thanks to the generosity of Ellen Covey at Olympic Orchids we have a draw for a coffret of travel size Sonnet XVII, Mardi Gras and Salamanca for one registered reader worldwide
or a choice of the coffret or one of the three fragrances in 15 ml perfume for one US reader (be sure to register or your comment will not count).
To be eligible for the draw please let us know where you live in your comment and tell us what appeals to you about one or more of these three fragrances and if you want the coffret (your only option should you live outside the USA) or in the USA a particular fragrance you would like to win. There is only one winner. Draw closes December 23, 2016.
We announce the winners only on site and on our Facebook page, so Like Cafleurebon and use our RSS feed…or your dream prize will be just spilled perfume.