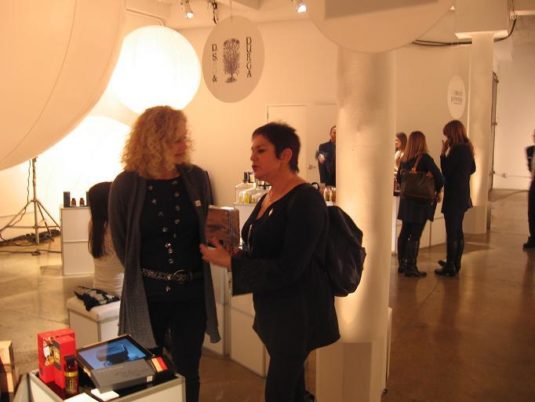 Ida chatting with Ineke at The Element Showcase in 2011 photo B©
If you know me at all – then you know how I feel about "shoulds": they make me break out in hives. Nonetheless, if I might strongly suggest three of my many favorite Ineke Perfumes by Ineke Rühland, please indulge me. I love Ineke's way of alphabetical listing/ perfume creation, the fact that each possesses its own distinct personality. When she created her Floral Curiosities Collection for Anthropologie in 2011 – well… I purchased them all. Another asset (in my opinion): she's not in any hurry to churn out new scents like sausages at the butcher's shop. If Ineke is anything, she's both professional and a perfectionist. She won't release anything until she's pleased.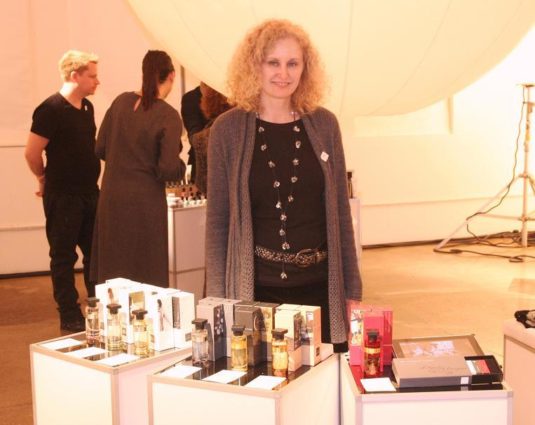 Ineke at The San Francisco Artisan Salon 2012 photo Tama©
I've selected three Ineke perfumes with different scent profiles in the order in which they were created. The first is a green floral, the second a floral oriental, and the third an aromatic fougère; as a grouping they would form a fine foundation for a fragrance wardrobe – and any of them singly would make a great signature scent as well.
Here we go!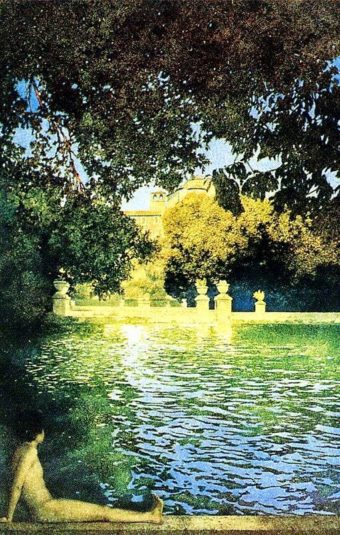 Maxfield Parrish – The Pool at Villa d'Este©
Balmy Days and Sundays (2006): Dolce far niente détente: vert fleuri in a beautiful bottle (packaged with exquisite aesthetic). If you try to glean 'accurate information' about this fragrance by reading the multiple reviews online, you'll drive yourself mad. The only way to know if it's the one for you is to try it yourself, and Ineke has a sampling program, so that's easy enough. This is a lovely grassy floral with heavenly absolutes of rose, honeysuckle and mimosa – it never skews syrupy. Balmy Days and Sundays makes me want to kick off my sandals, wriggle my toes in the dewy lawn and sprawl onto my back gazing at cloud formations all afternoon. It's perfect for that – or bringing the outdoors in. I find it refreshing, soothingly verdant as a breath of fresh air. For a blithe fragrance, it has excellent longevity. Notes: freesia, leafy greens, grass, honeysuckle, rose,mimosa, chypre accent, musk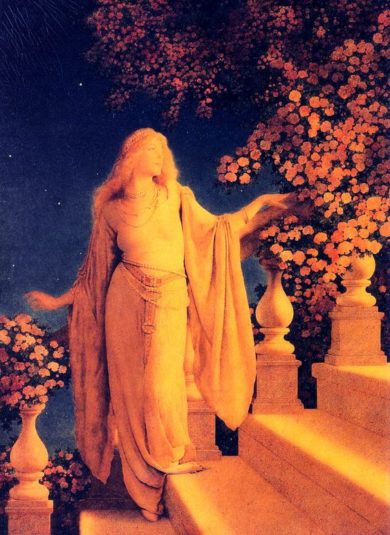 Maxfield Parrish Cinderella©
Evening Edged In Gold (2007): (If I'm learning anything from perusing others' opinions, it is this: take them with a hefty helping of kosher salt.) Evening Edged In Gold is dusk to Balmy Days' day. It's a seasonless exotic tinged with glove leather that blooms upon both summer-heated skin and winter pashminas. If Balmy Days is breezy, then Evening glows with crepuscular warmth and flowers which unfurl stealthily at nightfall like illicit lovers in one another's embrace. It's deftly spiced, with woody rustling and intimated wisps of leather wreathed in saffron. If you love plum notes as I do, you'll enjoy the nectar it contributes to this sumptuous perfume. Wear it and be radiant. Notes: gold osmanthus, plum, angel's trumpet, saffron, cinnamon bark, midnight candy (night phlox), leather, woods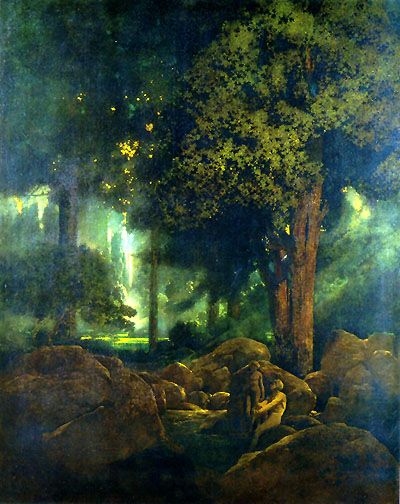 Maxfield Parrish Adam and Eve©
Idyllwild (official release 2017): You needn't be an intrepid outdoors person to love this natural-smelling, invigorating fragrance. I felt that it was one of the finest releases in 2017, and I stand by that. There is no lie in Idyllwild: it captivates not through sorcery but via veracity. Conifers confer with lavender and sagebrush; cardamom smells green. Rhubarb and grapefruit pair perfectly; it's so intuitive. You won't ever wear a fougère quite like it, unlike the coumarin-intense nature of a good many; authenticity has you by the heartstrings. To quote Groucho Marx in the film, A Night at the Opera: "Sing, ho! For the open highway! Sing, ho! For the open road!"… (That's a compliment, by the way. A big one.) Notes: rhubarb tea, grapefruit, lavender, Big Sur sagebrush, cypress, fir needle, cardamom, woods, oud,musk
Samples generously provided by Ineke Perfumes – thank you! I purchased Evening Edged In Gold and Idyllwild. My nose is my own…
~ Ida Meister, Senior Editor
~ Art Direction: Michelyn Camen, Editor-in-Chief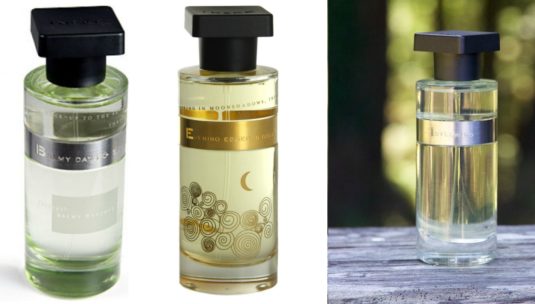 Ineke Perfumes Balmy Days and Sundays, Evening Edged in Gold and Idyllwild
Thanks to Ineke Rühland we have one 75 ml. bottle of one of these three Ineke Perfumes you should be wearing for one registered reader in the US. Please be sure to register. To be eligible tell us what appeals to you about Ida's review and if you want the 75 ml bottle or the sample set A-I (you choose and leave in your comment please) Please tell us which Ineke Perfumes appeals to you. Draw closes 6/29/2018
We announce the winners only on our site and on our Facebook page, so like Cafleurebon and use our Blog feed…or your dream prize will be just spilled perfume.