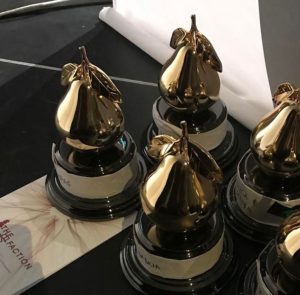 Photo: Art and Olfaction Awards Golden Pears
The Institute of Art and Olfaction, founded by Saskia Wilson-Brown held the Fourth Annual Art + Olfaction Awards on May 6, 2017, at Silent Green kulturquartier in Berlin, Germany. Many of the finalists and judges came from all over the world to attend. The Golden Pear Awards went to:
ARTISAN CATEGORY WINNERS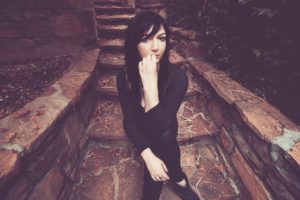 Bruise Violet by Sixteen92, Perfumer: Claire Baxter, USA (not at Presentation)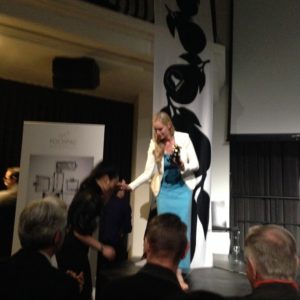 Pissara Umavijani accepting award from Tanja Bochnig of April Aromatics, a past winner for Calling All Angelsin this category(photo: Dawn Spencer Hurwitz)
Mélodie de l'Amour by Parfums Dusita, Perfumer: Pissara Umavijani, France
IINDEPENDENT CATEGORY WINNERS
Altruist by J.F. Schwarzlose Berlin Creative Director: Lutz Herrmann Perfumer: Véronique Nyberg, Germany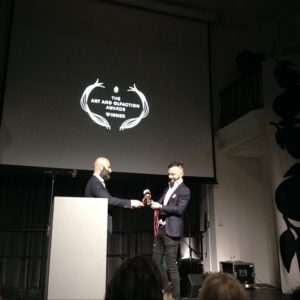 Leo Crabtree accepting the award from Judge Antonio Gardoni
Fathom V by BeauFort London, Creative Director: Leo Crabtree Perfumer: Julie Marlowe,UK
SADAKICHI AWARD WINNERS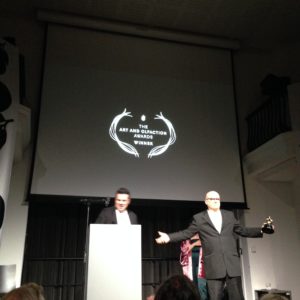 photo: Dawn Spencer-Hurwitz
Osmodrama Berlin via Smeller 2.0 Project lead: Wolfgang Georgsdorf Perfumers: Various, Germany, Austria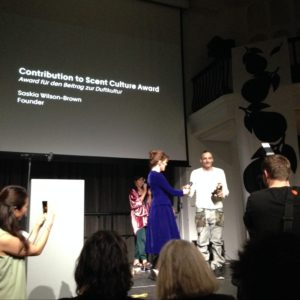 Christophe Laudamiel, photo: Dawn Spencer Hurwitz
CONTRIBUTION TO SCENT CULTURE AWARD
Christophe Laudamiel, Perfumer and Osmocurator, Dream Air LLC
Next Year the Awards will be held in London!
–Michelyn Camen, Editor in Chief
With gratitude to Dawn Spencer-Hurwitz of DSH Perfumes who was a top ten finalist for Onycha, Dawn was at the award ceremony in Berlin and emailed me the winners and photos.