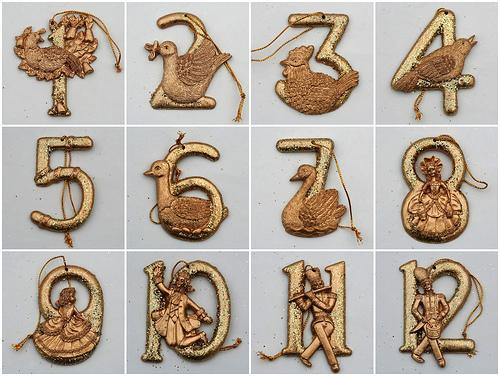 The Twelve Days of Christmas are traditionally defined as beginning Christmas Day, December 25 with the birth of the Christ Child and culminating on The Feast of the Epiphany, January 6 with the visitation of the Three Wise Men. The song itself began as an oral tradition, most likely imported to England from France, in the late Middle Ages. Despite the religious symbolism of the twelve holy days the song is rife with secularism. There has been much speculation as to the significance of each verse but, in the end, it seems that really it's just all in good fun!
To take the fun one fragrant step further, the following is a celebration of the Twelve Days of Christmas as illustrated by perfume. If fragrance is a language translating the world, then how do we communicate this special song through scent?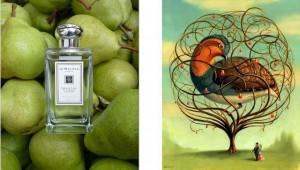 On the 1st day of Christmas my true love gave to me a Partridge in a Pear Tree:
Jo Malone English Pear & Freesia
The scent is not the overly ripe summer pear that one might imagine from the name but instead a crisp winter version. Ideal for the first day of Christmas or any cool day, it is warm without being cloying and fruity without being sweet. I addition to pear and freesia the quince, green rhubarb, rose, patchouli, amber and white musk . (La Nez:Christine Nagel)
On the 2nd day of Christmas my true love gave to me 2 turtle doves:
Nina Ricci L'Air du Temps
The interlocking doves on the cap of the bottle symbolize the celebration of Peace. The bottle is considered so stunning and so iconic that it was awarded FiFi Bottle of the Century in 1999. The juice does not enjoy the same status, unfortunately, as it was reformulated almost beyond recognition. Find a vintage bottle from the 80s or earlier and you find a hauntingly beautiful spicy-floral that put carnation on the map.
On the 3rd day of Christmas my true love gave to me 3 French Hens:
Sisley Eau de Sisley 1, 2, & 3
Fragrance, like art and music, is open to interpretation Sisley would say that these fragrances are actually three summer dresses rather than three French hens! Either way, they are related through their chypre launching pad but each possesses a different point of view. Eau de Sisley 1 is floral and joyful; Eau de Sisley 2 is green and peaceful; Eau de Sisley 3 is oriental and seductive. Oo la la!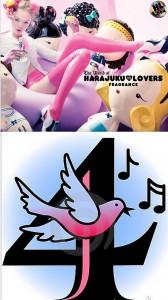 Harajuku Lovers ~~ Love. Lil Angel. Music. Baby
Limited edition for Holiday 2010 is the Wicked Style series where the popular doll-like flacons of the saucy celebrity fragrance line from Gwen Stefani embody the distinct fashion looks of the Tokyo street. Each has her own "wicked style": Love is Lolita (yes, short skirt and knee highs), Lil Angel is Goth Lolita (same short skirt but with edgy dark makeup), Music is Visual Kei (glam rock), and Baby is Kawaii (pastels and furry toys). These calling birds are interpreted through fragrance as a fruity floral, citrus floral, woody floral, and a floriental accordingly.
OOOO
On the 5th day of Christmas my true love gave to me…Five Golden Rings:
La Prairie Life Threads Gold
The gold threads on the bottle (Fifi Award winning flacon of 2009) represent the ties that bind us together. Gold is very warm and spicy oriental with the top notes of tangerine, plum and clove. The heart bursts of pepper, cinnamon, coriander, rose, lily-of-the-valley and ylang-ylang. The drydown clings to the skin with cedar, patchouli, myrrh, vanilla and incense. It truly feels mystical as it wraps you in the myrrh of the Magi!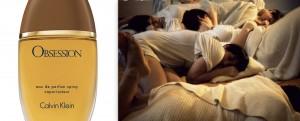 On the 6th day of Christmas my true love gave to me 6 Geese a-Laying:
Calvin Klein Obsession
The bottle, conspicuously shaped like an egg, is a standout for its classic simplicity. The juice, however, it anything but simple and is one of a cluster of '80s classics that helped to define the opulent decade. A very spicy oriental, CKO is a mélange of green notes, mandarin orange, vanilla, peach, basil, bergamot and lemon in the lovely opening; spices, coriander, sandalwood, orange blossom, jasmine, oakmoss, cedar and rose in the spicy heart; amber, amber, musk, civet, vanilla, vetiver and incense in a sensual base.
On the 7th day of Christmas my true love gave to me 7 Swans a-Swimming:
Gloria Vanderbilt Vanderbilt
The swan in the bottle is meant to evoke grace. This ladylike oriental flirts with an opening of sparkling aldehydes, bergamot, green notes, neroli and pineapple. The middle notes are jasmine, orange blossom, rose, tuberose and ylang-ylang. The base notes contain classic cinnamon , civet, musk, opoponax, vetiver, sandalwood and vanilla. You can swim through any holiday party wearing this one!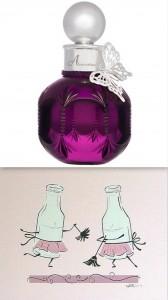 On the 8th day of Christmas my true love gave to me 8 Maids a-Milking:
Got milk? Apparently Amaranthine does with a note of condensed milk in the drydown! The eight maids are the notes of green tea, white freesia, rose, carnation, orange blossom, ylang-ylang, jasmine, and vanilla. Who could resist this sensual floral oriental fragrance? (Le Nez: Bertrand Duchaufour)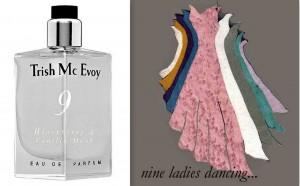 On the 9th day of Christmas my true love gave to me 9 Ladies Dancing:
Trish McEvoy No. 9 Vanilla & Blackberry Musk
A pas de deux! This fragrance is the best-selling of the Trish McEvoy line. The opening is an indiscernible burst of berry softened by white rose, vanilla and musk.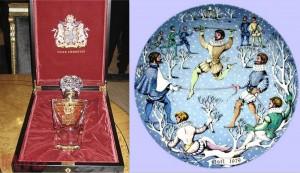 On the 10th day of Christmas my true love gave to me 10 Lords a-Leaping:
Clive Christian X for Men
X marks the spot for this luxurious and x-pensive scent! Top notes leap out with bergamot, cardamom, ginger, and juniper berry. Heart notes are sambac, jasmine hedione, pimento, and orris while drydown consists of amber, vetiver, cedarwood, moss, cinnamon, and vanilla. A fragrance fit for a Lord! (Le Nez:Geza Schoen)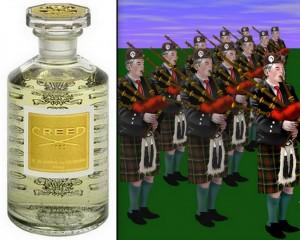 On the 11th day of Christmas my true love gave to me 11 Pipers Piping:
The freshness of lavender moderated by the warm sensuality of vanilla and sandalwood creates a cologne of great distinction.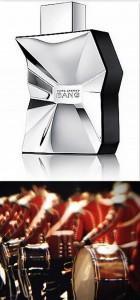 On the 12th day of Christmas my true love gave to me 12 Drummers Drumming:
Marc Jacobs Bang
End your holidays with a bang! Pink, white, and black peppers keep the contemporary beat in this woodsy offering which debuted only this summer. Buyer beware you might shed your clothes as easily as Marc Jacobs did for the ad campaign! (Le Nez: Yann Vasnier)
– Liza Wade, Contributor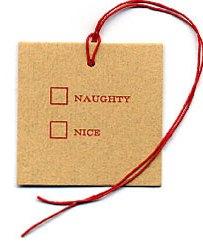 No birchtar in your stocking at Ca Fleure Bon..Check out what Scenta has for our draw…
Tell us why you have been Naughty or Nice and you are eligible to win~ draw closes December 21, 2010 at midnite
Nice: 3.4 oz / 11 1000 100 ml Jo Malone English Pear and Freesia Cologne
Naughty: 1.7 oz / 50 ml La Prairie Life Threads Gold Eau de Parfum