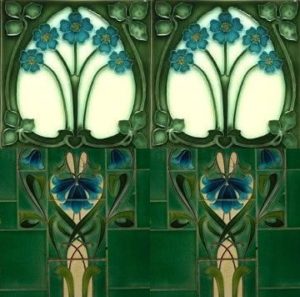 Art nouveau tile, stock photo
What makes a perfume quintessentially French? Classical construction, top level ingredients, and a tightrope balance between boldness and restraint, inspiration that pulls from the head and the heart, peut-etre? When I first sprayed the Parfums Volnay fragrances on my wrist and inhaled, I could have been blindfolded in a dark room and locked behind a solid lead door, and I would still have known their provenance: Ils incarnent la parfumerie francaise.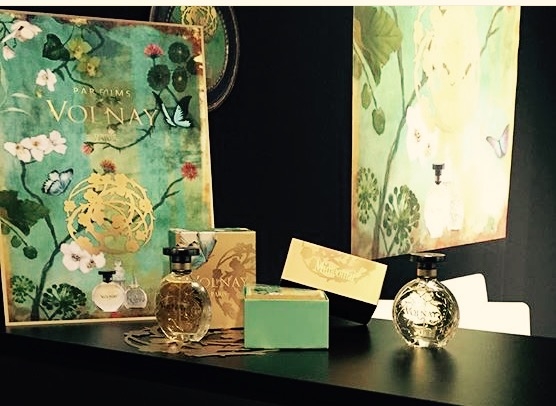 Parfums Volnayat Esxence 2017, photo via instagram parfumsvolnay.official
Parfums Volnay was founded in 1919 during l'age d'or of French perfumery. Its founders, Rene and Germaine Madeline Duval, became part of the Art Nouveau beau monde. He worked for François Coty; she was a model for Lanvin. The influence of Art Nouveau can be seen in the design of intertwining roses on the stoppers and the brand's stunning packaging (in a stiff field, Volnay took my prize for most beautiful artwork at Esxence in March, created by artist Fabienne David).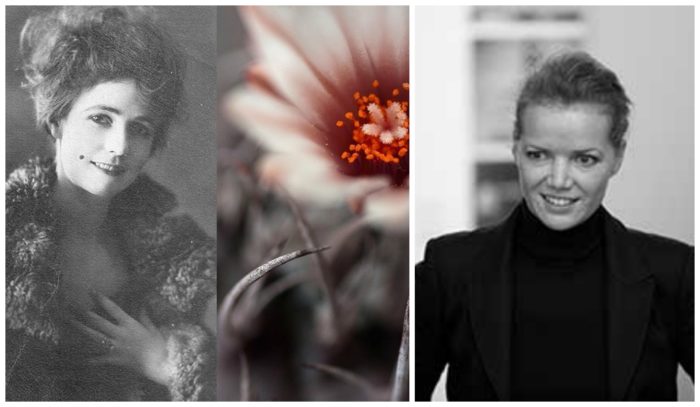 Germaine Madeline Duval 1919 and Perfumer Amelie Bourgeois (collage MC)
in 2013, the House has passed into the capable hands of Duval's great-grandchildren, Muriel and Madeline Olivier, who, in concert with star perfumer Amelie Bourgeois, have reinvigorated the brand. Bourgeois worked with existing perfume recipes but gave them a modern sparkle and airiness while staying true to the line's chic sophistication and vintage elegance. Volnay perfumes share base 4092, an amalgam of powder, rose, vanilla and clove base that is the line's signature. The shared base gives the five perfumes in the current collection cohesiveness and synergy with each other, yet each perfume is markedly different.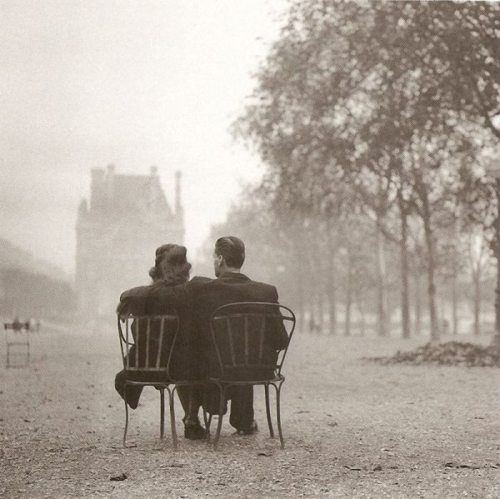 Paris, vintage photo via googlesearch
Brume D'Hiver (Winter Mist) was originally launched in 1922, a sumptuous, spicy floriental with a specially constructed rose note created by M. Duval. Today's version keeps the rose at the perfume's center, but flanks it with dark floral, spice and woody notes including a subtle, almost unctuous oud. Brume D'Hiver opens on a complex top note that combines with a deeply woody violet and a silky, pink-petaled rose. A drop of bright acidity from bergamot lifts the burnished notes. The volleyball between ebony violet, pillowy rose and tangy citrus is a little eccentric and immediately compelling.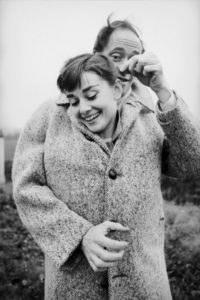 Audrey Hepburn & husband Mel Ferrer, on a country road outside Paris, 1956. (Photo by Hulton Archive/Getty Images)
In its middle stages, Brume D'Hiver blooms. The oud and rose grow more prominent, but are balanced out by woods and a touch of smoky incense. Here, Volnay's signature base really comes through: the powder and clove, distinct but rising and falling around the other notes, keep Brume D'Hiver moving in a waltz where the rhythm becomes faster and faster, and the fragrance expands into warmth that last well into the dry-down. Brume D'Hiver is romantic, sweepingly lovely – just the perfume with which to pull your lover closer on a chilly grey day. Notes: Italian bergamote, elemi, juniper berries, jasmine, Bulgarian rose, modern rose, oud wood, incense, violet, heliotrope, musk powder, Haitian vetiver, Spanish labdanum, rosewood, Cypriol, Base 4092.
Marc Chagall, Bouquet sur la Ville, 1983
Etoile D'Or (1925): Etoile D'Or doesn't mess around. Its first few moments are filled with a gloriously decadent lavender and rose bouquet that fills the air like a Chagall bouquet. Perhaps the boldest of the Volnay line, Etoile D'Or demonstrates again the characteristic balance between assertive and restrained notes. I note the thoughtful use of bergamot and other bitter citrus notes here as in the other Volnay perfumes, used to lift and brighten the opulent floral and resinous notes.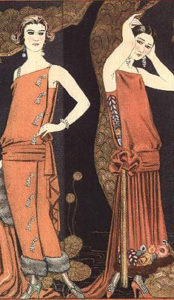 Fashion Gazette du Bon Ton, 1923
Once the lavender-rose has settled down, some time into Etoile D'Or's development, the maple candy sweetness of benzoin and milky vanilla of tonka come through. While it is not listed, I would almost swear there is a dab of labdanum in here from the slightly sweaty animalic note that comes through in the perfume's later stages. When it is fully open, Etoile D'Or smells like an extravagant vase of flowers in a seraglio—rich, luxurious, bold. But it never becomes 80s' big, and, as with the other Volnays, stays well within the bounds of very good taste. Notes: Italian bergamot, country lavender, Egyptian jasmine, Turkish rose absolute, Base 4092, Siam benzoin, tonka bean, oak moss.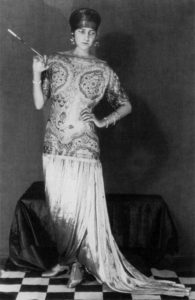 Peggy Guggenheim wearing Poiret, photo by Man Ray, 1924
Yapana (1922) is a silvery floriental with a touch of leather. A lovely, pastry iris opens Yapana and floats over a succession of rich and delicate notes, which weave in and out of each other in an elaborate minuet. A pinch of pink pepper and tang of bigararde cuts the richness of benzoin and ylang ylang, while sultry, animalic labdanum emerges alongside the fresh zing of bergamot. The Volnay base, like an orchestra conductor, pulls the sharp and dulcet notes together harmonically, adding a hit of spice and the delicate sweetness of powdered rose.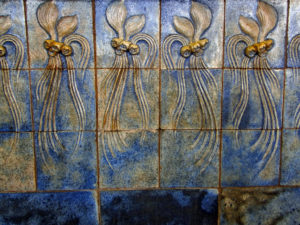 Frise mural at Villa Majorelle, photo by Alexandre Prévot©
Yapana could have been another rich, rosy oriental of the 1920s. Instead, Mme. Bourgeois has ensured it has a lightness and balance that keep the composition from feeling like a well-preserved museum piece. Yapana is alternately fresh, opulent, delicate and forward, and always lovely. Notes: Italian bergamot, pink pepper, bigararde grapefruit, Base 4092, ylang ylang, rose, elemi, helional, Siam benzoin, labdanum, Indo patchouli, rice bran, iris, golden stone, green vanilla
Parfums Volnay shows with complete aplomb what updated classics can smell like without losing their vintage character. Their creations have a lyrical romanticism, and no lover of vintage French perfume should miss them.
— Lauryn Beer, Senior Editor
Disclaimer: samples provided by Parfums Volnay at Esxence 2017 – many thanks. My opinions are my own.
Parfums Volnay flacons photo Parfums Volnay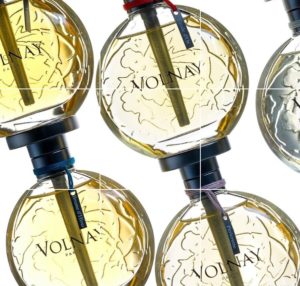 Thanks to the generosity of Parfums Volnay, we have a reader's choice of Brume D'Hiver, L'Etoile D'Or or Yapana for one registered reader in Europe, the U.S. or Canada. Don't know how to register? Please click here. To be eligible, please leave a comments saying what appealed to about the three Parfums Volnay fragrances based on Lauryn's review, where you live and your choice should you win. Draw closes 6/27/2017
Editor's Note: There are seven Parfums Volnay Parfums in the collection as of today's date and a new fragrance debuting soon. Visit their E-Boutique, and for 15 Euros you can buy their Discovery Kit. If you live in the U.S. Parfums Volnay is available at Parfums Nasreen in Seattle, Jaqueline Parfumerie in San Francisco, Bergdorf Goodman in NYC and select Neiman Marcus stores.-Michelyn
Follow us on Instagram @cafleurebon and @parfumsvolnay.official
We announce the winners only on site and on our Facebook page, so Like Cafleurebon and use our RSS option … or your dream prize will be just spilled perfume.