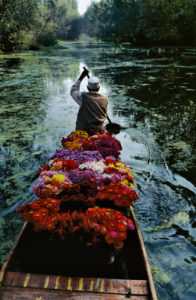 Flower Seller, Dal Lake, Srinagar, Kashmir, 1996, National Geographic ©Steve McCurry
When Creative Director Neela Vermeire's line of India-inflected perfumes launched in 2012, it was as if a gate, long hidden, had suddenly swung open on an undiscovered, but much imagined, paradisal world.

Bertrand Duchaufour and Neela Vermeire
From Technicolor Bombay Bling to the yearning Rahele, sumptuous Trayee to sensuous Mohur, Neela Vermeire Creations have a unique signature, developed in partnership with renowned "King of Niche", perfumer Bertrand Duchaufour. Inflected with the spices, flowers and scent memories of her Indian childhood and beyond, Neela Vermeire's perfumes bring old magic to modern perfumery.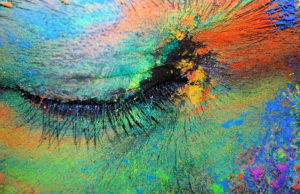 Hindu devotee's face covered in multicolored powder during a Holi celebration, photo National Geographic©
Trayee (2012): Trayee, meaning "triad" in Sanskrit, is inspired by the first three Vedas, the oldest, most sacred books of India, (its formula contains a high percentage of natural ingredients used in Vedic ceremonies). A gorgeous, complex blend of spices, resins and flowers, Trayee is a time traveler very much at home in the modern world. It is one of those kaleidoscopic fragrances that changes with the light, the time of day and the heat. In the cool of morning, it was a gingery floral, cousin to Lentheric's elegant, lost Shanghai; tonight, it is cinnamon, blackcurrant and jasmine dancing a dramatic but restrained Paso Doble. Reapplying it a third time, cola-rooty vetiver swings into the forefront ahead of smoky, sooty oud.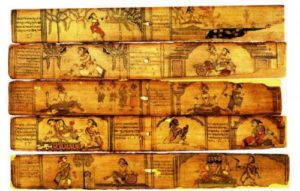 Veda, photo Odisha State Museum©
Trayee, like all of Vermeire's fragrances, walks a tightrope between lightness and heft. It is astonishing how many notes come out in procession: the fresh green and loamy Javanese and Haitian vetivers, each gaining the upper hand momentarily; dusty saffron, myrrh, rich sandalwood, vanilla … and yet, somehow, Duchaufour stirs this jumble of aromas into an intoxicating medley, as intricate and harmonious as a Mahler symphony. My favorite of Neela Vermeire's perfumes. Notes: Blue ginger, elemi, cinnamon, ganja accord, blackcurrant absolute, basil, jasmine sambac, Egyptian jasmine, cardamom, absolute, clove, saffron Javanese and Haitian vetiver, incense, Mysore sandalwood oil, patchouli, myrrh, vanilla, cedar, amber notes, oud palao from Laos, oak moss.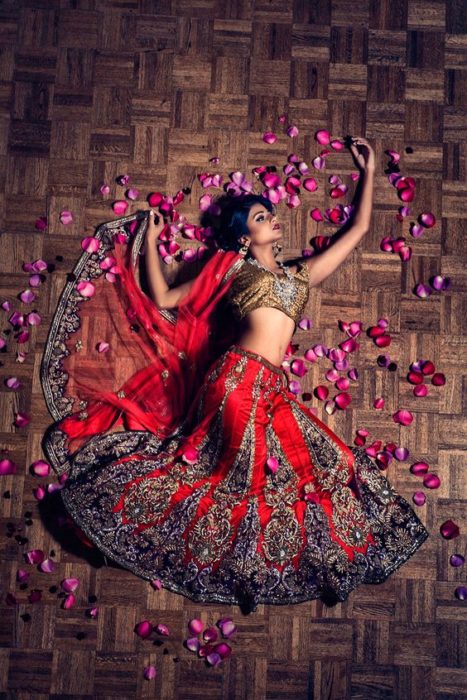 Photo via xiphiasstudios.com©
Mohur (2012): Mohur is a rose unlike any other. Its opening is a swirl of floral and edible notes that at first blur like the oils in a pointillist canvas. Its first seconds are puzzling: the distinctive milky sap of a broken stem of Queen Anne's lace overlapping a wet, smudgy rose, while a sweet, fresh carrot note whistles in the background. But within minutes, the rose and milky notes expand: the rose becomes voluptuous; a sweet almond note joins the green milky accord, and warm cardamom rises to the surface like scented steam. In the dry-down, myriad notes of woods, resins and leather come forward and retreat, and act as bold counterpoints to the sensual, blown rose petals. Lovers of rose notes, lovers of the exotic, and well, lovers, should try Mohur – preferably while lying on a cloud of silken cushions. Notes: Cardamom, coriander, ambrette, carrot, black pepper, elemi, Turkish rose oil, jasmine, orris, hawthorn, almond milk accord, leather, sandalwood, amber, patchouli, oudh palao from Laos, benzoin, vanilla, tonka bean.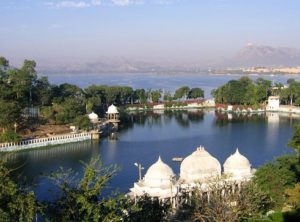 Lake Pichola, Rajasthan, photo Mithunonthe.net
Pichola (2016): A lake in which a white palace floats like a vast water lily, Pichola embraces the royal city of Udaipur. Its namesake captures the puffy flowers warmed by sunlight and wafts of distant spice of its banks. Orange citrus bursts onto the skin with a first dab of Pichola. But, as with the other Neela Vermeire Creations fragrances, these opening notes are quickly greeted but other, less expected scents. A strikingly lovely magnolia note – perhaps the most lifelike I've encountered in perfumery – surrounds and calms that bite of the bergamot as it curls up with neroli. Spices slink in and begin to add an aromatic contrast to the heady tree blossoms and fruit. Once again, distinctive notes each take a bow before retreating into their chorus: cinnamon, lush rose, creamy tuberose and a tickle of saffron weave in and out before Pichola dries down onto a bed of light woods. Pichola smells like the romantic late afternoons you see only in movies, where lovers tangle in boats drifting lazily along flowery banks. Notes:Cardamom, cinnamon, saffron, juniper, magnolia, neroli oil, clementine, bergamot, orange blossom absolute, rose absolute, tuberose absolute, jasmine sambac, ylang-ylang, benzoin absolute, sandalwood, driftwood, vetiver from Haiti.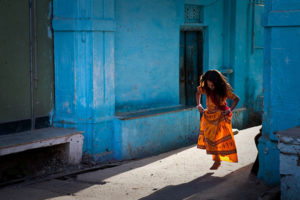 India Street, photo by Marji©
Neela Vermeire has created an array of beautiful, thoughtfully crafted fragrances from a very personal point of view that is nonetheless completely accessible. Wear them and be transported.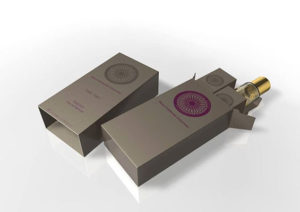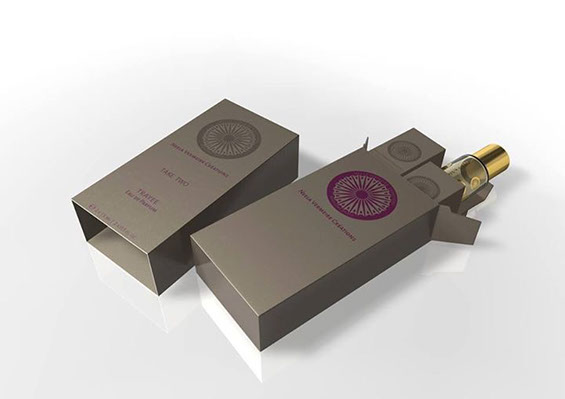 Take Two Flacons, photo Neela Vermeire©
Thanks to the generosity of Neela Vermeire Creations, we have two 15ml bottles of your choice of any Neela Vermeire eau de parfums in this review (Trayee, Mohur and Pichola) – for one registered reader (you must register if you have not done so here) in the U.S., Europe or Canada. To be eligible, please leave a comment about what appeals to you about these three perfumes based on Lauryn's review, where you live and if you have a personal favorite in the line. Please be sure to leave the two 15 mls you want to win in your comment . Draw ends 4/21/17.
Please follow us @cafleurebon on Instagram and don't forget to follow @neelavermeirecreations on Instagram and @neelavermeire on twitter
We announce the winners only on site and on our Facebook page, so like Cafleurebon and use our RSS FEED…or your dream prize will be just spilled perfume.