Etienne de Swardt at Esxence 2014 Photo by Tama Blough
Etienne de Swardt, declared his independence from "business as usual" in 2006. Freeing himself from the predictable sterility of market driven fragrance and beauty, he formed his own perfume house – Etat Libre d' Orange, where he brought to life a new sincerity and freedom of expression in fragrance. For more than a decade, Etat Libre d'Orange has been creating evocative, challenging scents that push the limits of perfumery while maintaining a sense of ironic whimsy, wrapped around distinctively luxurious fragrance profiles.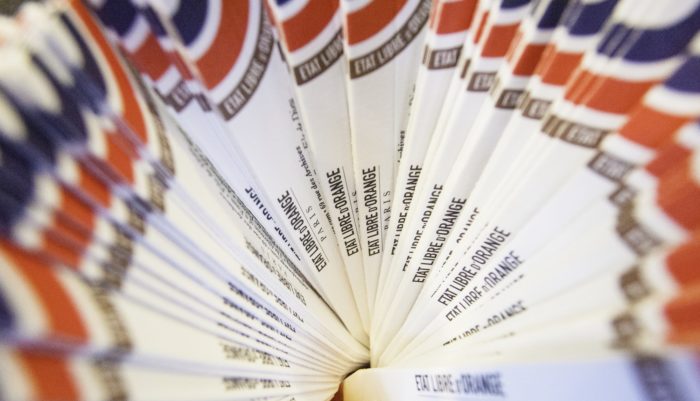 Etat Libre D'Orange scent blotters
There are currently 34 scents in the line (going on 35; we announced You or Someone Like You earlier today) – so many I adore that I find it challenging to decide just which ELdO fragrance to purchase or wear. Should I choose the provocative, the irreverent, and the seductive? Am I looking for references to Impressionist music, art house theatre, French symbolist poetry or Romantic prose? Recently, Editor-in-Chief, Michelyn Camen, asked Etienne to choose three fragrances from Etat Libre d'Orange that he believes ÇaFleureBon readers should be wearing; fragrances that epitomize the style and ethos of the House. Etienne was kind enough not only to offer his choices but also to tell us something of the stories behind why and of each perfume.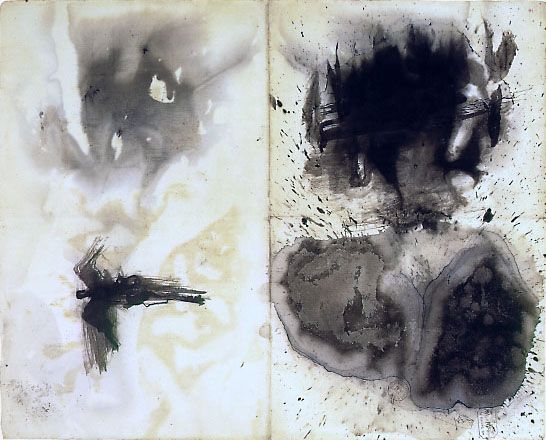 Victor Hugo Ink Blot Drawings 1876
Hermann A Mes Cotes Me Paraissait Une Ombre (2016) by perfumer Quentin Bisch
"Hermann because it's related to my grand mother, she was a teacher of French literature and when I was a kid she used to read loudly this poem of Victor Hugo. Very epic souvenir. So I presume that part of her lives in the scent and this poem, this is my allegiance to the departed, the gone with the wind long ago and their echoes still blowing in the wind. A praise to their eternal samsara everywhere, I become very animist turning 46." – Etienne de Swardt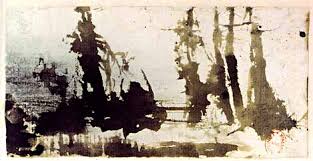 Victor Hugo pen and ink Voilures
"À quoi songeaient les deux cavaliers dans la forêt" – What Two Horsemen Were Thinking in the Forest – is the twelfth poem in Victor Hugo's collection of poetry entitled Les Contemplations. For me the words of this romantic poem and the listed notes of the Hermann fragrance create a consensus of scent and poetic imagery.
The first stanza reads: "The night was so black and the forest very dark. 

By my side, Hermann seemed to me like a shadow. (Hermann A Mes Cotes Me Paraissait Une Ombre.)
…The clouds in the sky looked like marble.
The stars flew through the branches of the trees
Like a swarm of firebirds."…
Later, the poem references "green solitude", "fountains singing" and "bushes whispering", suggesting a fantastic and surreal olfactive landscape. The perfumer uses several aroma-chemicals to recreate this dreamlike, otherworldly atmosphere. The jus itself is the color of shadow.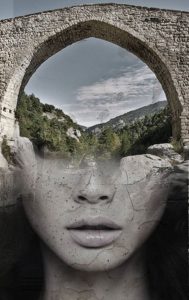 Digital Portrait Antonio Mora
My first breath of Hermann is of black current and Pepperwood™, an ingredient that smells at once coldly metallic, woody and peppery. The aquatic/ozonic effect of another raw material, Calypsone®, suffuses the fragrance with a black, cool, watery darkness fortified by the wet earth scent of Geosmin. This dark, cold opening continues into the gothic heart of the fragrance. Here I find galbanum lurking in the shadows with hints of spicy geranium and rose absolute. Here also, Petalia®, a Givaudan captive molecule, gives a rosy, fruity, spicy sheen to the gloom.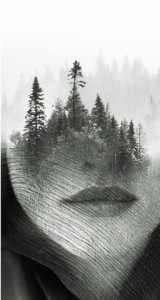 Digital Portrait Antonio Mora Forbidden Trees
There is very little that is natural about this beauty. In fact Hermann is almost totally unnatural – or should I say super-natural. As time goes by the fragrance retreats deeper into the shadows, becoming darker, colder and even a bit menacing, reminiscent of dreams of magical forests, cool tombs and withered roses. After eight hours a remnant of patchouli and a wraith of Ambroxan linger on my skin. Notes: Blackcurrant buds, black pepper, galbanum, calypsone, geosmin, frankincense, pepperwood, petalia, rose absolute, patchouli, ambroxan.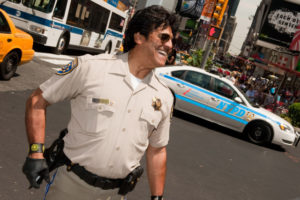 Erik Estrada, dressed in his CHiPS uniform in Times Square in 2010.
Fat Electrician (2009) by perfumer Antoine Maisondieu
Fat Electrician, because we bow to non-sense & fun at Etat Libre d'Orange as long as it stays ultra qualitative. The curse of beauty, dedicated to vain narcissism, Greek modern tragedy and burlesque. "Nothing is forever" said the fat lost angel when divorced twice with too many bills and kids ;-)" – Etienne de Swardt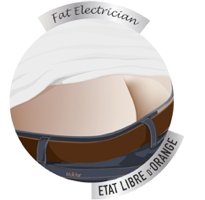 Fat Electrician comes on the scene offering something like marzipan, cherries and berries tinged with the scent of singed and burned plastic and myrrh. To my nose the initial spritz is also very pink and pointed, not heavy but with a focused intensity, replete with vanilla, the bitter green smokiness of olive leaf and the scent of some sort of machine lubricant. This bright and promising, if somewhat lascivious youth, matures into a vetiver like no other – warmly dark, floral, grassy and creamy, retaining a bit of the early tangy fruit that becomes riper and more seductive with age. I have to say that Fat Electrician is one of my all time favorite vetiver fragrances. The initial sillage is quite pronounced. Eventually, after about six hours, Fat Electrician begins to fade on my skin. What remains of the initial, vain youthful intensity and middle aged burlesque is a simple, fragile, memory of vanilla, vetiver and resinous opoponax. Notes: Vetiver from Haiti, chestnut cream, olive leaves, myrrh, vanilla, opoponax.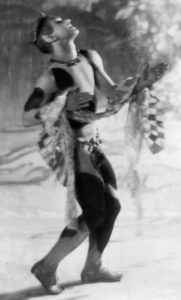 Nijinsky as the faun. Taken by Baron de Meyer
The Afternoon of a Faun (2012) by perfumer Ralf Schwieger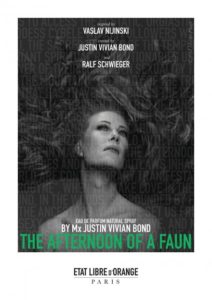 "The Afternoon of a faun, because of my mentor Jacques Damase, a famous art dealer and publisher, a tycoon of the 20th century, friend of Cocteau, Aragon, Picasso and other famous 20th artists. He was mad at me in 2012 when I did not think about celebrating the 100th year anniversary of the Russian ballet danced in 1912 at theatre du chatelet with Nijinski sublime and decadent. Jacques to yell at me: "Etienne shame on you. You have to celebrate beauty, dance and poetry and close the final synesthesia through a perfume" and I invited Justin Bond to play the muse for Ralf." – Etienne de Swardt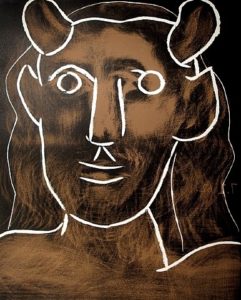 Pablo Picasso Tête de Faune (Head of a Faun)
The poetry, art, dance and music associated with the name of this perfume are so much a part of my life as a musician that no matter how hard I try, the sound of Prélude à l'après-midi d'un faun by Claude Debussy, the ballets Afternoon of a Faun by Vaslav Nijinsky, Jerome Robbins and Tim Rushton and the words of the symbolist poet Stéphane Mallarmé color my understanding and perception of the fragrance.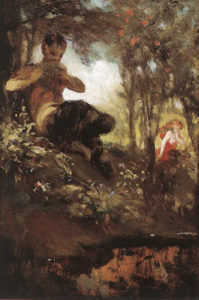 Pal Merse A Faun
My first impression of Etat Libre d'Orange, The Afternoon of a Faun is the smell a languid hot afternoon in a meadow: "…the motionless and weary swoon of stifling heat " that begins with citrus, pepper, cinnamon and immortelle. The top notes dissipate slowly as bits of moisture invade the dry air. The scent to of iris and dewy moss swirl with incense and jasmine, part of an ethereal and slightly humid melody that, in my imagination, flows from the panpipes played by the faun. As the fragrance develops, a leathery dry rose replaces the delicate moist iris. This effect remains in place for several hours. The Afternoon of a Faun leaves the stage after six hours with a bow to jasmine, rose and benzoin. This perfume is a luminous dream of dance, melody and seduction, an enigmatic pastorelle set in French Symbolism. Notes: Bergamot, pepper, cinnamon, incense, rose, immortal flower, iris, jasmine, myrrh, moss, leather, benzoin.
Many thanks to Europerfumes for supplying the testers of Hermann, Fat Electrician and The Afternoon of a Faun. My opinions are my own.
—Gail Gross, Sr. Contributor
Art Direction: Michelyn Camen, Editor-in-Chief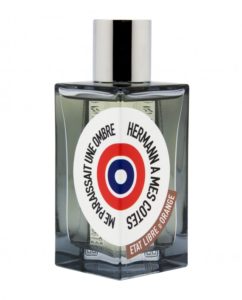 Today we have a readers' choice draw! Thanks to the generosity of Etat Libre D'Orange, we have a reader's choice of a 50 ml bottle of Hermann A Mes Cotes Me Paraissait Une Ombre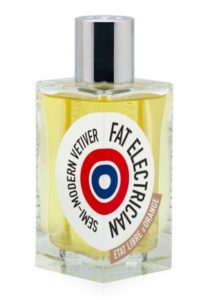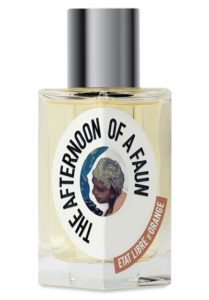 available to one registered reader in the EU, USA or Canada (be sure to register or your comment will not count). To be eligible please let us know what appeals to you about these three fragrances based on Gail's reviews, your favorite perfume from Etat Libre d'Orange , where you live and what you thought of Etienne de Swardt's three choices. Which three EDlO do YOU think everyone should be wearing? Draw closes 2/9/2017
We announce the winners only on site and on our Facebook page, so Like Cafleurebon and use our RSS feed…or your dream prize will be just spilled perfume.