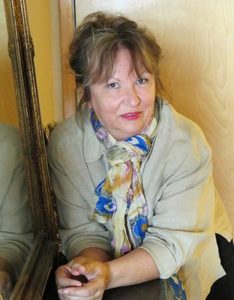 Shelley Waddington of En Voyage Perfumes
One of the most prolific and established artisans of the West Coast Indie Perfume community, Shelley Waddington of En Voyage Perfumes has been pushing boundaries and winning awards since opening her studio in Carmel California in 2010 (Shelley now resides in Porland). The editors and Contributors over our seven years have written extensively about her perfumes and Michelyn was one of the first to write about Shelley's fragrances with her unique historical spin on the beautiful Makeda.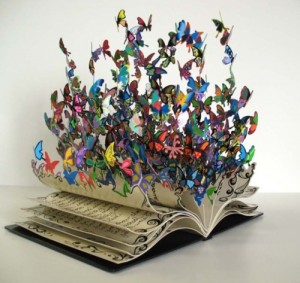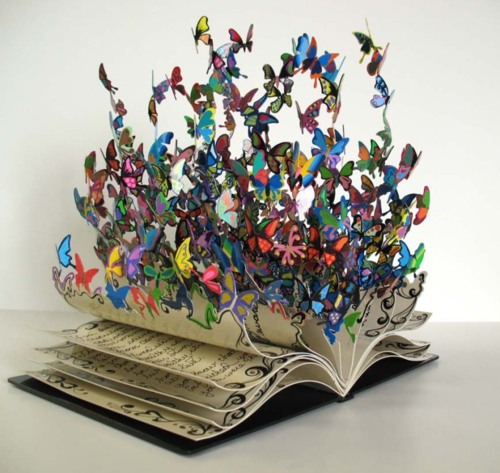 Shelley tells fantastical tales and vivid story lines through her scents, they change, grow, and morph throughout the wearing; defying any sense of linearity, and that makes her perfumes intriguing, cunning, often abstract, and frankly outright fantastic!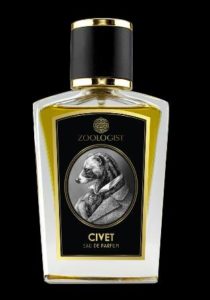 Zelda, Rainmaker, Fiore di Bellagio, Frida,the Souvenir De Chocolate Collection, the Art and Olfaction 2017 Finalist Civet for Zoologist, and most recently Figa for ÇaFleureBon's Talisman project, these are the perfumes that can be found in many collections, and I for one, love them all. For this article I'm focusing on three of my favorites from Shelley's body of work, and each and every one is worth discovering! So If you haven't tried these three, they are perfect for the warmer weather days and nights ahead…..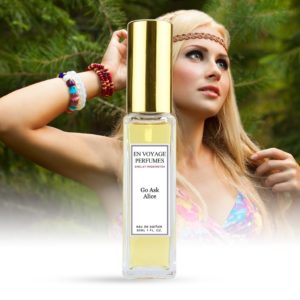 Go Ask Alice (2011): "I wanted to compose a perfume that would define and contemporize the 1967 Summer of Love, a time when young Americans protested the Vietnam War, sold flowers, smoked pot, and trailed clouds of patchouli…" -Shelley Waddington.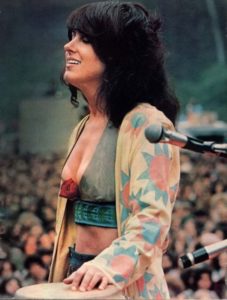 Grace Slick performing White Rabbit when she was with Jefferson Airplane~ Monterey Pop Summer of Love
Go Ask Alice was created for Monica Miller's Peace Love and Patchouli collaboration and, as I've written before, growing up in San Francisco, there are associated scents of that magical City By The Bay. In the late 60s' this is pretty much what it smelled like: Sandalwood incense burning, the green grass in Golden Gate Park, the other grass (cannibis) whose feral and, funky scent was like a grey haze hanging over parts of the city, and of course patchouli, woody and earthy. Patchouli can be a difficult note for many people, myself included, but in Shelley's creative hands this is a patchouli that's mellowed with time and all grown up; a Patch that is as soft and smooth as a pair of well worn fringed knee-high buckskin boots. Gorgeous, and perfect for wearing to Coachella, Bumbershoot, Burning Man or anywhere else you plan to dance and frolic to your hearts content. Notes: California Orange Peel, Bitter Orange, Bergamot, Black Pepper, Orange Flower laced with Raspberry and Strawberry, Patchouli Leaf tincture, Mimosa, Rose Absolute, vintage Patchouli Sumatra, Sandalwood, Cocoa, Vanille, Tonka, Labdanum, Balsam, Ambergris.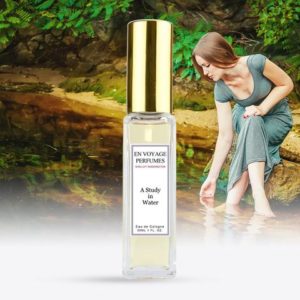 A Study In Water (2013): "A Study in Water was inspired by the element of fresh water. My goal in making this incredibly sheer, wet, and innocent fragrance was to retain the elegance, longevity and sillage of the most excellent of classic perfumes." – Shelley Waddington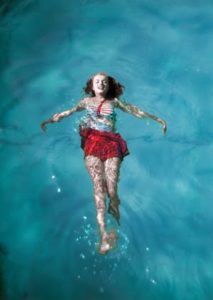 Marilyn Monroe by Richard C Miller©
The beauty of "A Study In Water" never stops unfolding. Like a slow moving, languid stream on a warm summers day, this stunning perfume actually does smell like sun-dappled water, a touch mineral and cold, slightly sweet and extraordinarily refreshing as only fresh water can feel. This will calm and energize at the same time, a slight wet scent of forest surrounded by blooming wildflowers. In the same way a cat stretches in the sunlight through a window, this perfume feels like the definition of cool sensuality and not unlike Marilyn Monroe, it's the perfect scent for wearing to bed when you're wearing nothing else. Positively bewitching. Notes: Muguet, Lime, Green Apple, Bergamot, Dew, Floral Waters, Green Leaves, Orange Blossoms, Sandalwood, Guaiac Wood, Cabreuva, Water Notes, Musk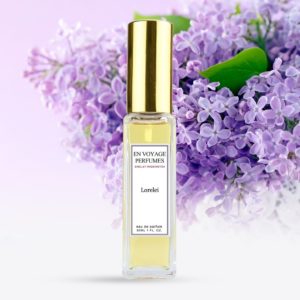 Lorelei (2012): Lorelei is unusual in the sense that it isn't aldehydic like many other "aquatic" fragrances, and yet it's almost incorporeal in its sheerness while still providing a distinctive character that is bright and not overbearingly floral" – Shelley Waddington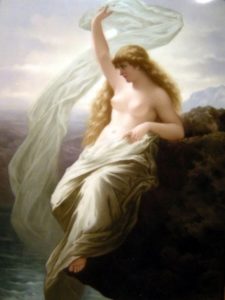 Wilhelm Kray 1828-1889 – Lorelei
An aquatic floral, named by perfume lover and writer Donna Hathaway, Lorelei is as misty and haunting as the Lorelei of Germanic legend, a young maiden who, brokenhearted, plunged into a river and became a siren whose enchanted voice enticed men to their watery grave.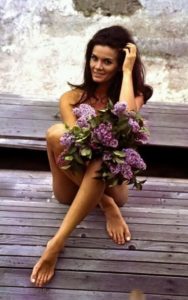 Florinda Bolkan, 1970s Brazilian actress
Lorelei is a paen to the beauty of purple florals, and the lilac, wisteria, and violet are center stage but tempered by the aquatic and sheer springlike feel. If you shy away from purple florals you might want to try this one which is proof positive that when something is done right, it can be miles above the rest. The combination of the florals with the dreamy aquatic and fresh green notes is a siren song that will engage your senses and capture you in its rapturous embrace. Notes: Fresh Green Notes, Lilac, Wisteria, Violet, Jonquil, Daffodil, Lily, Musk
Disclaimer: the perfumes and opinions are my own.
-Robert Herrnman, Contributor
Art Direction: Michelyn Camen, Editor-in-Chief

Thanks to En Voyage Perfumes and Shelley Waddington, we have a worldwide draw of three deluxe samples for a registered reader (please be sure to register if you have not done so).
OR
For a USA reader your choice of the sampler or your choice of 15 ml of Go Ask Alice or Lorelei or A Study In Water
To be eligible please leave a comment with what you thought of Robert's Reviews, what fragrance prize you wish to win if you are in the USA, (International is the sampler), where you live and your favorite En Voyage Perfume. Draw closes 4/26/2017
We announce the winners only on site and on our Facebook page, so Like Cafleurebon and use our RSS feed…or your dream prize will be just spilled perfume.