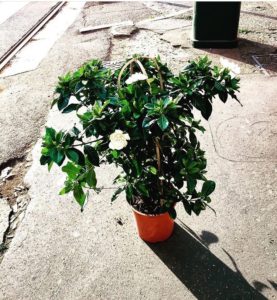 Photo: Courtesy of Ermano Picco gardenia plant
This week, a huge gardenia plant is blooming in my greenhouse. Every morning, when I open the door, my nose is flooded with the scent of the flower. The fragrance of new, old and withering blossoms floats on the greenhouse air, tinted with the smell of wet gravel, moss, humidity and the light citrus odor of cattleya orchids in bloom. Even the sunlight streaming into the greenhouse seems to have a scent of its own, modifying everything else.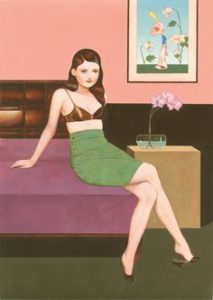 Illustration: Pierre Mornet
Fragrances known as soliflores are attempts to capture the unique ephemeral qualities of a single blossom within the context of the atmospheric complexity that gives it life. The word "soliflore" can also mean a small ceramic bud vase, a vessel that supports and showcases a solitary flower. Lately the fragrance concept of "soliflore" has come to be understood as simplistic, linear, one dimensional and uninspiring. But it is clear to me that a beautiful soliflore is not just a chemical replica of a flower's headspace and that the creation of "photorealism" in fragrance is more complicated than simply mixing an essential oil with perfumer's alcohol. A carefully crafted soliflore can be a masterpiece of perfumery and a glimpse into the perfumer's unique experience of the flower.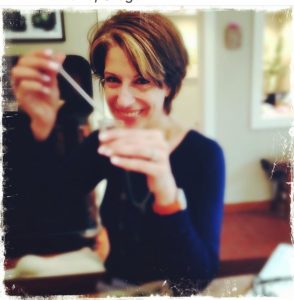 Miriam Vareldiz in her Atelier via instagram
Three of my favorite modern soliflore fragrances are from the same house – 40notes. This is a testament to the skill of perfumer, Miriam Vareldzis who launched 40notes in 2010. Her lifelong relationship with scent includes work with International Flavors and Fragrances and Robertet. Miriam has worked in fragrance evaluation, marketing, development and sales, and as a teacher, mentor and of, course, perfumer. She is one of the few fragrance artists who embrace the challenge of working exclusively in oils. Unlike perfumer's alcohol, carrier oils can suppress the volatility of a scent. Knowing how to make fragrance oil "sing" is an art in itself. In today's world of instant gratification and the fast spritz, dabbing on an oil based fragrance is equivalent to an olfactory journey through time – to my mother's dressing table, perhaps, and to tender memories of her touching a favorite perfume to her wrists.
40 Notes Pefume Oils are hand poured and each flacon is sealed with a hand tied gold cord, (the art of baudruchage)
Miriam packages her perfumes in classically designed 10 ml bottles, with ground glass stoppers, created by the renowned European glass maker, Verreries Brosse, famous for many styles of luxury perfume bottles, including the iconic CHANEL No 5. 40 Notes bottles are sealed by hand with gold cording known as baudruchage, and adorned with solid 14k gold hang tags, stamped with the company logo. The bottles are offered in pouches of "blind" embossed dark purple suede, contributing to the overall effect of nostalgia and vintage elegance.
Illustration: Pierre Mornet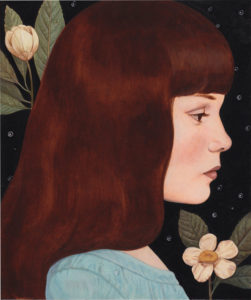 La Pitonsia Tropical, Illustration: Pierre Mornet
Sampaguita Jasmine – In the late 1970s, I purchased a jasmine fragrance oil in the Mashhad bazaar in Iran. For almost 40 years I've searched for this scent. 40notes Sampaguita Jasmine is the closest I've come to reliving my vintage fragrance memory. Sampaguita Jasmine begins quite cool and almost austere, the scent of the flower on a summer morning at dawn, slightly sweet, touched with hay, facets of cool tea, dew and green leaves. As the sun rises, the jasmine flower opens, warmed with indoles and soapy effects that contribute to the rich, heady tropical sensations of Jasminum sambak and tuberose. After about six hours the air close to my skin becomes thick with night blooming flowers and suggestions of a transparent, slightly dusty and shy scent of chèvrefeuille. Notes: Jasmine sambac, a green accord, tuberose and green honeysuckle.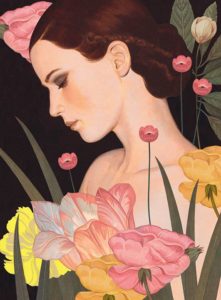 Illustration: Pierre Mornet
Exotic Ylang Ylang is one of the warmest, sexiest solifores I have ever encountered. The instant the perfume oil touches my skin I am transported to a lush island paradise – replete with buttery sandalwood, huge gardenia blossoms, coconut water and traces of dark jungle undergrowth, fed by suggestions of indole and ripe fruit. For me the addition of indole to this fragrance has very little to do with any notion of skank or animalic effects. In fact, indoles, in general, have never impressed as skanky but simply as rich, warm and floral. Despite the somewhat moderate sillage, Exotic Ylang Ylang grows and blooms on my skin, larger than life. I become enveloped in its creamy comfort, so much so that any notion of anxiety, urgency or sense of time seems to melt away. At about two hours into the bloom, ExoticYlang Ylang reaches its peak of floral perfection. Over the next four hours, the fragrance folds and fades to a memory of ylang, woods and tanned skin. Notes: Ylang ylang, gardenia and Indole.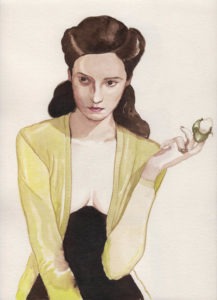 Illustration: Pierre Mornet
Spring Vetiver – While the term soliflore might not be quite appropriate for Spring Vetiver, the fragrance still features vetiver, defined in context of the season. Spring Vetiver opens with the sparkle of grapefruit and the sharp fruity focus of black currant.There is very little of the earthy, smoky quality usually associated with vetver/kus grass. Instead the sweet green facets of vetiver are emphasized and complimented by the scent of Dossinia marmorata, the Jewel Orchid of Borneo. As the grapefruit mellows out, the delicate sweet green floral of Dossinia, similar to Lily-of-the-Valley with hints of sharp green leaves and watery melon, adds a wet, transparency to the this fruity, green spring garden perfume. This aqueous phase lasts for about five hours, vanishing as honeysuckle and musk. Notes: Vetiver, Grapefruit, Blackcurrant, Dossinia, Honeysuckle, and Musks.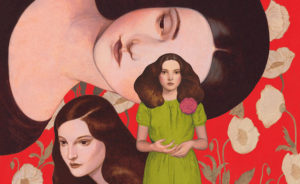 Illustration: Pierre Mornet
Each scented moment, no matter the source, is a unique, once in a lifetime experience. Whether it is the smell of a loved one's clothing, the aroma of a favorite dessert or the fragrance of a flower, every olfactory occasion, like every moment in life, is unrepeatable and ephemeral. Countless factors coalesce at a single point in time to create a fleeting, olfactory image that can never be exactly relived or replicated. Miriam Vareldzis' fragrances are some of the most beautiful and artistic renditions of flowers "in situ" that I have ever encountered – soliflores that are truly a floral "moments in time".
Disclaimer: Many thanks to Miriam Vareldzis and 40notes for the beautiful sample set. Opinions are my own.
-Gail Gross, Editor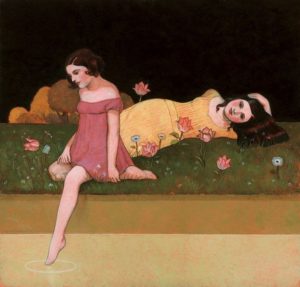 Art Direction: Michelyn Camen, Editor-in-Chief: I chose the art of Pierre Mornet whose illustrations of beautiful, haunting women and flowers evoke the Belle Epoche, which brings to mind the vintage style of 40notes.
40notes Sampaguita Jasmine, Exotic Ylang Ylang and Spring Vetiver
Thanks to the generosity of Miriam Vareldzis and 40notes we have a reader's choice of one of the full sized 10ml flacon of Sampaguita Jasmine or Exotic Ylang Ylang or Spring Vetiver for one US registered reader or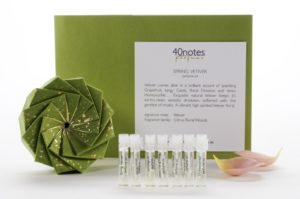 The 40notes 7 x1 ml sample set packaged in an origami flower box (which also include Cashmere Musk, Winter White Flowers, Oudwood Veil and Exquisite Amber) internationally and in the USA (be sure to register or your comment will not count).
To be eligible, tell us where you live, what appeals to you about any of the three fragrances based Gail's review, and which you hope to win- sampler or flacon. Do you enjoy dabbing on perfume oils? Draw closes 5/21/2017
Follow us on instagram @cafleurebon and @miriamvareldzis
We announce the winners only on site and on our Facebook page, so Like Cafleurebon and use our RSS feed…or your dream prize will be just spilled perfume.