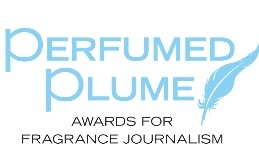 The Perfumed Plume Awards™, in its second year of recognizing editorial excellence in fragrance journalism has announced the finalists in each category, voted upon by an independent panel of judges whose ballots were tabulated by the outside accounting firm, Sperduto Spector & Company.
According to founders Mary Ellen Lapsansky and Lyn Leigh, the 2017 finalists were determined by the highest percentage scores received based on the criteria for each category. In addition, this year the submissions were opened to all journalists as long as the article was written in English.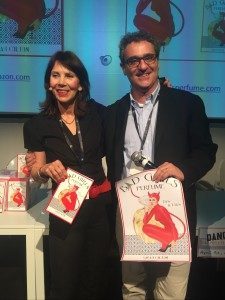 Sarah Colton and Silvio Levi at Esxence 2016 (Photo Micheyn Bad Girls Perfume Tips and Tales)
Fragrance Book of the Year: 'Bad Girls Perfume Tips and Tales,' written by Sarah Colton, (and introduced last year at Esxence 2016) will receive the 2017 award which is presented at the discretion of the Consulting Committee.
2017 Perfumed Plume Finalists
Scent Stories in Mainstream Media – Digital (Magazines, Blog Postings, Webzines)
Basenotes – Ambergris: Myths, Truths, and Half-Truths
CaFleureBon – How To Smell Like a Parisienne
Charenton Macerations – De-Classifying Fragrance Families
Colognoisseur – Perfume Mythbusters: Skin Chemistry
ELLE Magazine -For $22,000 This Perfumer Finds Your Signature Scent
Fragrantica – Revival culture
Leafly – What's that Smell? It's Cannabis Flower perfume, dahling
Perfume In Progress – What Goes Into Running An Artisan Perfume Business?
SCENTURY – Friedrich Liechtenstein: I can smell Luck!
Temporary Art Review – Primal Art: Notes on the Medium of Scent
Scent Stories in Mainstream Media – Magazines (print & digital)
ELLE Magazine – Chemical Attraction
ModaVIE – The Fragrance Kitchen – Fragrance Stories from a Storied Life
SCENTURY – Ramon Monegal: Olfactive Poetry
Town & Country – The Perfume That Smells Like Nothing
Scent Stories in Mainstream Media – Newspapers (print & digital)
The Globe and Mail – No Ordinary Honey
The New York Times – We're Animals, After All
Science of Scent' Stories in Mainstream Media – Magazines/ Newspapers/Digital
Basenotes – Scenting my mental illness
CaFleureBon – For Auld Lang Syne: Perfumes of Other Times
Colognoisseur – New Perfume Review, D.S. & Durga – Radio Bombay and Rose Atlantic – Finding a Signal
Fragrantica – Oud Nihal: Memory and Legacy of the Terenzi Family
The Globe and Mail – Message in a Bottle
Visualization of Scent Stories – Magazines/Newspapers/Digital
Basenotes – Fall-ing into Fragrance
CaFleureBon – Élisire Eau Papaguéna (Franck Salzwedel and Pierre Negrin) "What's In A Name"
ELLE Magazine – Chemistry Class
SCENTURY – Autumn Escentials 2016
The winners will be revealed on April 6 at the awards ceremony & celebration in their honor at the Society of Illustrators, New York City.
Good luck to all! We are honored to be among such talented fragance journalists.
via the Perfumed Plume
Michelyn Camen, Editor-in-Chief