Champagne is the hallmark beverage of celebration. Who would offer a whiskey toast at a wedding or christen a battleship with a bottle of tequila? Ringing in the New Year with anything else would be unthinkable.
The mystique of Champagne as a beverage is unparalleled. It first gained notoriety in the eighteenth century because of its association with the anointment of French kings as it was drunk at the celebrations of the coronation. Eventually, royalty and nobility throughout Europe were enjoying this unique sparkling wine in their festivities. Thus, champagne's early and continuing association with luxury and power. As French author Guy de Maupaussant succinctly declared, "Champagne…the wine of kings, the king of wines."
Legend has it that the Benedictine monk, Dom Perignon, invented the bubbly drink in 1688. He was the cellar master of the Abbey of Hautvillers, true, but in reality his contribution was more along the lines of refining the sparkling wine. For instance, he initiated holding the cork in place with wire to withstand the pressure of fermentation. Initially, the fizz of the "second fermentation" process of unique to Champagne was a nuisance the monk tried to eliminate. Eventually, however, the taste and texture became valued. Imagine the world without Champagne? "Come quickly, I am tasting the stars!" is what Dom Perignon is said to have proclaimed upon first tasting his concoction.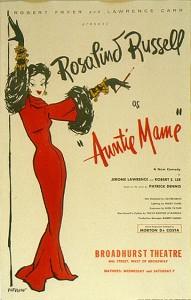 It's no wonder that marketers in the fragrance industry would wish to name a perfume in honor of 'Champagne'. The association of perfume and Champagne would seem natural as both use the sense of smell as an instrumental tie to both creating and selling the product, both use the image of easily obtained luxury, both can be tied to special occasions and both are dispensed from an attractive bottle. The psychological link between Champagne and perfume is perfectly expressed by author Patrick Dennis, creator of the mythical character Auntie Mame: "Auntie Mame [is] a froth of whipped cream and champagne and daydreams and Nuit de Noël perfume. She's not mortal at all."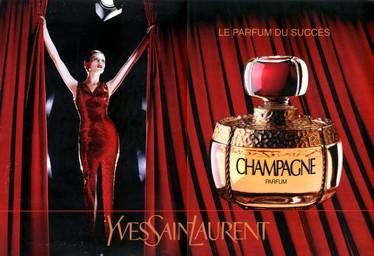 The wine industry did not take it as a compliment, however, when a prominent fragrance house launched a perfume named after the infamous beverage. The year was 1993 and Yves Saint Laurent created a fragrance, not only inspired by sparkling wine, but boldly named "Champagne". A legal battle ensued in Europe over the use of the name "Champagne" for this purpose. In the European Union, the name "Champagne" is protected by law under the auspices of the Treaty of Madrid (1891). An appellation is a geographical distinction used to identify the origins of where grapes were grown for a particular wine. It was determined that only sparkling wine produced in the Champagne region of France and adhering to the strict standards defined for an "Appellation d'Origine Contrôlée" could be called "Champagne." (Although to non-connoisseurs the word "Champagne" is synonymous to the bubbly much like Kleenex –also a brand name—is synonymous with facial tissue).
This time, the wine industry vehemently sought to gain protection of their valuable "Champagne" brand name beyond the wine world and into other types of consumer products attempting to use that name. After a highly publicized battle, the wine industry proved its dominance. The House of Yves Saint Laurent was forced to change the name of a fragrance it had just launched. Seventy years earlier, the House of Caron had created a fragrance also using the word "Champagne" but the name had been changed eliminating that designation in 1941. Therefore, despite their previous use of the provocative word, they had avoided this dispute.
All this leads to an interesting question: of the several commercial fragrances inspired by sparkling wine, which Champagne would they most resemble in a pairing? The following are pairings of the three such fragrances with Champagne counterparts offered in the order of dry to sweet.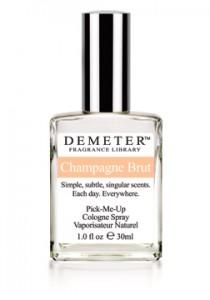 Brut: Champagne Brut by Demeter Fragrance Library with Pommery Cuvée Louise 1998
"Life should not be a journey to the grave with the intention of arriving safely in an attractive and well-preserved body, but rather to skid in sideways, Champagne in one hand, strawberries in the other, body thoroughly used up, totally worn out and screaming "WOO HOO – what a ride!" ~Unknown
The Fragrance: How does Demeter do it? They are flying under the radar and using the name "Champagne"! Perhaps this is because the Company is a small niche fragrance house based out of the United States. The US recognizes the exclusive nature of the "Champagne" name, yet has a legal structure that allows domestic producers of sparkling wine to continue to use the term under a grandfather clause issued in 2006. Therefore, there is probably a loophole in US law that allows Demeter Fragrance Library to run with this. The term "Brut" in the name is not controversial and in wine parlance simply means "dry to very dry". The most popular sparkling wines in the US are of the Brut category. Champagne Brut by Demeter Fragrance Library is a full-bodied fruity unisex fragrance characterized by a Chardonnay base with fruity notes such as pineapple, apple, and lemon. One can detect a bit of a green aspect along with an edge of aniseed.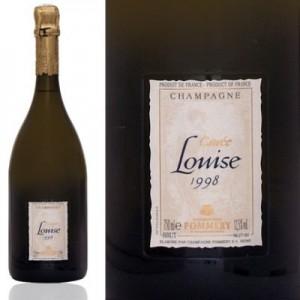 The Champagne: 50% Pinot Noir and 50% Chardonnay. Very firm palate with white flowers, lemon zest, and vanilla. A little green but sublimely elegant. A perfect pairing!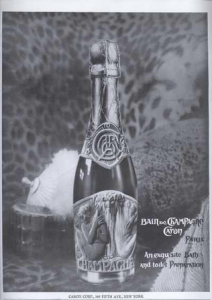 Demi-Sec: Royal Bain de Caron by Caron and Heidsick Green Top
"I had taken two finger-bowls of champagne, and the scene had changed before my eyes into something significant, elemental, and profound." ~F. Scott Fitzgerald
The Fragrance: Straight from the Jazz Age is the first champagne inspired fragrance, Royal Bain de Caron, once named Royal Bain de Champagne. A floral-oriental fragrance, considered unisex from its inception in 1923, it was a slap in the face of the US Prohibition strictures. After all, maybe you can't drink champagne but you sure can smell like it! Tradition says that this fragrance was commissioned by a West Coast tycoon (William Randolph Hearst perhaps?) to replace his extravagant champagne baths. The flacon of Royal Bain de Caron resembles a small bottle of liqueur and has vintage appeal. Top notes are lilac and rose; middle notes are opponax, benzoin and incense; base notes are sandalwood, amber, musk, vanilla and cedar. The oldest of the three perfumes gave may hint at a baby powder accord even though it still highly wearable by contemporary standards.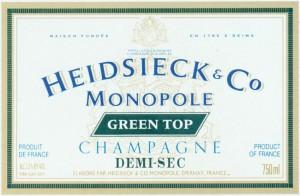 The Champagne: 70% Pinot Noir, 30% blend of Pinot Meunier and Chardonnay. Very fruity and floral, with a sweetness highlighted by berry, apple and vanilla notes. No hint of baby powder but, other than that, a mirror image!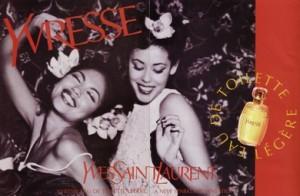 Rose: Yvresse by YSL and Gosset NV Brut Grand Rose
"The best kind of party I could give would be champagne and then take everybody dancing." ~Andy Warhol
The Fragrance: In a clever come back, YSL named their controversial fragrance Yvresse. This is a wonderful a play on the French word "ivresse" meaning "intoxication"…the kind which might be caused by drinking too much—you guessed it—Champagne! The charming crystal bottle is designed by Joël Desgrippes and resembles a Champagne cork, including the wire muselet. A floral-fruity fragrance Yvresse is a voluptuous treat, almost peachy, and often compared to a Bellini. Top notes are nectarine, mint, aniseed, cumin, and violet; middle notes are rose, lychee, carnation, cinnamon, and jasmine; base notes are vetiver, oakmoss, and patchouli.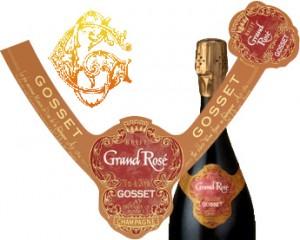 The Champagne: 56% Chardonnay and 35% Pinot Noir, plus 9% still Pinot from Bouzy and Ambonnay. The notes are strawberry, orange, cranberry, white peach and floral honey with a hint of ginger. An ideal complement!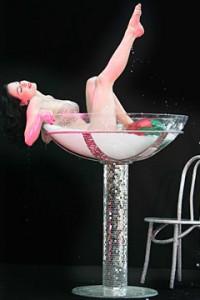 In the end, seminal British economist John Maynard Keynes said it best: "My only regret in life is that I did not drink more Champagne." Or, in the opinion of a perfumista, a similar regret might be not to 'bathe' in more Champagne inspired perfumes!
– Liza Wade, Contributor
Editor's Note: Ca Fleure Bon welcomes Liza Wade as Contributing Writer. Liza will have a monthly column; we are excited she has joined our team.