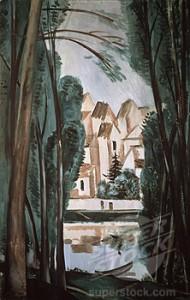 One last entry for The Mystery Of Musk finally made it into our hands. Alfredo Dupetit-Bernardi sent us his Botanical Musk Nr. 5 and like everyone else involved with The Mystery Of Musk project he had his own unique way of interpreting the brief Anya McCoy laid out. Hr. Dupetit-Bernardi chose to work with three of his existing compositions as the foundation upon which he would build his "woody erotizing musk".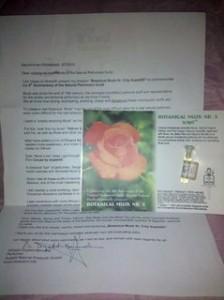 Hr. Dupetit-Bernardi started with "Vetiver by dupetit" which contained a lot of ambrette musk along with the woody feel he wanted. He then added in "Chypre by dupetit", this was to add more sweetness and to intensify the iris that was present in the Vetiver. For a little darkness he added "Foin Coupe by dupetit", this was for the costus and the lavender. After he had balanced these three pieces, Hr. Dupetit-Bernardi added some mastix absolue and styrax for resin and wood accents. The final bits of tuning came from orris, Moroccan rose, Bourbon geranium, grapefruit, petitgrain, verbena, and buchu betulina. The idea of taking existing creations and blending them together followed by a little course correction was a unique approach to this project. As this was my first exposure to dupetit I wasn't going to be able to say I could pick out the different fragrances used to make up Botanical Musk Nr. 5, which I think is a good thing because I know my proclivity to pick things apart would've led me down that path. Instead Botanical Musk Nr. 5 served as a primer on Hr. Dupetit-Bernardi's style of natural perfumery.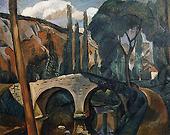 The top of Botanical Musk Nr. 5 begins with the pairing of ambrette seed and iris along with the vetiver that came from the Vetiver building block. These three notes persist on my skin for a long while before finally allowing some of the other notes a chance to grab my attention. Egyptian jasmine along with the Moroccan rose turn the heart of this deeply floral and along with the, still present, iris and ambrette make for a potent heart of things. After the potent beginning the base never quite turns as woody as I think Hr. Dupetit-Bernardi was hoping for. It is there but after the very intense opening it ends up feeling rather thin and that is despite the presence of birch tar, which never adds in the raw leathery aspect I was hoping for when I saw it in the note list.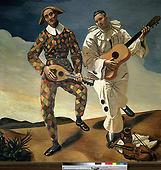 Botanical Musk Nr. 5 has average longevity and modest sillage.
As with all of the other eleven natural perfumers involved in The Mystery of Musk project, Hr. Dupetit-Bernardi found his own solution to the "mystery". In this case it involved taking what came before and re-interpreting it into something brand new.
Disclosure: This review was based on a sample provided by dupetit as part of The Mystery Of Musk project.
-Mark Behnke, Managing Editor
Art by Alain Derain (1880-1954)