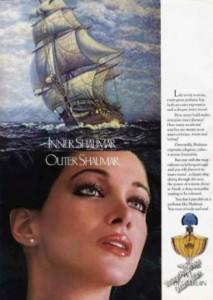 Who among you cannot conjure  an image of Shalimar's blue-stoppered, bat-wing bottle, the myth for which it is known, or even the scent of this legendary perfume after reading the title of this article?
The phrase " Say Shalimar", was used as part of an advertisement in the 1980's, and assumes an intimate knowledge of the fragrance as well as the imaginative flights of fantasy associated with its name.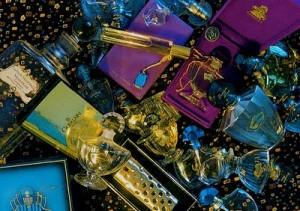 First launched in1925, Shalimar has become an intrinsic part of our culture, not only because of Guerlain's effective marketing strategies, but also because of the allure emanating from a genuine classic.  Stamelman, author of Perfume: Joy, Obsession, Scandal, Sin, calls it "one of the five great fragrances of the twentieth century (p. 296)."  Calkin and Jellinek describe it as "one of the greatest and most aesthetically satisfying scents ever made (Perfumery: Practice and Principles, p.124)."  For most of us it is difficult to imagine a time when Shalimar did not exist; however, to understand its evolution we must step backwards in time to the year 1889, before its inception, when Aimee Guerlain created the first modern perfume, Jicky.
Prior to Jicky, perfume ingredients were recognizable and simple, based almost entirely upon a single floral note. The idea of the perfumer as artist was unknown.  Synthetic ingredients were not used.  All of this changed with the revolution that was Jicky.  This perfume was so complex that only an experienced nose could decipher its ingredients. It ushered in an entirely new and modern purpose in perfumery which, according to Jean Claude Ellena, was ' 'emotive perfumery [one that] no longer attempted to imitate the scent of flowers, but to arouse emotion (in Stamelman, p. 98). ' " Rather than copy nature, this scent transformed nature.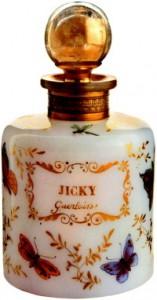 What rendered Jicky truly modern, however, was its remarkable blending of natural and synthetic ingredients. Although Houbigant had used synthetics in Fougere royale in 1882, Aimé  Guerlain was the first to achieve the highly complex and balanced composition that constituted Jicky. Among its ingredients were "new absolutes, the products of solvent extractions, as well as synthetics…." (Morris, Fragrance: The Story of Perfume from Cleopatra to Chanel, p. 192).
Jicky, a fougere bearing the nickname of Guerlain's nephew, Jacques, has top notes of lavender, bergamot, rosewood, and herbs such as rosemary, verbena, and thyme; its middle notes consist of geranium, jasmine, and rose; vanilla and coumarin make up its smoldering base. Only the choicest of ingredients have been blended in creating this aromatic feast. 
So, what does all of this have to do with the history of Shalimar?  There are several connections.  First, Jicky has been described as the "bridge-scent" between Pierre Francoise Pascal Guerlain's L'Eau Imperiale of 1830, which he dedicated to the Empress Eugenie in the year 1853, and Jacques Guerlain's Shalimar (Stamelman, p. 185). Jicky thus links the nineteenth and twentieth centuries in the history of the Guerlain house. Second, legend has it that Shalimar was born when Jacques Guerlain added additional vanillin to Jicky, thus capitalizing upon an excess of its aroma. Third, Shalimar was a more than worthy heir to the "emotive perfumery" introduced by Jicky and so carried forward the new purpose at the heart of modern perfumery.  Jean-Paul Guerlain has said, "Vanilla is famous as an aphrodisiac and I think that this is true. My grand-father, Jacques Guerlain, taught me how to love vanilla as it adds something wonderfully erotic to a perfume. It turned Shalimar into an evening gown with an outrageously plunging neckline."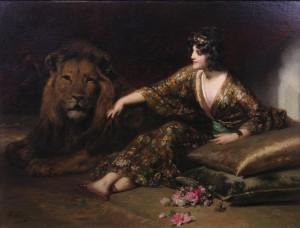 Shalimar is an Oriental whose notes consist of bergamot, lemon, mandarin, rose, jasmine, orris, vetiver, heliotrope, opopomax, vanilla, civet, Peru of balsam, benzoin, tonka bean, and sandalwood. Perhaps no one has described the unfolding of its fragrance more vibrantly than  "Helg'   description on the online site, Perfume Shrine:
          Guerlain's Shalimar opens with the violent zest of bergamot,
          backed up by sweeter hesperidic scents, quickly melding into
          an embrace of flowers that soon set the stage for the sensual
          and warm undercurrent of the muskily sexy base. The bridge
          of patchouli and vetiver with a touch of what seems like
          mediterranean thyme, provides the movement that compliments
          the chilly astringent feel of the citrus, uniting the prickly, balsamic
          elements of the drydown into a sustained basso continua that
          endures for hours on skin as well as on clothes".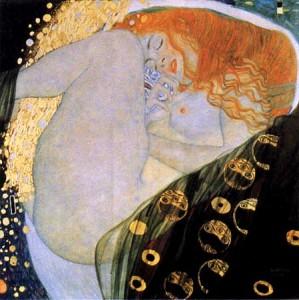 It has an extraordinary round and sensual base, but nearly no heart. It is so sensual that it goes perilously close to the edge of good taste. What makes it magical is the way in which Jacques Guerlain counterpointed it. That's something few other perfumers have managed to do with the oriental accord. Counterpointing is the ability to balance the rough with the smooth, the rich with the light and fresh. "When you make a perfume as sensual and rich as Shalimar, you have to find a way to balance it, so that you don't end up feeling that it is just too much." (Roja Dove in Edwards, Perfume Legends, p. 56).
 As with Jicky, there is a superb blending of ingredients.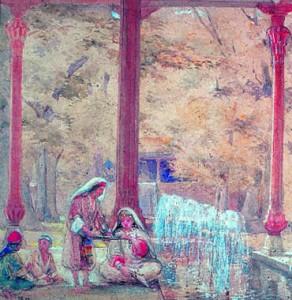 A pavilion in Shalimar Bagh
Perhaps to amplify his love of vanilla as an aphrodisiac, Jacques Guerlain called his masterpiece, Shalimar. In Sanskrit, this word means "Abode or Hall of love (Stamelman, p. 296)." The word also refers to the gardens of Shalimar, located in Lahore, Pakistan, and created by the Mogul emperor, Shah Jahangir, in 1619. Eight years after constructing these gardens, the Shah succeeded his father to the throne. He and his favorite wife, Mumtaz Mahal, passed many rapturous hours strolling in these gardens. Three years later, she died in childbirth to his enormous grief. The emperor expressed his love and despair by engaging thousands of workers for fourteen years in building her tomb, the Taj Mahal. Rabinadrath Tagore has written beautifully of this monument to love that it rises "like a solitary tear suspended in the cheek of time (in Stamelman, p. 296)."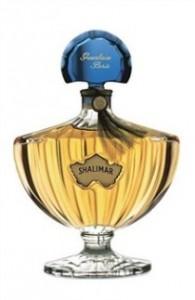 Having a name and its beautiful bat-wing bottle designed by Raymond Guerlain, Shalimar was ready for its public debut.  The  launch in 1925 occurred amidst an ebullient celebration of modernism in French decorative and interior arts. The special event at which it took place, The International Exposition of Modern Decorative and Industrial Arts in Paris (or Exposition Internationale des Arts Decoratifs et Industriels Modernes), had been seventeen years in arriving.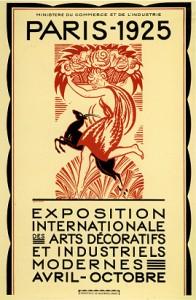 It lasted for six months. Pavilions highlighted French modernism and its products. Architecture, glassware, ceramics, interior design, clothing, accessories, and perfume were all displayed in special pavilions, some erected expressly and elaborately for the purpose.  Towering over the Exposition and its activities was the grand symbol of that modern era, the Eiffel Tower.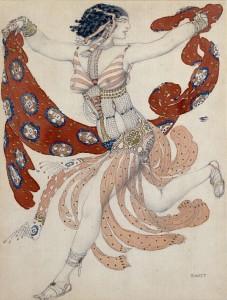 Ida Rubenstein
On June 16, 1925, a grand pageant took place at the Exposition. Theater, opera, music, dance, song, fashion, and perfume swirled before the 2,000 participants at the Grand Palais until morning. Performers were some of the greatest theater and music-hall celebrities of the time. Among those appearing were Ida Rubinstein, the dancer; the singers of the Paris Opera; showgirls of the Moulin Rouge and Folies Bergere, and Eva Le Galienne, the actress. Amidst the festivities, perfume was given special recognition. Not only was it acknowledged as having "pride of place," but perfumery was designated "as one of the most important of the French luxury industries – something that earlier exhibitions…had never done (Stamelman, p. 219)…." Thus Shalimar debuted as part of a magnetic celebration of modernism, taking its place alongside the other arts and industries of its time, as well as heralding a world transformed by modern ideas and applications.
Today we tend to forget what a stunning and originary achievement Shalimar was. For some it is referred to pejoratively as a scent that grandmothers or "old ladies" wear. However,  Shalimar's  superb composition still holds as a remarkable aesthetic achievement, and if I am right, we will be wearing it for at least another eighty-five years while many more contemporary fragrances will have disappeared. A great perfume transcends time to become an expression of our inner life; and that, my friends, even grandmothers possess
                                                  References
Edwards, Michael. Perfume Legends: French Feminine Fragrances. Crescent  House Publishers, 1998.
Helg, "Shalimar by Guerlain: Review and History Info for an Iconic Oriental." September 10, 2008. Perfume Shrine.
Morris, Edwin T. Fragrance: The Story of Perfume from Cleopatra to Chanel. New  York: E. T. Morris & Co., 1984.
Stamelman, Richard. Perfume – Joy, Obsession, Scandal, Sin: A Cultural
History of Fragrance from 1750 to the Present. New York: Rizzoli, 2006
– Marlene Goldsmith, Contributor