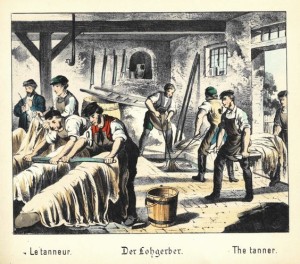 Le Tanneur Lohberger 1880
Leather…it can be elegant and tailored, comfortable and broken in, authoritative, sexual, provactive or soft and warm; it all depends on what you do with it. What we call the scent of leather is not leather itself but a fragrance closely associated with the tanning process or with the finished leather goods. Difficult to describe, the word and aroma are closely intertwined and evoke a distinctly personal association for many people.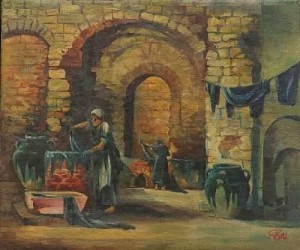 The Tanners – oil painting by Faeq Hassan
Although there have been tinctures of leather, the fragrance of leather for perfumery is actually constructed instead with materials that capture the essence of leather. It may be the sweet smokiness of birch tar, the true animalic scent of castoreum, or the sweet leathery fragrance of cassie. Tobacco, oakmoss, labdanum, burned seashells (choya nakh), or saffron can also be used to create a leather note. When the gemstone amber undergoes dry distillation it may have a smoky, tar-like fragrance reminiscent of tanned leather.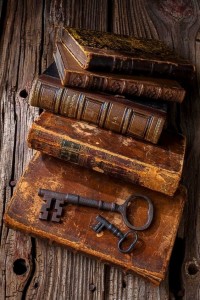 The scent of leather has been traditionally associated with either a strong sweet-smoky fragrance or a more refined leathery/woody aspect with floral overtones. For the strong and smoky, we go to Russia where leather is supple, virile and militaristic. Russians long held the secret for curing with the bark of the Siberian birch tree to produce rugged supple leather that also repels insects. One further step, rubbing birch oil on the inside for waterproofing, produced the smell re-created in Cuir de Russie fragrances. Think intensely dark leather with a hint of sweetness from the birch, a smell that may be familiar to patrons of European libraries that contain Russian-bound books. It was highly sought after in Western Europe for binding books during the last half of the18th century and first half of the nineteenth, lending a comforting and familiar aroma to old books. During the same time furniture, luxurious coaches, and other elegant possessions were created with Russian leather.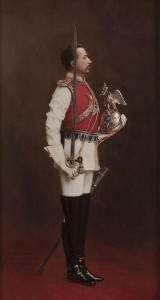 An Officer of the Russian Imperial Chevalier Guards, by Carl Ludwig Friedrih Beccke
These legendary Russian leathers, along with the skill for making them, seemed to be long lost only to be rediscovered in a shipwreck in Plymouth Sound off the coast of England.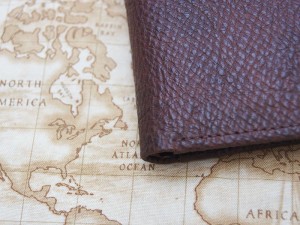 Rare Metta Catharina 1786 Russian leather wallet
The ship was the Frau Metta Catherina and the date was 1786. Bundles of 200-year-old leather hides were brought to the surface from the wreck and, although outer layers were ruined, inner hides were protected by a thick coating of mud and revealed themselves to be supple, beautiful, and aromatic reindeer hides. A testament to the Russian tanner's art, the hides were purchased to make fine leather goods.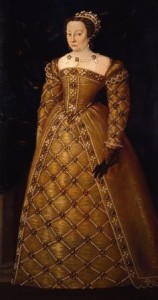 Portrait of Catherine de Medici,Queen of France by an unknown painter
Another interpretation of leather comes from a town known for fine perfume materials in the form of elegantly scented leather gloves fit for a queen. The history of fragrance in Grasse began with the production of fine leather goods using pelts from Spain and Genoa, a trade that developed in the 12th century. Although lucrative, the industry produced a strong and unpleasant-smelling leather that did not complement the fine gloves and handbags that were being produced. Queen Catherine de Medici loved these fashionable items but not the smell. A tanner named Galimard began to offer scented leather gloves, seducing Catherine with their fine odor and creating a hugely popular industry. Maria de Medici also loved her scented gloves and had her perfumer, Tombarelli, sent to Grasse to learn the perfumer's art. By the 17th century the 'Glovers Perfumers' in Grasse were highly successful but transitioned to fine fragrances when high taxes and competition made leather crafts less profitable.
Leather gloves and Paris Collage
In this different time and place, handkerchiefs and gloves were a way of scenting a person's personal space in the midst of open sewers, unwashed bodies and other foul smells. For those who could afford it, a fragrant glove raised to the nose wafted a pleasant masking fragrance. King George III loved the scent of his royal leather gloves so much he asked his glove-maker, Creed, to create a fragrance based on their leather fragrance. Royal English Leather was introduced in 1751 and another leather-maker made the move from leather goods to perfumery. Luxury to luxury.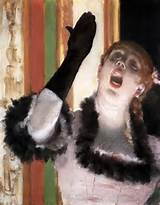 Edgar Degas Singer with a Glove
Peau d'Espagne refers to a category of fragrances that recreate such fine leathered fragrances and incorporate botanicals from the south of France: neroli, rose, lavender, geranium, and bergamot are generally used along with spices and the animalic fixatives of civet and musk. These leathers are soft and supple, suited to high fashion and the soft hands of queens.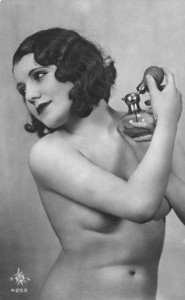 British sexologist Havelock Ellis called Peau d'Espagne highly complex and luxurious, being a scent that most nearly "approaches the odor of a woman's skin"; whether it also suggests the odor of leather is not so clear." In the 1872 book, Encyclopedia of Practical Receipts and Processes by William Brisbane Dick, a formula for Peau d'Espagne is found among the receipts for dyes, wines, cleaning products, cheese, and perfumes and other sundries.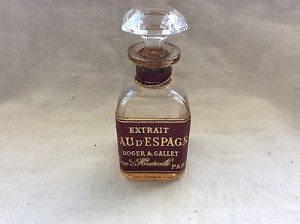 Vintage Peau d'Espagne Roget et Gallet
The ingredients include oil of rose, neroli, sandalwood, lavender, verbena, bergamot, smaller amounts of cloves and cinnamon dissolved in gum benzoin. To make a sachet, a piece of soft leather is steeped in the blend for a day or two and then dried. A paste is made of musk and civet mixed with gum-tragacanth. The leather may be cut into squares that are pasted together with the musk/civet mixture, placed between two pieces of paper and pressed until dry. The leather thus created may be used for years to perfume paper, lingerie, and other personal items. This same blend may also be used to flavor meat dishes or beverages to impart an exotic aroma.
Tanners were considered the lowest rung of workers in society
But wait, were leather scents truly just a luxury or were they a cover-up? From the first effort at tanning leather it became apparent that leather carried with it the scent of death, the scent of urine and other tanning materials, and none of the fragrance we associate with luxury. The Russians solved the problem with aromatic birch and attention to detail. The French solved it with fine aromatics.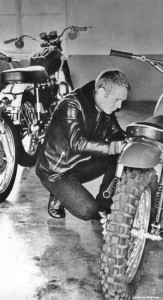 Steve McQueen, Harley and Black Leather
Leather lasts and is sturdy, therefore it is often chosen to hold and protect something precious and sacred; one thinks of a fine leather purse containing a scented scarf and valuables. The material may be protective, like the leathers worn by early cowboys or the more contemporary motorcycle riders. The bindings of books, intended to last, also made use of fine leather. Perhaps for these reasons, medicine pouches for Native Americans were made of various leathers and used to store sacred herbs like sage or sweetgrass as well as favorite pipes and tobacco. The pouch was worn next to the heart, combining the scent of the person with the sacred items within. The iconic leather jacket became symbolic of Hollywood "bad boys"; Marlon Brando, Jack Nicholson and Steve McQueen have heavily influenced pop culture.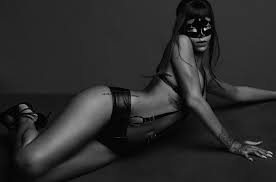 Rihanna wearing a leather mask from Alexander McQueen and leather briefs from Agent Provacateur, Another Magazine
And of course the image of the domanitrix, S & M, leather as sex, domineering perhaps due to its sometimes animalic nature.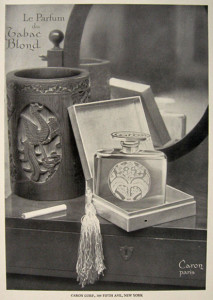 Vintage Tabac Blond Ad
Leather perfumes are classified into different groups: true leathers, leathers with floral tones like iris or violet, and tobacco leathers. In modern perfumes, suede is an additional leather note that is obtained with synthetic ingredients.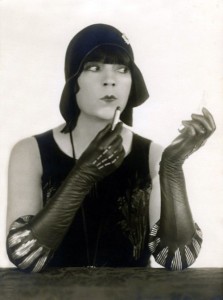 Danish Silent Screen actress Asta Nielson 1920s was one of the first international movie stars, wearing leather gloves
The early years of the 20th century seemed to bring together several elements that made leather perfumes popular. Rather than being made exclusively for men, leather perfumes were often marketed to women who broke stereotypes. The classic Caron perfume Tabac Blond , composed in 1919 by Ernest Daltroff, perfectly reflected the mood of the flapper who rebelled against tradition, wore short skirts, smoked, and drove cars.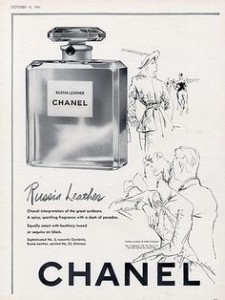 Cuir de Roussie CHANEL ad 1937
Although there was a version of Cuir de Russie by Lubin in 1900 with a strong leather scent, it was Coco CHANEL who created the most memorable Cuir de Roussie in 1924 evoking memories of her Russian lover, the smell of his boots tanned by birch bark, and the aroma of rich furs. There are many versions of Peau d'Espagne, beginning in the late 1800s with Roger & Gallet and continuing with over 40 versions in the next 35 years. There are also just as many versions of Cuir de Russie.
Often paired with tobacco, leather perfumes are strong, sweet, tarry and smoky, fruity, velvety, floral, gender-bending, and unmistakable.
— Dr. Elise Pearlstine, Editor and Perfumer of Tambela
— Michelyn Camen, Editor-in-Chief: Art Direction