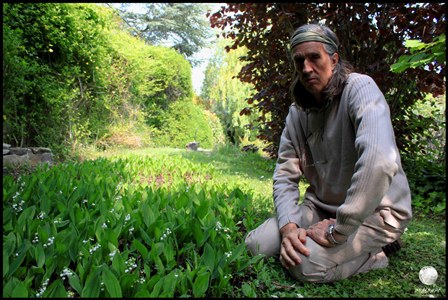 CR:Michel Roudnitska
PROLOGUE BY MICHELYN CAMEN, EDITOR-IN CHIEF: Born in 1948 in Seine-et-Marne, Michel Roudnitska has been immersed in the ART of perfumery from his childhood, at the age of 10, through his relationship with his father Edmond Roudnitska's (who many consider the greatest perfumer of the 20st century). Edmond Roudnitska's legacy in perfumery cannot be summarized briefly- his olfactive creations include such ground breaking classics— Rochas Femme (1944 created in Nazi occupied France with almost no raw materials available), Christian Dior Eau Sauvage, Christian Dior Diorissimo (1966 the scent of May Day), and Le Parfum de Therese for Frederic Malle(developed in 1961 but released in 2001).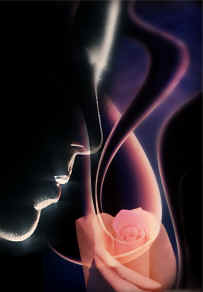 CR:Michel Roudnitska
Michel Roudnitska is his own person and came into his own perfumery late in life; 30 years to photography, especially to the techniques of "photomontage."He thus created many covers and illustrations for magazines (3ème Millenaire, Vogue, Sciences et Avenir, Happy Few, etc), books (for Albin Michel, le Souffle d'Or, etc), and advertising brochures notably for Air France's Concorde, Shell and IBM. Many articles in specialized picture magazines have been dedicated to his work : Le Photographe, Pixel, Creation numerique, Regard sur l'Image, 3ème Millenaire, Happy Few, Parfums et Senteurs (N°3) etc. in life".

Like all original compositions, his fragrances bring to life memories, create dreams and spark yearnings, both of the past and of our fragrant future. He is a staunch defender of the right of the perfumer as an artist, a topic we have covered when we learned that Dior has changed formulas and autuers for some of his father's greatest works.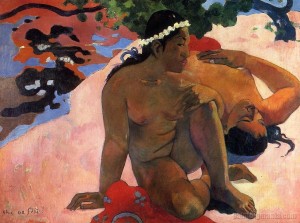 Paul Gaugin is Michel's favorite painter
Having launched Noir Epices in 2001 for Frédéric Malle Editions de Parfums, he has also worked on Parfums DelRae fragrances, fragrances for Shiloh, and Ellie D: Eau Illuminée (2002), Amoureuses (2002), Bois de Paradis (2002), Début (2004) Shiloh (2007) Ellie D (2007) Ellie D Nuit (2008), Emotionelle, (2008)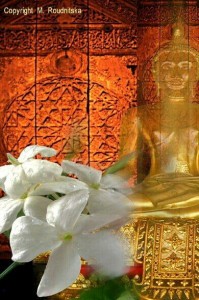 From Perfumes of the World, Michael Edwards CR M. Roudnitska
Michel has been a friend to Cafleurebon from the first day we posted; his view on ethical perfumery was our first post. We think of Michel as a Contributor Emeritus for our site. In collaboration with Marlene Goldsmith, CaFleurebon received a Fragrance Foundation Finalist acknowledgement, using his beautiful illustrations from Michael Edwards Perfumes of the World Book 2010. He now devotes much of his time to philanthropic and environmentalist causes. And you will see, perhaps new fragrances.
_____________________________________________________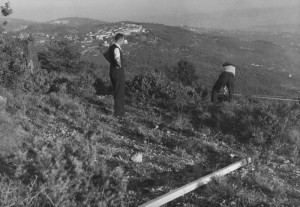 CR:Michel Roudnitska
Art &Parfum before building
The Art & Parfum's garden started to be created in 1947 from a stony, sloppy and arid land.This 11 hectares could be bought thanks to the royalties of "Femme" launched in 1944 by Marcel Rochas.On this picture my father and our architect are positioning the future laboratories.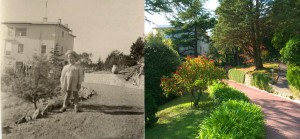 CR:Michel Roudnitska
Art &Parfum 1950_2010:
I was 2 years old playing all day long in the garden and looking at the new plantations.I have grown with the trees and 60 years after it has become a real botanic park.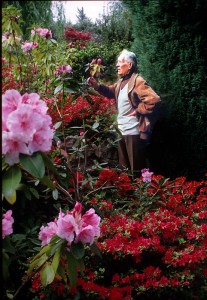 CR:Michel Roudnitska
Edmond Roudnitska:
I took this picture of my father among the Rhododendrons while he was doing his everyday 1 hour walk in the garden, in order to control the maintenance of each plants.
Rose pergola + Rose Centifolia + rose Etoile de Hollande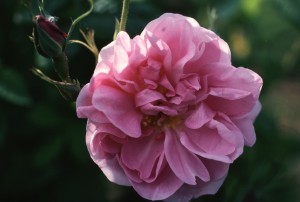 Many species of roses are growing in different parts of the garden but the Italian pergola is the main place to discover them.Naturally you can find the Centifolia rose but the most interesting for its fragrance is the "Etoile de Hollande" created by Meilland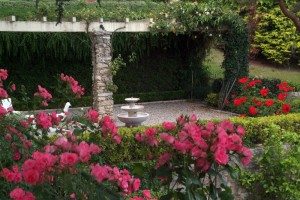 My father was particularly obsessed by this powerful rose which has a unique plum liquor note. We have been working together for several years in reproducing this fragrance which was not available on the market.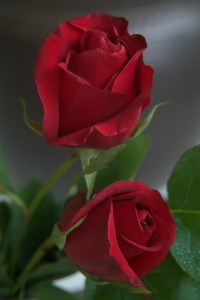 The result was used in some of his composition and I created a special interpretation of this rose for my "Bois de Paradis" (Parfums DelRae).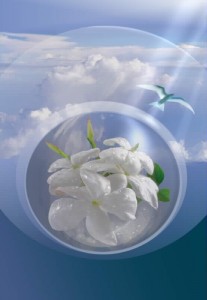 Jasmine paradise + Star Jasmine: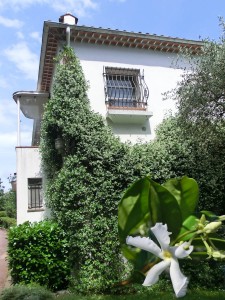 My father and I were really mad for jasmine. He has used this olfactive note in nearly all his perfumes but "Parfum de Thérèse" has the highest proportion. For me it represents the fragrance of the paradise. It plays a rather important part in "Amoureuse", Emotionnelle , Debut (Parfums DelRae) and Ellie (Ellie D. Perfume).Our laboratories are covered with a special kind of jasmine : the Star Jasmine which odor is much more spicy than the "Grandiflorum", overwhelming all the scents coming from the labs.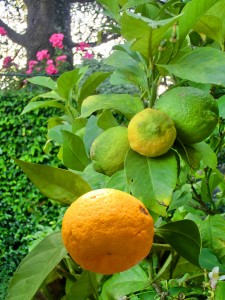 CR:Michel Roudnitska
Citrus:
In spite of the altitude (650m), we succeeded in acclimatizing citrus (lemon, tangerine,…) protecting them during the cold winters.This was the main inspiration for my father's Eau Sauvage (Dior). He used to scratch regularly the skin of these fruits to remind him their genuine fragrance.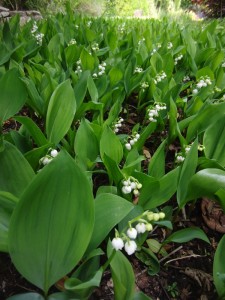 CR:Michel Roudnitska
Muguet:
Edmond Roudnitska specially settled this flowerbed of Lily of the Valley when he was working on Diorissimo (1956).55 years after it's still there, delivering in May its timeless and refined fragrance.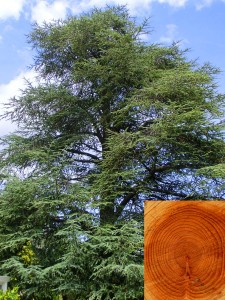 CR:Michel Roudnitska
Blue Atlantic Cedar
It's the tallest tree of our park. Cedar is one of my favorite tree and also one of my favorite raw material.Several years ago we had to cut some big branches after a huge storm and I was amazed by the very strong olfactive appeal of the wood slices: they had an uncommon black prune jam note that I never smelt before in cedar oils.This was a great part of my inspiration for the woody note in "Bois de Paradis".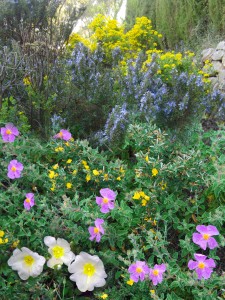 CR:Michel Roudnitska
Garrigue:
The natural vegetation of our land is composed of Cistus labdanum, broom, rosemary, thyme, lavender… The global scent of these plants is called "Garrigue".
I tried to reconstitute this ambiance for an olfactive ballet in Avignon Festival in 1996 and then it was incorporated in "Eau Illuminée" (DelRae 2002). It is also used presently in the "olfactive airlock" of the International Museum of Perfumery in Grasse.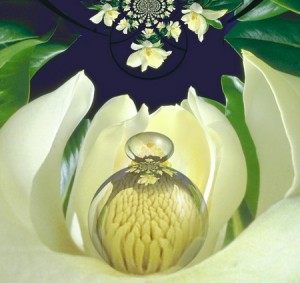 CR:Michel Roudnitska
Magnolia Grandiflorum:
I have been working for several years on this flower which bewitches me each summer when we have lunch under the big tree planted beside the swimming pool. A nearly achieved original fragrance is born from this research. I am just waiting the good opportunity to launch it.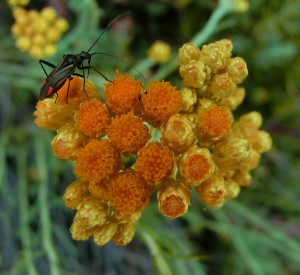 Immortelle:
It's growing naturally in our garden and I like particularly this hot and dry scent which reminds me the desert.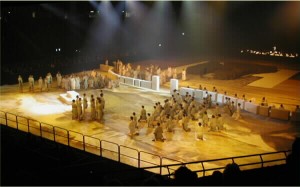 CR:Michel Roudnitska
I have used it in combination with other ingredients to odorize the Opera "Nabucco" of Verdi in Rotterdam.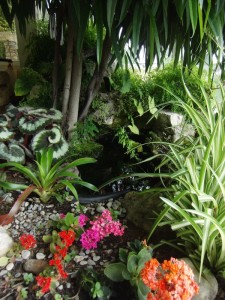 Tropical veranda:
When I came back from Polynesia after 10 years working there, I wanted to reproduce the scent of the rainforest in my house in order to feel back again in this paradise.So I built a warm veranda with a lot of tropical species directly planted in the ground. I was quite happy with the result which inspired me an ambient fragrance for my last olfactive show (World Scent) and an exclusive men fragrance ready to be launched.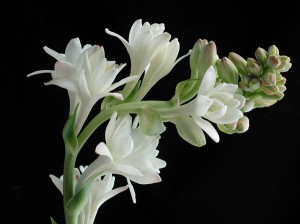 CR:Michel Roudnitska
Tuberose:
Bring a sensual note in "Amoureuse"
Violet: A part of the accord in "Emotionnelle"
Pink Hyacinth + Pink Wisteria + Datura + Broom
CR:Michel Roudnitska
Source of inspiration for future perfumes
–Contributor Emeritus, Michel Roudnitska
These photos are the personal property of Michel Roudnitska and are a gift to our readers. They are copyrighted and we use them with M. Roudnitska's permission.
"Beauty has its own heavenly language, loftier than the voices of tongues and lips. It is a timeless language, common to all humanity, a calm lake that attracts the singing rivulets to its depth and makes them silent. Only our spirits can understand beauty, or live and grow with it. It puzzles our minds; we are unable to describe it in words; it is a sensation that our eyes cannot see, derived from both the one who observes and the one who is looked upon. Real beauty is a ray which emanates from the holy of holies of the spirit, and illuminates the body, as life comes from the depths of the earth and gives color and scent to a flower"-Kahlil Gibran
Broken Wings
THIS IS A REPOST THERE IS NO DRAW MAY 1, 2015