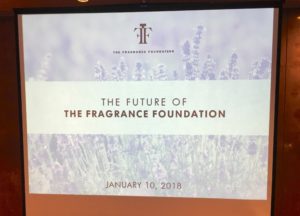 The Fragrance Foundation hosted a breakfast event at Brasserie 81/2 on January 10th, attended by Board Members, top-level executives from leading fragrance houses, retailers, manufactures, and a lone perfumer (more on that later).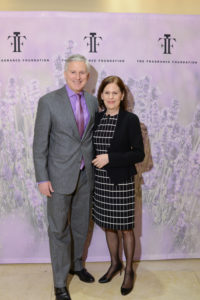 Jerry Vittoria, Chairman of The Fragrance Foundation and Head of Fine Fragrance Worldwide for Firmenich, Inc. and Linda G. Levy, President of The Fragrance Foundation​ (courtesy of The Fragrance Foundation) Photograph by Casey Kelbaugh
Jerry Vittoria, Chairman of The Fragrance Foundation and Head of Fine Fragrance, Worldwide Firmenich, Inc. gave the opening remarks. "This is your Fragrance Foundation and that this is the only trade association focused 100% on fragrance." With that, he introduced Linda G. Levy, President of the Fragrance Foundation
Ms. Levy opened the event articulating the Future of The Fragrance Foundation for 2018. Her first priority as newly elected President was sitting down with Board Members and top executives from within the fragrance community to gauge the level of interest in refining the mission of the Fragrance Foundation. The timing was right for some forward-thinking initiatives.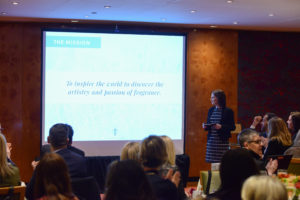 Linda G.Levy delivering the new mission statement (courtesy of The Fragrance Foundation) Photograph by Casey Kelbaugh
To begin, Linda G. Levy revealed The Fragrance Foundation's new mission statement: To inspire the world to discover the artistry and passion of fragrance. Next she spoke of 2018's five major. objectives
Engaging consumers by creating experiences where customers can interact with scent. Levy stated, "every person I spoke to talked about this." She wants consumers to be connected through digital platforms. Social media will play a larger role going forward. Ms. Levy announced TFF's new social media i.d. is @fragrancefoundation. Save The Date: "Every March 21st, for the rest of our lives, we're going to celebrate fragrance", as she announced "Fragrance Day." Linda G. Levy proposed that the industry come together in creating a "countdown" to Fragrance Day by starting a conversation about scent and kick-starting excitement on multiple fronts, especially at retail. "Fragrance Day is going to be very motivating. A PR happening". Activities and promotions for customers to be announced.
The Fragrance Foundation plans on becoming more inclusive of smaller businesses and indie brands with reduced rates which is one of a few ways Linda G. Levy plans on enhancing membership.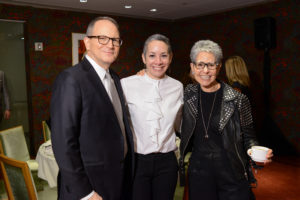 Daniel Annese, Global Brand President, Aramis and Designer Fragrances, The Estee Lauder Companies, Jenny B. Fine, Executive Beauty Editor of WWD, Ann Gottlieb, President Ann Gottlieb Associates, Inc. (courtesy of The Fragrance Foundation) Photograph by Casey Kelbaugh
Up and coming fragrance industry professionals "The Notables", will have a larger role implementing initiatives and a role at the committee level. Education initiatives will be pushed to the forefront with partnerships with FIT Undergraduate & Masters Cosmetics & Fragrance Marketing Program, The Fragrance Academy, Cinquieme Sens and PERFUMARIĒ.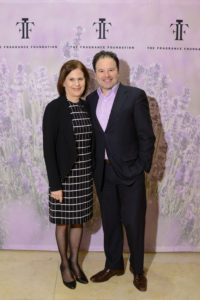 Linda G. Levy and Westly Morris, MANE Fragrances (courtesy of The Fragrance Foundation) Photograph by Casey Kelbaugh
The Fragrance Foundation looks to actively seek an organization(s) that align with goals such as sustainability and preserving endangered ingredients. Giving Back in a more clear-cut manner is a smarter way to invest in the future together.
Linda G. Levy referenced two successful events last year that embodied fragrance as experiential: The Atelier Cologne Nutcracker press event and the Cartier L'Envol Cloud event in Paris. She was inspired by these interactive events and now a Fragrance Foundation Pop-up store is scheduled for either November or December which will include a mix of brands, large and small.
The TFF will have the actual fragrances/bottles/packaging available at the Finalist Luncheon to smell and experience. Smell what you are voting for! Having fragrance at every event is a way to engage perfume lovers even more.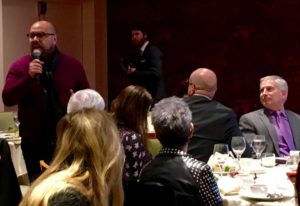 Rodrigo-Flores Roux asking "Why am I the only perfumer here"?
There was a Q & A at the close of the event. Master Perfumer Rodrigo Flores-Roux of Givaudan (who was the only perfumer in attendance), asked "the word perfumer was missing this morning. What can we perfumers do?" Linda G. Levy noted that more perfumers should have been invited/present. She stated that perfumers "are really the life and where it all begins and more important than anyone and plans on having perfumers play a larger role, starting with Fragrance Day".
–Hernando Courtright, Senior Event Contributor, and Brand Ambassador (with contributions from Michelyn Camen, Editor-in-Chief)
What do you think of Fragrance Day? What did you find exciting about Hernando's report and Linda G.Levy's new mission for The Fragrance Foundation?