Florence Gould Hall at the French Institute Alliance Française
On October 5th, The Fragrance Foundation held its first Masterclass in Florence Gould Hall at the French Institute Alliance Française. The Masterclass was sponsored by Givaudan and Hearst Magazines.
ÇaFleureBon was kindly invited to attend.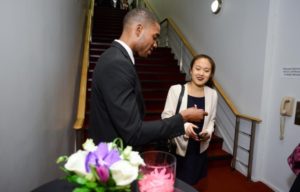 Entering the venue volunteers pinned attendees with Pink Ribbons in support of Breast Cancer Awareness Month along with offering raffle tickets for purchase.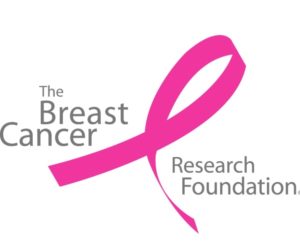 Mrs. Lauder had been diagnosed with early-stage breast cancer and chose to channel her experience into action. In 1989 she created the signature pink ribbon with Alexandra Penney, then editor of SELF and launched the Breast Cancer Awareness campaign within The Estée Lauder Companies.
Evelyn H. Lauder, 1936 – 2011, BCRF Founder
The evening began at 5:30 p.m. with a cocktail and networking hour. The Masterclass started at 6:30 P.M.
Felix Mayr-Harting, Global Head of Fine Fragrance for Givaudan welcomed us. Leonard L. Lauder was scheduled to lead the Masterclass. He was not able to attend so he sent John Demsey, Executive Group President, The Estée Lauder Companies and Fragrance Foundation Hall of Fame honoree, in his place, "A pretty good stand-in, I would say." Elizabeth Musmanno, President of The Fragrance Foundation informed us that Mr. Lauder handled his regrets with the same business acumen as he runs the company. "He called me dealing with it personally, not texting or emailing his regrets. There's "nothing like the human voice".
John Demsey oversees all fragrance intiatives for The Estée Lauder Companies and has played a leading role in the acquisitions of By Kilian, Frédéric Malle, Becca, Rodin and Le Labo to name a few. Mr. Demsey was hired by The Estée Lauder Companies in 1991 and worked his way up the ranks from assistant to his current powerful position. Mr. Demsey worked in fragrance until 1998 when he spearheaded MAC. Returning to fragrance in 2007 he proceeded to amp up the prestige and niche sector of the Company, beginning with the idea for the Aerin Lauder brand.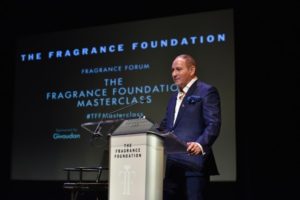 John Demsey Executive Group Vice President of The Estee Lauder Companies
Masterclass
John Demsey told the audience, "With Tom Ford we created the notion of a private blend which was inspired by very much by Estee Lauder, Guerlain and Caron and the great French houses from the '20's, '30's and 40's. The reason why Tom Ford works is that Tom Ford is obsessive and is a perfection freak. We bought the Jo Malone brand in 1999. Part of my success for the last seven years was I got to work on the evolution of Jo Malone and an actual fragrance strategy and in the last three years, picking up the acquisitions of Frederic Malle, By Kilian, Le Labo and Rodin. The artisanal business is a hot topic today and is the fastest growing segment in the fragrance business right now. What makes artisanal fragrance so compelling to consumers is the fact that they embody the creativity of all of you and the fragrance houses and bring a strong personal position to inventing new ways to experience and enjoy fragrances."
Referring to Leonard L. Lauder as "Chief Teaching Officer", Mr. Demsey spoke of the lessons that Leonard taught him and so many others in the Company. He read quotes from Mr. Lauder's "Things I Didn't Learn in Business School."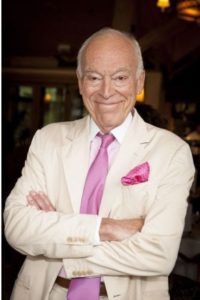 Leonard L. Lauder
Lessons from Leonard L. Lauder
"Accountants and lawyers make great accountants and lawyers. Period. End of story. Keep them out of the creative kitchen. Brands are successful because of creativity".
"It takes a thief to catch a thief. There is no better competitor to you then you. This is why Clinque was started. Compete with yourself".
"Keep away from people that belittle your ambition. Small people always do that and they do it so you do not feel great".
"Dream big and you will be big. If you can't see the future you will never get there".
"Experience is everything".
"Listen to your mother".
"Learn from David & Goliath. Focus your efforts on an area you can win".
"Fantasize about success and have a vision. Project yourself into a successful situation".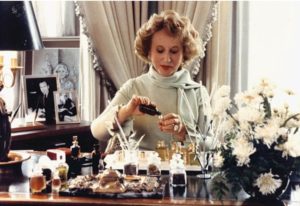 The iconic Estée Lauder
And a message passed down by the venerable Estée Lauder herself: "Perfection is the only way to do business."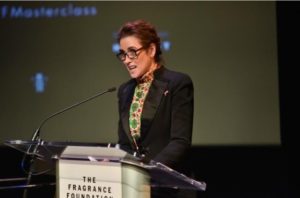 Elizabeth Musmanno President of the Fragrance Foundation
Elizabeth Musmanno introduced "The Notables," a select group of women, industry up-and-comers chosen by The Fragrance Foundation who would be asking John Demsey a series of questions.
Mr. Demsey commented: "When I look at the future, I look at The Notables because they will change the world."
The Notables
Amanda Sichon of Givaudan: "What are the most important values needed to succeed in this industry?"
Mr. Demsey: "Follow your dreams. Follow your passion, and don't let anybody get in your way. If you do something you love, the money and success will come to you. Be uncompromising and find someone that will mentor you and then do that for someone else."
Gayathri Balasundar of IFF: "How do you identify the artisanal brands you're going to buy?"
Mr. Demsey: "First and foremost I'm a customer too. I don't always purchase things we sell. Many of the brands that we have bought I've snuck into Barneys or Colette or Sephora with sunglasses to buy. We travel all over the world. We canvas the world and try to look at brands that have the potential to scale globally and fit into the profile of what we think is a prestige brand from an Estee Lauder context. Some things are aspirational. Connects from a generational perspective to the next generation. We are not the biggest player in the fragrance business, but today we are the biggest high end fragrance business."
Aida Skalli, Coty: "You've achieved professionally what we all aspire to, plus you're well-known as a great host and dad. How do you manage it all?"
Mr. Demsey: "I'm not great with work balance. None of us are. But family matters first. My number one priority is my daughter's happiness (applause). We are in a business primarily populated by a lot of young working mothers. I'm very conscience and supportive of what that means and how hard it is to balance all those things."
Ashli Hamilton, Ann Gottlieb Associates: "How do The Estée Lauder Companies plan to reach consumers in a new way?"
Mr. Demsey: "Jo Malone taught us something. Through new brands, markets, channels. It's a bit like 'Field of Dreams'—if you build it, they will come. If you build a fragrance concept of destination no matter where it is in the world people will come to you. Jo Malone is a perfect example of this. Understanding the unique cultures around the world and marketing brands and distribution channels to me is the next level of success for the fragrance business""
Clio Ermenidis, Firmenich: "What's been your biggest failure and what did you learn?"
Mr. Demsey: "I never want to name names. I've got my fair share of duds. I've sometimes been too early, sometimes me, too, and sometimes been too late. I love being early. Just when I think I know everything I realize I don't know what I'm talking about."
Allie Gullquist, L'Oréal: "How do you keep in touch with the growing millennial consumer?"
Mr. Demsey: "The older I get the more young people I need around. I always ask what fragrance they are wearing. I'm a pop culture freak. I read trashy gossip magazines, watch reality TV, and I'm just as excited about Blac Chyna's baby as everyone else is."
Jessica Matlin, Teen Vogue: "Since technology has made everything more accessible and less precious, where do luxury, legacy brands fit in?"
Mr. Demsey: "It's a paradox that luxury and aspirational brands can use to their advantage. It makes the world incredibly small. It makes niche, touchable.
Sophia Gillio, MANE: "What is your long-term strategy to reach Millennials and Gen Z?"
Mr. Demsey: "We've embraced the next generation, the next customer and are inspired by them. Actually, the most important executives in our company or under thirty years old. Sometimes we have to remind people that the over forty have something to say as well."
Ana Paredes, Givenchy/LVMH: "What is the best advice you ever received from Mr. Lauder?"
Mr. Demsey: "Look to the left, look to the right, look behind and decide where you want to go. Understand where you are and what's going on around you is the most important thing. That's a very valuable lesson. Be aware. Never fall so in love with your success story that you don't see what's coming at you. If you can't see the future, you'll never get there."
Keri Affronti, Symrise: "What's your vision for the future of American perfumery?"
Mr. Demsey: "A lot of the great success stories in America are French perfumers. America is always about the world of possibilities. The future of American perfumery is great. We've established a community of innovation. New York is equal to, if not greater than, Paris. Fragrance is where the perfumers are."
–Hernando Courtright, Senior Event Contributor and Brand Ambassador (with contributions from Michelyn Camen, Editor in Chief)
All photos provided by The Fragrance Foundation Group and Event Photos by Jared Siskin/PMC for The Fragrance Foundation
Thanks to the sponsors that evening we have a gift bag featuring a Fragrance Foundation tote bag, an Estee Lauder Travel Exclusive five fragrance set, Tory Burch Jolie Fleur Rose, various niche and designer Estee Lauder perfumes and beauty products. This draw is open to a CON US registered CafleureBon reader. To be eligible please leave a comment with what you learned from John Demsey, or a quote that resonated with you from Leonard L. Lauder of from the ten notable women. Draw closes November 3, 2016
We announce the winners on our site and on our Facebook page, so Like Cafleurebon and use our RSS option…or your dream prize will be just spilled perfume