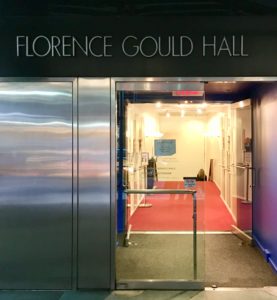 Photo: Florence Gould Hall by Hernando©
On October 5th, The Fragrance Foundation held its second Master Class at Florence Gould Hall at the French Institute Alliance Française featuring Jean-Paul Agon, the CEO and Chairman of L'Oreal.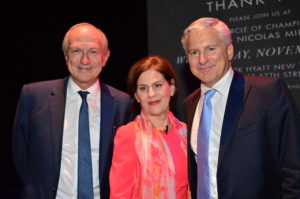 Jean-PaulAgon, LindaG.Levy and JerryVittoria
Opening remarks: Jerry Vittoria, Chairman of the Fragrance Foundation and Head of Fine Fragrance Worldwide, Firmenich introduced Linda G. Levy, the new President the Fragrance Foundation by stating that she starts a new chapter for the Foundation with a focus and attention to creating greater consumer engagement and becoming the industry's go-to source for training, education, and expertise in fragrance. Ms. Levy welcomed the audience thanking them for the ongoing support of The Fragrance Foundation. "Now, if I haven't called you, emailed you or otherwise knocked down your door, I will be doing that very shortly so get ready."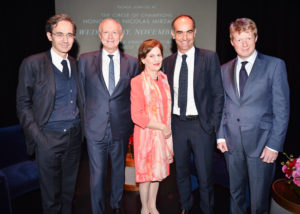 Maurizio Volpe (Givaudan), Jean-Paul Agon, Linda G. Levy, Gilles Andrier (Givaudan), Felix Mayr-Harting
In introducing Jean-Paul Agon, Linda Levy said "we're excited to have a visionary and beauty icon here tonight. We're looking forward to sharing ideas and life experien­ces, and that will leave you feeling inspiring and enlightened." She also introduced the Notables, "as the next generation of influencers and the future of the fragrance industry".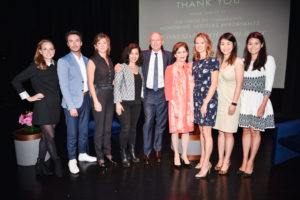 From Left: Galliane de Wende, Justin Welch, Lorraine Miche, Sophia McLoughlin, Jean-Paul Agon, Linda G. Levy, Anna Wilk, Jacquelyn Ward, Alexandra Hardyment
THE NOTABLES:
Alexandra Hardyment, Executive Director AERIN Beauty
Jessica Luc, Marketing Manager, Fine Fragrance & Specialty Bath, Symrise
Sophia McLoughlin, Marketing Manager, Women's Fragrance, Chanel, Inc.
Lorraine Michede Malleray, Consumer Science Senior Manager, IFF
Justin Welch, Marketing Director, Firmenich
Galliane de Wende, Senior Manager, US Marketing, Ultra Luxury Fragrances, Coty
Anna Wilk, Marketing Director, Interparfums
Master Class with Jean-Paul Agon photo Hernando
Linda Levy turned the microphone over to Felix Mayr-Harting, Global Head of Fine Fragrances, Givaudan. He lauded Ms. Levy's debut and pointed out the event was a sellout. He welcomed and introduced Jean-Paul Agon to the stage and thanked him for agreeing to headline the night's event.
Jean-Paul Agon began the Master Class by recounting that he lived in New York City from 2001-2005, when he arrived with his family, one week before 9/11 and started with Coty one week later. He views himself as very competitive and likes that America is a country of competition. Fittingly his name Agon is Greek for "fight." M. Agon stated that between 1978 and 2008 the beauty business was conducted pretty much in the same manner. He acknowledged that the business has changed tremendously over the past three or four years so much so that it has little in common with the past. The digital, consumer retail, media revolution has had a profound impact and will continue to going forward.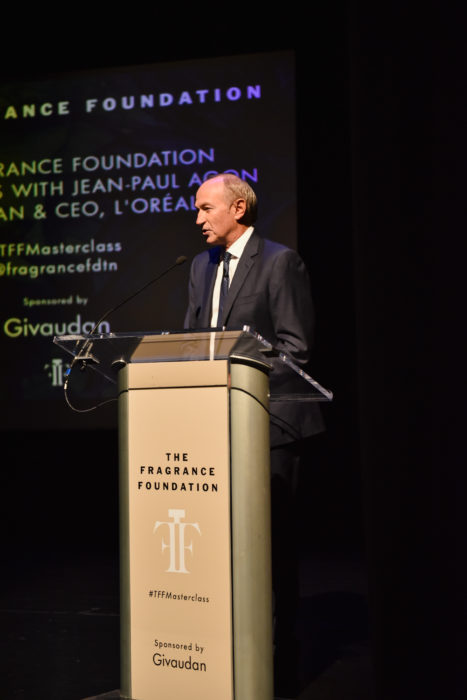 Master Class with Jean-Paul Agon
Career: Beginning his career as a 21 yrs. old in Paris, M. Argon was relocated to Greece for four years as General Manager. He learned the language and fell in love with the country where he still owns property and where he vacations. He was sent to the US where he spent six months visiting retailer after retailer to gain insights, "American consumers are obviously one of the most expert and discerning consumers of the world, and that's why the competition here is so fierce. The competition in the U.S. is healthy. I think that this industry is all about innovation, new ideas, creations, especially in the fragrance world, so the more competition there is, the better it gets."
Planning Globally, Marketing Locally: "In the beauty world, you need to have global brands and they need to be in every part of the world. If you take the L'Oréal Paris brand, the number one brand in the world, the formulation of the products will be different in every part of the globe. We try to reconcile this necessary global approach, but never forgetting the relevant approach for every consumer." Agon said. Products like makeup and skincare can be formulated to cater to certain regions but with not so with fragrance, the juice cannot be changed from one continent to the other."
The Elephant In The Room: L'Oréal holds the number one position as a beauty brand in the world with over $120 billion market cap. Its culture is entrepreneurial but has the "soul of a family business". Regarding the recent passing of Liliane Bettencourt, the only daughter of L'Oréal founder, Eugène Schueller, M.Argon said it affected them all emotionally. He knew her well and she was like a mother to him. She will be missed.
The Digital Revolution: "The digital revolution places the consumer at the heart of the matter. It is opening new dimensions, new horizons, and new perspectives on the industry. Regarding fragrance, it is all about imagination, emotion. He believes that with digital certain things can be done today that was not possible before. Target marketing is absolutely fundamental for fragrance since the market is very segmented".
Scent Storytelling: How can fragrance brands convey "storytelling" and perfumer artistry into the retail environment? Argon believes they can do much than what has been done. New technologies will allow them to go even further, 3D visuals for example. "Our fragrances are inspired by our partnership in the fashion, movie, gaming, and luxury industries."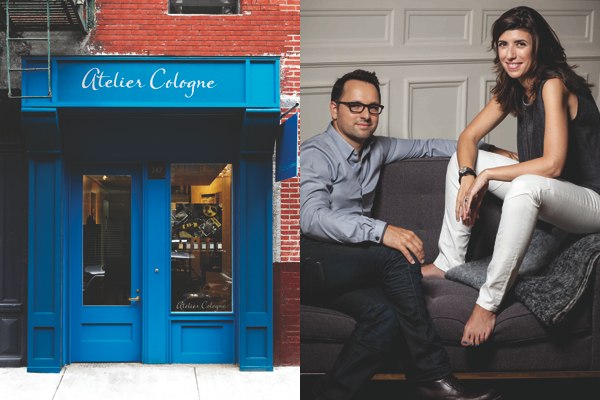 Atelier Cologne Boutique NYC and founders Christophe and Sylvie Cervasel (photo from Atelier Cologne)
Artisanal and Natural Trends: Of course, this is an area of great interest to our readers. We have been writing about it and immersing ourselves in Artisanal and natural perfumery since our inception. We have different definitions of "Artisanal", than what was discussed at the Event, but the passion is the same. M. Agon expressed enthusiasm for ingredient-driven fragrances which employ storytelling. When asked about the demand for more artisanal and natural scents, Agon declared it as "one of the best moves in the industry." He noted that the recent acquisition of "artisanal brand", Atelier Cologne, (our interview with founders Sylvie and Christophe Cervasel in 2010 here a few months after their launch) is a long-term investment for the Company. "The rise of artisanal brands offers authenticity and quality that he believes will create a positive impact on the industry."
Sustainability: Ms. Levy enquired about Coty's approach to sustainability. M. Agon responded that "as the leader of the beauty industry, we are committed to making sure by 2020 that 100% of our products will have a positive impact on society. Every product will be replaced in the next three or four years. Every new product launched will have a positive impact on the environment."
*********************************************************
Fragrance Foundation President, Linda G. Levy was kind enough to make herself available for a brief interview.
Hernando Courtright: It was announced that The Fragrance Foundation's mission is to put a concentrated focus on education and develop a closer connection with consumers. Can you give us some insight into how The Fragrance Foundation is planning to achieve those goals?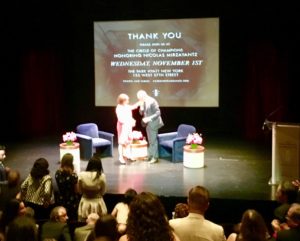 Linda Levy closing out the evening
Linda Levy: The Fragrance Foundation will work closely with our member companies to develop programs that connect with consumers' in-store and online. Our goal is to become more inclusive and heighten the appreciation of the artistry of perfumers among consumers. Stay tuned for our big plans in 2018!
–Hernando Courtright, Senior Event Contributor and Brand Ambassador and Michelyn Camen, Editor-In-Chief
All photos by Griff Lipson/BFA and Eric T. Michelson for The Fragrance Foundation unless otherwise noted.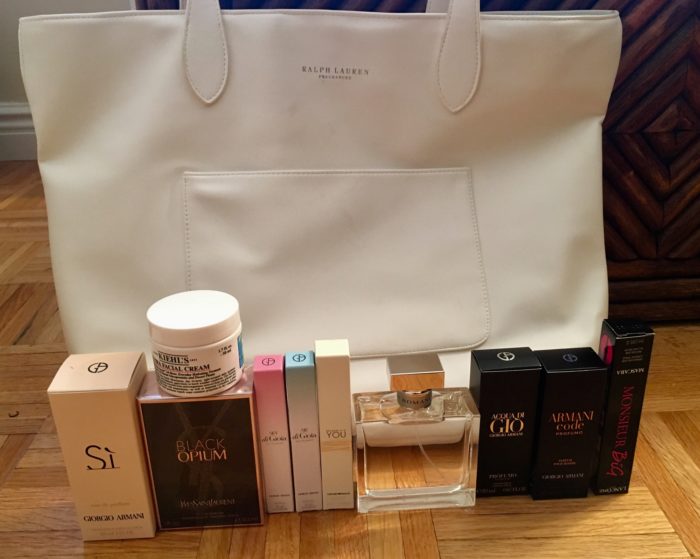 Ralph Lauren Tote with Designer Perfumes and Prestige Beauty
Thanks to the Fragrance Foundation and the evening's sponsors L'Oreal and Givaudan, we have a Ralph Lauren tote bag including Ralph Lauren Romance (100ml), Giorgio Armani Si (30ml), Black Opium Yves Saint Laurent (30ml), AIR di Gioia and SKY di Gioia (10ml rollerballs) Giorgio Armani, Because it's YOU (10ml rollerball) by Emporio Armani, Acqua di GIO and ARMANI Code (20ml) by Giorgio Armani.This draw is open to a CON US registered CaFleureBon readers only.
To be eligible please leave a comment you must be a registered reader (please be sure to register here). Tell us what you thought of the Master Class, what you think about the subjects discussed, and thoughts you have as a beauty and fragrance consumer. Given the chance, what questions would you ask M. Jean-Paul Agon or Linda G. Levy? Draw closes 10/25/2017
We announce the winners only on our site and on our Facebook page, so like Cafleurebon and use our RSS feed…or your dream prize will be just spilled perfume.