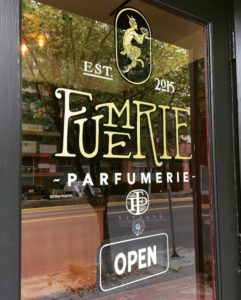 Several weeks ago I introduced ÇaFleureBon readers to Portland's new perfume boutique Fumerie and the emergence of a bona fide perfumista community in the aptly named Rose City.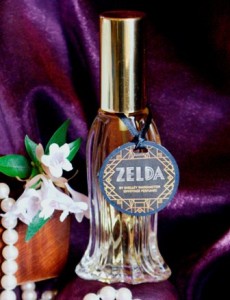 I'm pleased to announce our camaraderie and friendship grew by bounds thanks to the generosity of Shelley Waddington, acclaimed artisan perfumer and author of "Perfuming with Natural Isolates". Her carefully constructed potions for En Voyage Perfumes including her collaboration with Michelyn Camen, Editor in Chief on the creation of the ever popular Zelda have won many awards.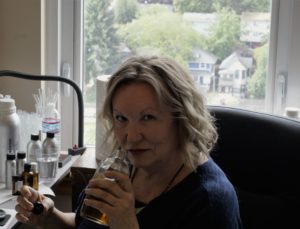 Shelley Waddinton of En Voyage: Our gracious hostess. Photo credit Steve Ross.
From Shelley's kindness and wisdom emerged a plan to celebrate the 7000th member of Charlotte Scheuer's Facebook group, Facebook Fragrance Friends, with a spirited tour of Portland perfume hot spots.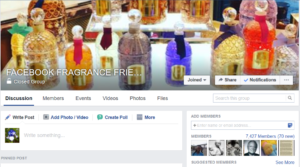 Screen Shot of Facebook Fragrance Friends
On October 22, Shelley welcomed about 20 perfume lovers into her lovely En Voyage Perfumes' home studio to kick off the proceedings. Our first sniffs of the day were presented as a veritable buffet of En Voyage testers.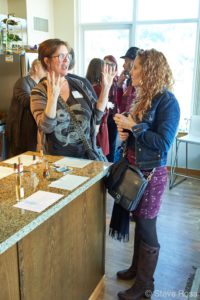 Conversations scented the air in Shelley's home studio. Photo credit Steve Ross.
The assortment of fragrance friends were not solely from Portland, there were visitors from Seattle, Denver, and California who made extra efforts to join the Oregonians. Mario T. Gomez, (also a former CaFleureBon contributor), Brand Ambassador for En Voyage and Le Labo in San Francisco, flew in hours before the beginning of the event and had to depart mere hours after it ended.
Barbara Anderson Carter and Mario T Gomez test together. Photo credit Steve Ross.

Old friends were greeted with hugs and new friends were made fast among the perfume hobbyists assembled over our shared passion. One new friend I made was called Rainmaker, (CaFleureBon Review here) a recent creation of Shelley's for En Voyage Perfumes.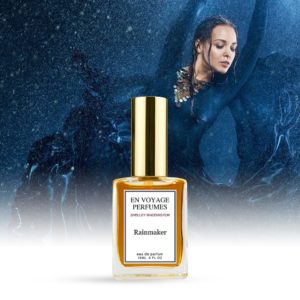 Photo of Rainmaker via Shelley
My sense of it was a somber walk in the woods in early spring when the tiniest flowers poke up through the snow-flecked floor of the forest. Rainmaker is a stirring ode to the evergreen mountains of the Pacific Northwest and their ability to hold grey clouds year-round.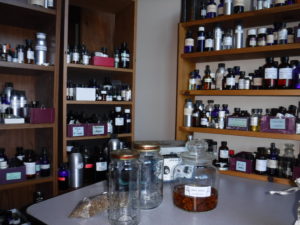 One small corner of a workshop crammed with bottles. Photo credit Samantha Berg.
As if that weren't sweet enough, Shelley displayed her impressive perfumer's organ with its hundreds of bottles and vials for us.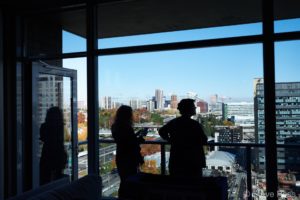 Here's a final photo from the morning at Shelley's place showcasing the breathtaking view outside her 19th floor balcony on an uncommonly dry October day in Portland.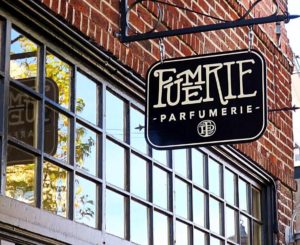 Best selection of niche perfumes in Portland. Photo credit Robert Hermann.
The next stop of the day was Fumerie Parfumerie and a visit with its owner Tracy Tsefalas and fragrance historian André Gooren.From the constant "ooohs" and "aaahs" I kept hearing, it was obvious that great delights were being explored at Fumerie with Tracy and André's expert guidance.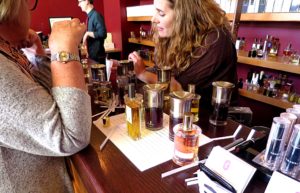 Fumerie's bar was a smörgåsbord of testers. Photo credit Steve Ross.
I discover new beauties every time i walk into Fumerie and this outing was no different.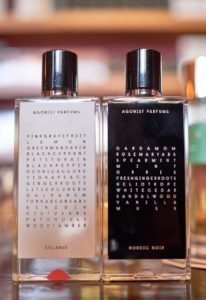 The absurdly Scandinavian labels of Agonist. Photo credit Steve Ross.
This time it was the Swedish perfumes of Agonist grabbing me by the heart, particularly Solaris and Nordic Noir, which I especially liked for its minimalist mint, cedar, and green cardamom as crisp as arctic ice. It's impossible not to appreciate how those practical Swedes at Agonist list the notes of each perfume right on the front of the bottle.
While people were burying their noses in the exquisitely curated collection at Fumerie, I asked André to comment on how the Portland Sniffa was going compared to the other events that have happened at the shop. "These are dream people!", he cheerfully exclaimed. "This is by far the largest organized gathering in Portland so far. I love seeing the community come together."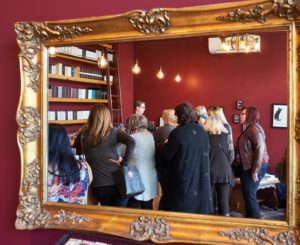 André of Fumerie gracefully serving the swarm. Photo credit Steve Ross.
The bulk of the group walked down the block from Fumerie to invade Atlas Pizza and regained our strength for the third stop on the tour, The Perfume House.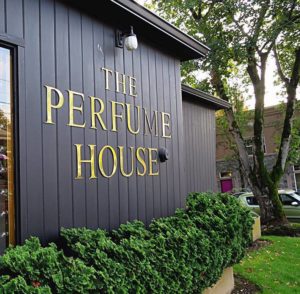 The Perfume House:Making Portlanders smell good since 1985. Photo credit Robert Hermann.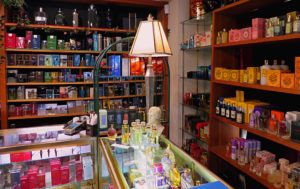 Where to start?!? Photo credit Robert Hermann
An experience at The Perfume House can be a little overwhelming. From floor to ceiling, there are perfumes stacked everywhere you turn. Our intrepid group of well-versed sniffers and sniffeuses dove in unperturbed.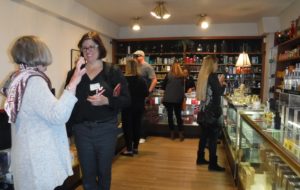 No intimidated perfumistas here.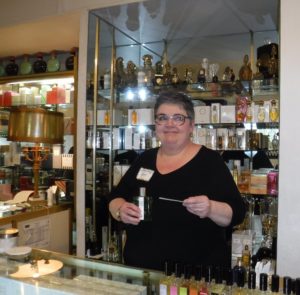 Donna Hathaway at the Caron Counter Photo credit Samantha Berg.
Former Contributor to CaFleureBon and writer, Donna Hathaway is no newbie to The Perfume House, and her years being in the local perfume scene have earned her the respect of the Tsefalas family owners. How much respect? Enough that The Perfume House matriarch Christine Tsefalas didn't bat an eye when Donna jumped behind the Caron counter to show off some of the more splendid elixirs from that venerable house while she herself helped Sniffa shoppers at other counters. I'll admit to having underestimated the high reputation and legacy of the House of Caron before, but CaFleureBon interview with owner Romain Ales, the poginant story of Ernest Daltroff, reviews from Contributor Aaron Potterman and Donna, my interest was piqued and I was ready for a deeper investigation… and fell for Narcisse Noir. Now I've got my eye on getting some vintage samples of the famed jonquil and jasmine seductress.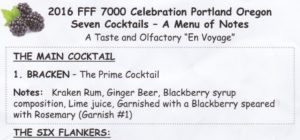 The Bracken Drink Menu
Can you imagine how the lot of us must have smelled after hours of testing perfumes? It wasn't as bad as you might think, but nose fatigue was surely starting to set in for some as we made our way to the site of the evening's catered swap party. Barbara Anderson Carter ran with the theme of the day to compose the fancy Pacific Northwest-inspired drinks we consumed. She made one main drink, Bracken, and designed six "flankers" to accompany the original. The key note running through all seven drinks was blackberry.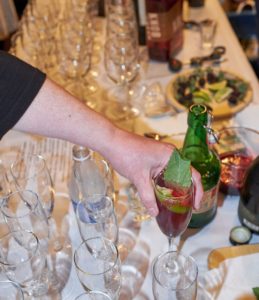 Bracken in action. Photo credit Steve Ross.

Freshly fed and somewhat buzzed, we were not quite prepared for the surprise guest appearance of the evening, a sneak sniff of Shelley's newest creation for Zoologist Perfumes, the animal Civet. The official release is scheduled for Dec. 31st, 2016, but already the rave reviews are coming in for the peppery, luscious musks of yet another Zoologist masterpiece.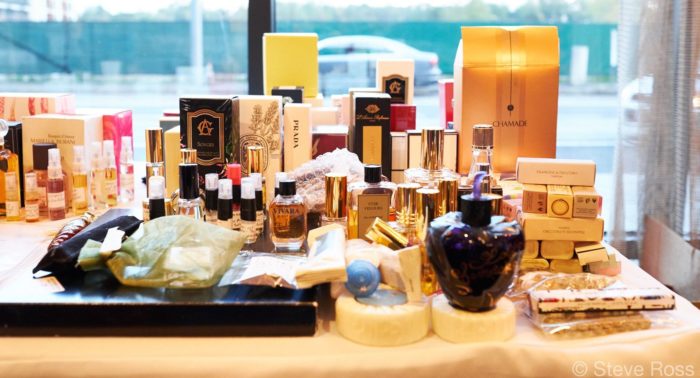 Look at the gorgeous pile of liquid treasure. Can you name any perfumes that were up for swap? Photo credit Steve Ross.
The perfume swap saw participants walking away with handfuls of new samples and bottles that just weren't getting enough love elsewhere. Shelley's perfume swap probably contained the highest quality swappables of any of the multiple Portland perfume swaps I've attended thus far.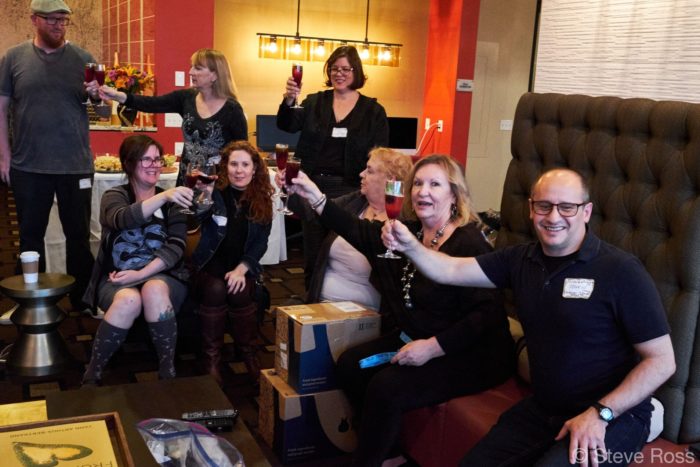 Farewell for now, fragrant friends. Photo credit Steve Ross.
We drank and sampled and swapped til it was dark, then we did a group toast and said our goodbyes. It was a long and utterly worthwhile sojourn to take through Portland on a hauntingly sunny day in late October.
–Samantha Berg, Guest Contributor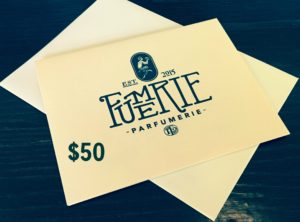 Thanks to Fumerie we have a 50.00 GC for a registered US reader and thanks to Shelley we have a .05 bottle of Rainmaker worldwide. You must register or your comment will not count click here. To be eligible, please leave a comment with what you enjoyed about Samantha's event report, which scents caught your nose, where you live and what fragrance you wish to win, either the Fumerie Gift Card or .05 of Envoyage Rainmaker. Draw closes 11/12/2016
We announce the winners only on site and on our Facebook page, so Like Cafleurebon and use our RSS option…or your dream prize will be just spilled perfume