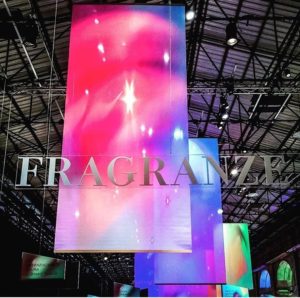 The entrance to the Exhibition
Firenze (Florence) is renowned for Renaissance art but also for the heat in summer and regular attendees to Pitti Fragranze know it very well. Not this year though as a sudden temperature dip with downpours kept the Stazione Leopolda interior cool and enjoyable. Also the wind of the perfume market is ever-changing and this edition shown the first signs of this. In fact while usually booths are mostly divided by Italian distributors, the current layout was divided by brand so that everything was clearly displayed, easily accessible and with a more international appeal. In fact, visitors and exhibitors from overseas notably increased and Fragranze 15 will be remembered as the Pacific edition with successful offerings from brands from Australia, New Zealand, Japan and the global market for natural perfumes.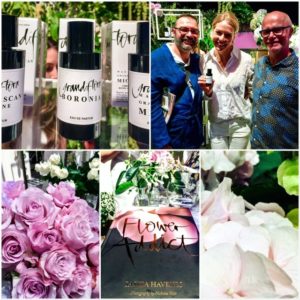 Grandiflora Boronia Saskia Havekes, Ermano and Bertrand Duchaufour
Australia's blooming brand Grandiflora Fragrance wins the prize for the most eyecatching and busiest booth. Founder Saskia Havekes set an uberchic greenhouse bursting with pink roses, hydrangeas and lush exotic greens to let us plunge our noses into the secrets of flowers. I was smitten by the herbal, narcotic piquancy of the latest addition. Boronia, created with the expensive boronia absolute (as precious as Mai rose and thus seldom used in perfumes) and Bertrand Duchaufour laden with the glorious booziness he's famous for.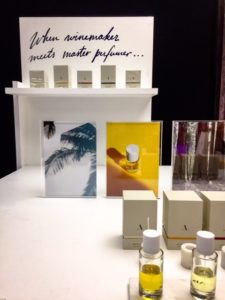 Abel Perfumes all natural fragrances
From Australia to New Zealand, the mysterious ways of scent led former winemaker Frances Shoemack to team with perfumer Isaac Sinclair (trained by no less than Master Perfumer Maurice Roucel) in Abel, a now Amsterdam based line of five 100% natural perfumes with a holistic approach. I was so amazed by the contemporary elegance of the concept and the flawless balance of their creations. Instant favorites are the ethereal Golden Neroli brightened by a crisp magnolia and mate accord, and the radiance of Cobalt Amber with its powdery, sweet and salty warmth.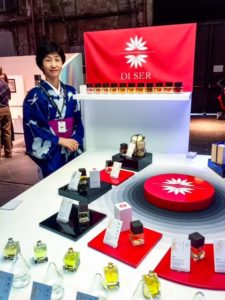 Di SER new natural perfumes
Natural perfumery seems to be slowly but steadily increasing over in Europe and creatives and perfumers feel the magic of it, also because of the wider natural palette available today. Japanese brand DI SER travels to Florence for the second year in a row, as a bright example of this, bringing uncommon interpretations of trendy naturals they produce in Japan. Mizu is a lively blast of citric greenness thanks to an outstanding yuzu essence while Adameku is a haiku on the blooming joys of a fall garden built around a top notch osmanthus absolute.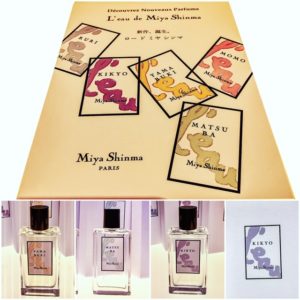 Tokyo to Paris quicker than a cologne dab, perfumer Miya Shinma introduces Les Eau de Miya Shinma, a sophisticated palette of five colognes matching different colors. Yamabuki (yellow) is an unusual sunny, ylang-ylang based interpretation of Kerria Japonica, the so called Japanese rose.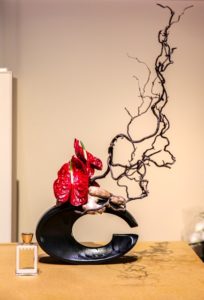 Photo credits: Rinaldo Serra
East meets West: A special acknowledgment goes to the ikebana live performance Profumi del Forte gave in collaboration with Sogetsu Concentus Study Group. Tuscan master Luca Ramacciotti translated a few fragrances from the brand to Ikebana, bridging so Japanese worship for nature with Profumi del Forte connection with the Versilia beautiful territory. I couldn't help but asking Luca about his favorite ikebana. "As for perfume, ikebana starts, develops and fades. Both use vegetal materials and it's interesting to see how ikebana can render a perfume re-creating the main idea, the storytelling or the emotional impact playing with its notes. Here I started from some of the Profumi del Forte Mythical Woods notes like ginger and woods to picture the idea of the color of raspberries and saffron".
Italy continues to bring forth brilliant talent: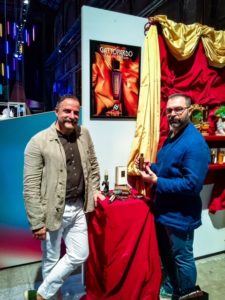 Taking inspiration from Tomasi di Lampedusa novel The Leopard put on screen by Luchino Visconti, perfumer Antonio Alessandria's latest addition Gattopardo portrays the Sicilian noble soul in chiaroscuro with a bright load of geranium, fig and whiskey set against the opulence of velvety patchouli gilded in beeswax, iris, cocoa and a luscious Sicilian almond pastry trail. Spray, close your eyes and you swear you were a guest of the imperious Don Fabrizio, Prince of Salina.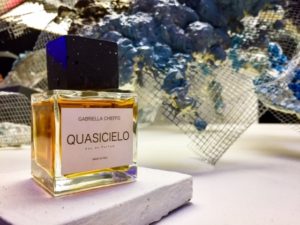 Gabriello Chieffo Quasicello
Not a male, not yet a female. Quasicielo, almost heaven, is the fragrance of transformation, of that stormy and yet incredibly blessed moment of a soul taking its way to harmony. This is the challenging inspiration Gabriella Chieffo chose for the first creation concocted on her own that reflects the struggling path of a boy balancing a vibrating balsamic-green dissonance with the serene tartness of fingerlime over a warm yummy amber.
La Vie Francais!!!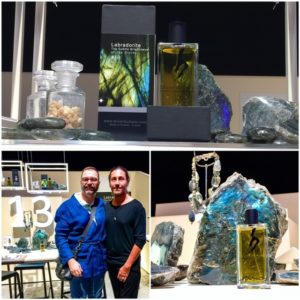 Our EIC's two "guys": Ermano Picco with Olivier Durbano and Labradorite display
Conceived in the heart of the Perfume Valley aka Grasse, the poet of stones and perfumes Olivier Durbano launches his 13th creation, first reported here on CaFleureBon. Olivier explained to me that the number 13 is very meaningful to him and represents a strong spiritual connection, like its trademark incense rising to the skies. Quintessiantly Durbano, Labradorite 13 is an uncompromising chamaleon of opposites: the blue of a salty freshness backed by the gold dust of amber, the aromatic greeness set against the darkness of animalic notes, all wrapped in ritual smoke swirls making it deep and longlasting.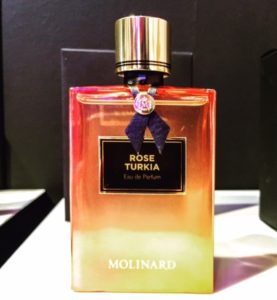 Molinard RoseTurkia
While mentioning Grasse one cannot think of two things: roses and Molinard. Rosa Turkia, the latest addition stands out in the Les Éléments Prestige line with its lush green, fruity and honeyed facets as what a rose soliflore lover could best expect in the most classical way.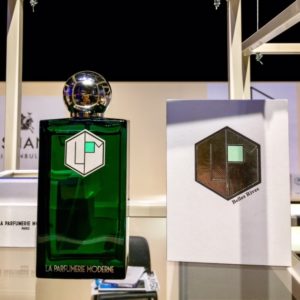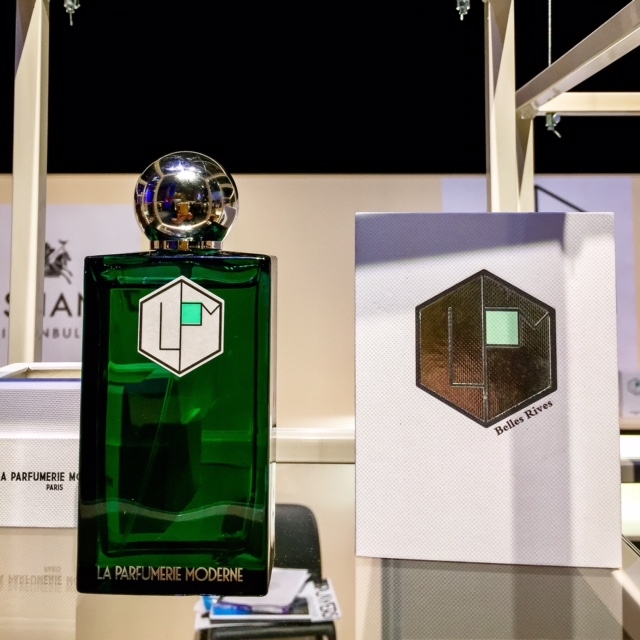 La Parfumerie Moderne Belles Rives
Another superclassic remastered by perfumer Marc Antoine Corticchiato is the new La Parfumerie Moderne Belles Rives. When everybody's shouting, silence is the ultimate luxury seems to whisper this woody iris taking inspiration from the most luxurious and quite hotel in the Geneva lake. Florentine iris here is depicted with slight floral strokes of jasmin and osmanthus over a solid bed of ambery woods ruled by the aloofness of Texan cedarwood.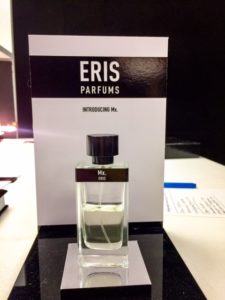 Eris Parfums MX.
Creativity and nonchalant beauty is always a staple when it comes to France, that's why Scent & Subversion author and fellow blogger Barbara Hermann chose to collaborate with perfume genius Antoine Lie for ERIS Parfum. While the first creations focus on languid florals like the exquisitely aldehydic Belle de jour, the latest introduction called Mx. (refers to an appellation in addition to Mr. and Mrs., Ms, etc). and pays tribute to gender fluidity with a spiced up yummy work on sandalwood and cocoa with leather hints.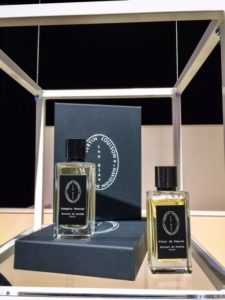 Tecnique Indiscrete
The revamping of carnation over the last few years has surely fostered the current spicy floral trend. Tecnique Indiscrete was finally back to Florence after three years absence with the lovely Fleur de Papier. Antwerp based perfumer Louison Libertin imagines the smell of a flower print on a giant advertising, a surrealist huge carnation carrying a bit of the wet paper and glue smell that makes it slick and funky.
Prelaunches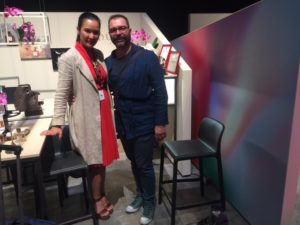 Pissara Umavijani with Ermano for Fleur de Lalita prelaunch you can still enter the draw here
I also had the chance to smell Parfums Dusita Fleur de Lalita, which was first reviewed here at CaFleureBon by Gail Gross, but won't be available for a few months. This is a beautiful spicy magnolia-lilac bouquet and the lavender tinged sensual oriental.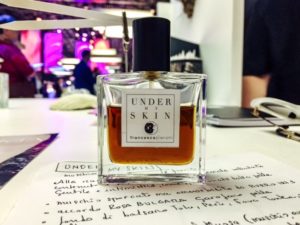 Under my skin from the newcomer Francesca Bianchi is soon to be released officially later this year.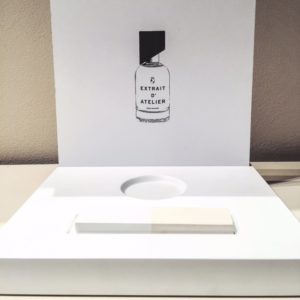 Extrait d'Atelier Maitre Ceramiste
I also had the chance to talk with Extrait d'Atelier creative director Chiara Ronzani who gave me a sneak peek into the new Maître Céramiste, a scent inspired by her partner who's a ceramic artist that captures the polymorphism, translucency and chalky fine grain of the matter itself.
Honorable Mentions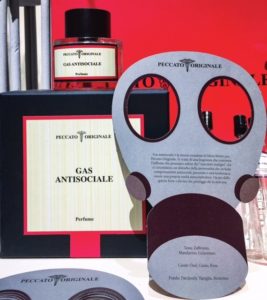 Gas Antisociale and mask
The first one goes to Peccato Originale creative director Silvia Monti for the oddly amazing storyline. Forget about travels to exotic places, old books of formulas and heritage or love stories as Gas Antisociale (antisocial gas, complete with mask blotters) with its woody-spicy rose aims to be an antidote to keep away malefic narcissists affected by antisocial behavior and paranoia who tend to always celebrate themselves.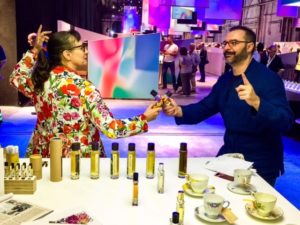 Second mention goes to 4160Tuesdays perfumer Sarah McCartney for Our Modern Lives, the new line featuring seven 100% natural perfumes (some of the blends she used them practicing yoga for more than 20 years) plus two 100% synthetic ones. The concept is a brilliant way to show the Star Wars in perfumery has no dark side. Layering Sarah's creations, people can understand the beauty in both making peace in the perfume galaxy. My favorite combination for example is Acquamarine Waves (natural citrus marine) + Beta (synthetic amber).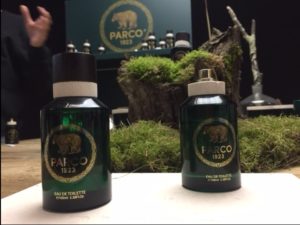 Parco 1923 Nazionale d'Abruzzo
I want to call out Parco 1923, an eco-friendly perfume and bath line scented by Luca Maffei suggests the freshness of the Parco Nazionale d'Abruzzo (think of the Italian Yosemite Park) forest. To strengthen even more the connection with the territory, part of the income from the sales is devolved to save the native species.
Ermano Picco, Contributor and Author of La gardenia nell occhiello
All photos Ermano unless otherwise noted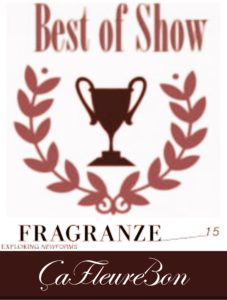 We have a selection of samples of the some of the "Best of Show" Fragranze 15 perfumes Ermano writes about for one registered reader anywhere in the world. To be eligible, please be sure to register. Leave a comment with what you enjoyed about Ermano's Best of Show, where you live and if you were struck by any of the new fragrances. There is no spilled perfume. Draw closes 9/19/2017