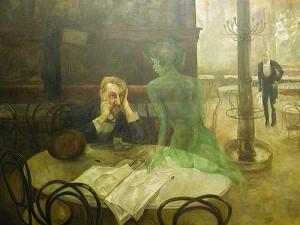 The ABSINTHE Collection (From the Opus Oils Website)
La Fee Verte "The Green Fairy"
*Made with real Wormwood*

Dare to dance with LA FEE VERTE ("The Green Fairy"). Anoint yourself with these mystical and intoxicating blends that have key notes of Wisteria, Vanilla Sugar, actual Absinthe (Wormwood), and "Pour Homme" (For Him) a touch of Sandalwood with a dash of Fig. Upon entering her wild bohemian world, you will see for yourself that this fairy's spell lies in a sense of lucidity. BEWARE: This dreamy scent is transporting, luminescent & highly addictive…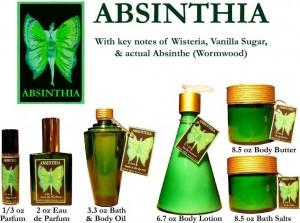 Of the two scents I tried both the Absinthia (sweet, dryish) and the Absintheo (even sweeter with more fruit, moister) and I also used the Absinthia body lotion which I liked very much. The lotion is nicely and richly scented, absorbs and moisturizes beautifully for a smooth finish without stickiness. I would easily recommend these scents for people who have a sweet tooth when it comes to perfume. I almost liked the Absintheo scent better than the Absinthia because it is even sweeter and more cloying without mercy; but, no, I found myself gravitating back to the slightly less sweet, slightly dryer Absinthia. Taste tested over time, she is sweet enough for me.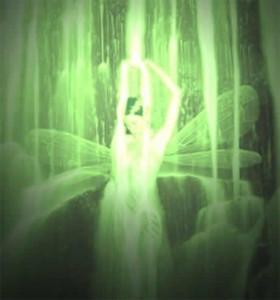 Ode to the Green Fairy
La Fee Vert is knocking at my door again
She must not know who I am
She is the favorite of celeb superstars and
Creative genius
Not popcorn pushers like me,
Her white shoulders adorned with green wysteria vines
Their purple flowers puffing plumes of scent around the room
I am confused
How did she find me?
Does she pity my wretched soul tonight and bring me a honey brimmed cup of wormwood tea for my good health?
Or will she lure me with her spooky green liquor?
Perfume smoke hovers around the neck of the absinthe bottle
As she sprinkles her vanilla sugar
The fairy dust sparkles on the dust particles
and I know better than to beg for mercy
her sweet scent has drowned my sensibility
and I am alone again, I am in my sin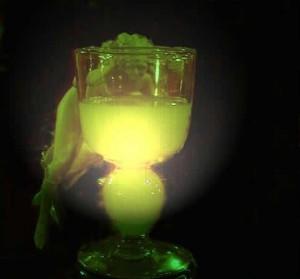 PHOTO: Liqueurs de France Ltd
Absinthe Collection, Absinthia and Absinthe Perfume by Opus oils
Sillage: Average
Longevity: Average
Natural or Blended: Blended
Worth the Risk to Purchase Unsniffed? : Yes, if you like really sweet perfumes.
–Monica "Skye" Miller, Natural Perfume & Senior Editor