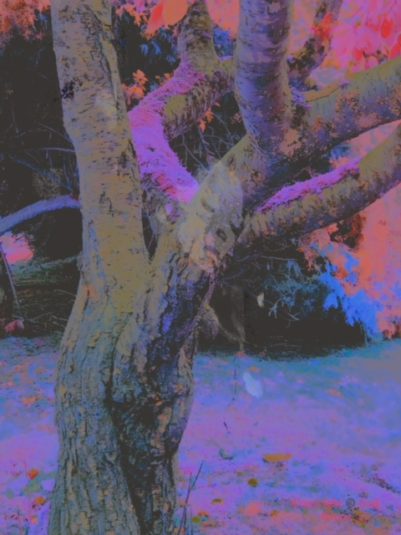 Plum Tree by Gail
Dateline – Harvest time 2018: Plums, plums everywhere! The old plum tree in our mini orchard has delivered a bumper crop of excellent quality fruit. I have finally finished picking and processing the last of the lot. One would think that, after compulsively washing and polishing the dusty blue bloom off of over 2,000 dark purple plums, I would be tired of the smell and taste of stone fruit. But strangely I find myself craving even more of the succulent, sweet and fragrant flesh. In fact, the scent of plums is driving me "plum crazy"! I must have more. And where else to find a treasure trove of plum smells than in my own stash of plum perfumes!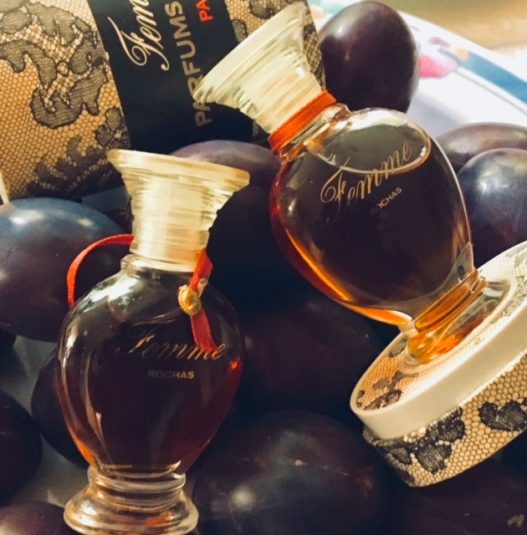 Gail's Vintage Rochas Femme© collection
These days it seems there are incalculably more plum perfumes than there ever were plums on the old plum tree. In my large collection I have an uncounted number, but only a handful stand out from the crowd. The most memorable, without a doubt, is the original Rochas Femme, the masterpiece of "prunalic" delight that launched my obsession with plum perfumes. In 1943/44, Edmond Roudnitska, the most brilliant perfumer of the 20th century, created, for Marcel Rochas' third wife Hélène, the now legendary fragrance, Rochas Femme. Edmond Roudnitska, inspired by one of the most notorious and powerful femme fatales of the silver screen, Mae West, used Prunol for the peachy sugarplum, laced the blousy plum with a tang of lemon, lifted her with aldehyldes and fortified everything with dusty immortelle. But the master did not stop with this one gorgeous Femme.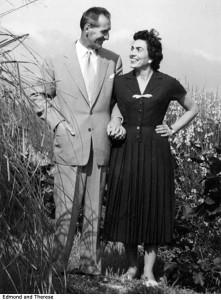 Edmond Roudntiska and Therese Roudnitska via Michel Roudnistka
Over a period of several decades he developed a very personal fragrance for his wife, Therese, a perfume simply called "The Plum", which she worre to the Dior office. What we know today as Frederic Malle Le Parfum de Therese was a scent that was, for years, worn, exclusively by the perfumer's wife. Le Parfum de Therese was finally revealed to the public by Frederic Malle in 1999, three years after Edmond Roudnitska's passing. For more about Le Parfum de Therese, I know you will enjoy reading Edmond Roudnitska's son Michel Roudnitsak's "The History of Le Parfum de Therese" on Cafleurebon.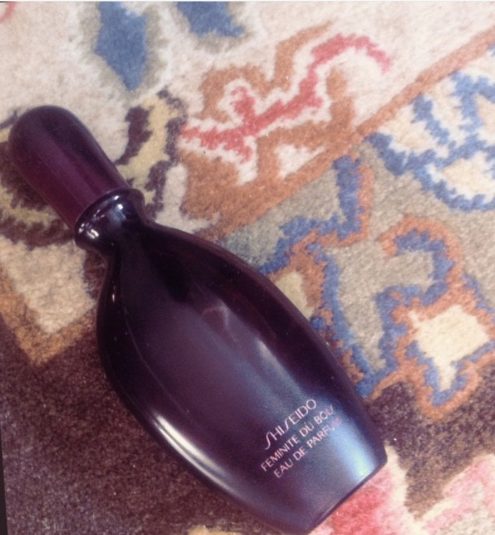 Michelyn's Shiseido Feminite du Bois 1992
From Femme to Féminité, Christopher Sheldrake, in collaboration with Pierre Bourdon (Edmond Roudnitska's student), offered the world a ground- breaking, fragrant take on raw sexuality – the 1992 Shiseido Féminité du Bois. The first time I encountered this juicy, sweaty, woody, peachy plum I was taken aback by the dirty effect of the cumin, but soon came to love it! The original Shiseido Féminité du Bois was one of my favorite plum perfumes for many years.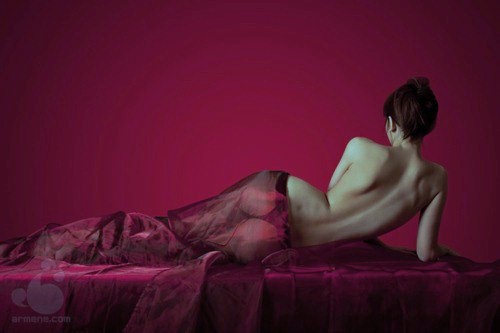 In 2011, Dawn Spencer Hurwitz introduced her own plummy masterwork – Mirabella. Of all the varieties of edible plums, the small, round yellow skinned French Mirabella is probably the most fragrant. Dawn, working with a breathtaking botanical plum accord, honey, beeswax, white flowers, osmanthus and civet (to name but a few of the luscious notes) created a perfume that references the true Mirabella scent and, like Féminité du Bois, evokes extreme sensuality and an almost tactile presence, a plum perfume that you can taste and feel on your skin.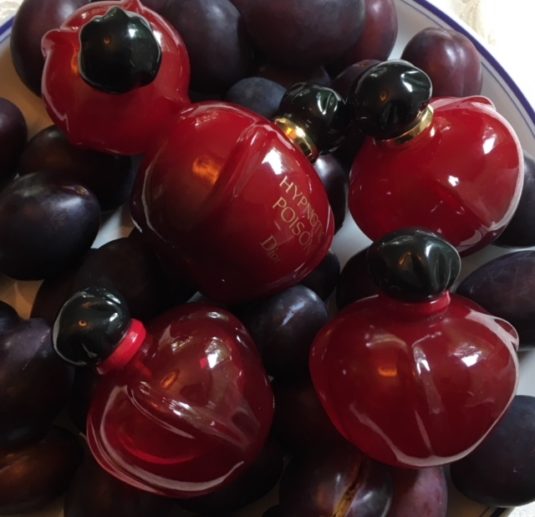 Gail's collection of Dior Hypnotic Poison©
As much as I adore Vinatge Rochas Femme, Le Parfum de Therese, and Féminité du Bois,I find that the unavailability, scarcity, and/or expense of these plum perfumes preclude everyday wear. When I am driven "plum crazy", Dior Hypnotic Poison and DSH Perfumes are my plum perfumesof choice. Created in 1998 by Annick Menardo, Dior Hypnotic Poison has weathered at least two reformulations and is still very close to the same beauty she was 20 years ago.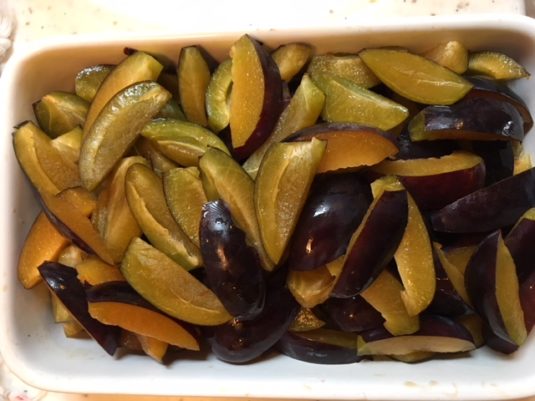 Plums from Gail's Garden©
Despite the fact that plum notes are not listed as part of the current EdT, my vintage Hypnotic Poison (EdT) is among the plum perfumes I must pick to finish off the 2018 harvest season, a fragrance that reminds me of a pleasantly peculiar terroir that flavors everything in my garden. All the fruits, vegetables and even the maple syrup that we occasionally make from the sap of the Big Leaf maples on our property, have a distinctive, flowery, nectar-like foxiness that is, at once, ephemeral and earthy. I find this same effect in Dior Hypnotic Poison. Perhaps it is the peculiar combination of bitter almond, vanilla, caraway and jacaranda wood that makes vintage and modern Dior Hypnotic Poison so much fun to wear. Hypnotic Poison is a scent for every season and a powerful perfume that I love to apply with lavish, energetic and crazy abandon!
Disclaimer: The plum perfumes referenced above have been – or still are – in my collection. My opinions are my own.
Gail Gross – Senior Editor
Art Direction: Michelyn Camen, Editor-in-Chief
Editor's Note: I adore plum perfumes. My first impression of DSH Perfumes Mirabella was Serge Luten's Feminitie du Bois's skin twin. Although there is no cedarwood in Mirabella, there are spices, plum, woods, bergamot, benzoin, and honey. Both are tributes to sensuality and to the quintessential beauty of a woman. Comparing fragrances is not my style; yet the resemblance on my skin is remarkable. –Michelyn Camen, Editor in Chief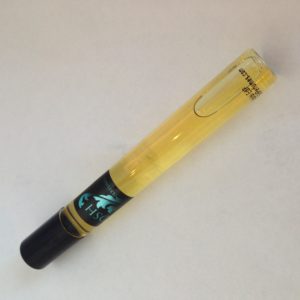 Thanks to the generosity of Dawn Spencer Hurwitz we have a 10 ml voile de parfume pulse pen of DSH Perfumes Mirabella (90 percent botanical) for one registered reader worldwide. You must register here. To be eligible, please leave a comment saying what appeals to you about the plum perfumes Gail chose. You can also tell us if there are plum perfumes that that drive you "plum crazy"! Draw closes 9/20/2018. Follow us on Instagram @cafleurebon @azarsmith7 and @dshperfumes.
We announce the winners only on site and on our Facebook page, so Like Cafleurebon and use our RSS blog feed…or your dream prize will be just spilled perfume.