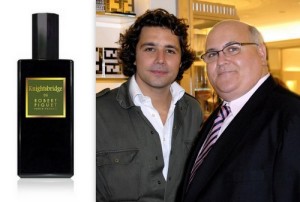 The Best Perfume of the Year and Aurelien Guichard (l.) with Joe Garces
I say this every year but 2013 was a great year for perfume. What is different, I hope, are the reasons I think that is so from year to year. As I mentioned in the Best of 2013 list I did with EIC Michelyn Camen I felt this year had many more individualistic statements from perfumers. This meant it felt like there was less pandering to the masses paired with more reaching out to specific niches (pun intended). 2013 felt like niche perfumery understood, and respected, its desired audience. Out of the 514 new fragrances I tried the 25 fragrances below, I think, represent that.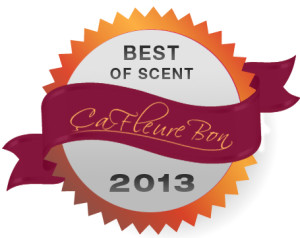 Top 5 (Fragrance of the Year Candidates)
5. Puredistance Black– Creative Director Jan Ewoud Vos asked me to "Envision. Smell. Feel. Don't Analyze" Antoine Lie's composition. When I reviewed it I couldn't help myself. Since then I spend my time allowing this atmospheric fragrance to draw me into its spell without struggle.
4. Le Parfum Couture Denis Durand for M. Micallef– The field of fashion designer cologne is cluttered with fragrance as unforgettable as the fashion is not. Haute Couturier Denis Durand teamed with M. Micallef to make sure the perfume with his name on the label would not fall into that trap. This displayed the best of both creative houses and truly lived up to the "Le Parfum Couture" label.
3. Strange Invisible Perfumes The Rose with the Broken Neck– When Alexandra Balahoutis is at the top of her game the botanical perfume she creates carries a subtle vitality that I believe comes from using all-natural ingredients. The Rose with the Broken Neck is as imaginative as its name.
2. Amouage Fate Man– Perfumer Karine Vinchon-Spehner and Creative Director Christopher Chong follow up 2012's number three, Amouage Interlude Woman, by moving up a slot with this year's Amouage Fate Man. Mme Vinchon-Spehner created a fragrance which teetered on the precipice throughout its development. That it somehow hangs together is both an artistic and technical triumph. If this team keeps improving I already know what will be No. 1 for 2014.
1. Knightsbridge de Robert Piguet– When Creative Director Joe Garces handed this to me at Esxence back in March I told him this was the best thing I smelled in the entire exposition. As the year moved along that went from best in show to best of the year. Born of the simplest of briefs, "Imagine walking through Harrod's at 3AM", for perfumer Aurelien Guichard. Knightsbridge allows you to feel like you are alone and surrounded by the most luxurious things in the world. As Fracas turns 65, the precocious youngster gives it some competition for best perfume in the line.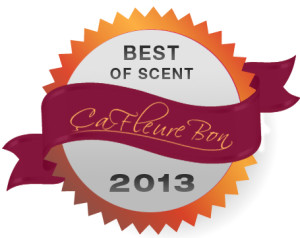 Here are the remaining 20 fragrances in alphabetical order:
Charenton Macerations Christopher Street– Creative Director Douglas Bender collaborated with perfumer Ralf Schwieger (Michelyn's Perfumer of 2013) to create a very personal vision of Greenwich Village's Christopher Street. What could have turned into a vanity project instead turned into a giant fragrant hug which invited everyone to join in.
Comme des Garcons Black– Fragrance at Comme des Garcons had almost become an afterthought but with the first release of 2013 Black laid down a marker that CdG was back at the front. Perfumer Gillaume Flavigny under Creative Director Christian Astuguevieille's steady hand mixed licorice, black pepper, and tar into something that plumbed the dark depths wonderfully.
Comme des Garcons X Monocle Scent Three: Sugi– If CdG Black indicated 2013 was going to be a different year Sugi clinched it as it closed the year out. As completely different as they could be in style; perfumer Antoine Masondieu's Sugi is as ethereal and minimalist a fragrance as ever exists. Just when you think it is gone the lilting cypress wafts across your senses. As delicate as fine lace and equally as beautiful.
Dries van Noten par Frederic Malle– Perfumer Bruno Jovanovic has added to his early impressive resume with this sandalwood focused fragrance that has become my traveling perfume. My seatmates have asked me multiple times what it is I'm wearing, in a good way.
DSH Perfumes Iridum– Perfumer Dawn Spencer Hurwitz has found her muse in her collaborations with the Denver Art Museum. From the Egyptian collection she did for the King Tut Exhibit she decided to take the faithful recreations she did and update them. Adding an incandescent orris to the spice and incense of the original Cardamom & Kyphi turned Iridum into something simultaneously ancient and modern.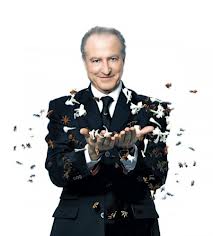 A CaFleureBon Perfumer of the Year Alberto Morillas
Eau D'Italie Acqua Decima– The first of two by my Perfumer of the Year Alberto Morillas. 2014 saw M. Morillas begin his stroll on the niche side of the street with this fragrance celebrating Eau D'Italie's tenth fragrance. Acqua Decima is simply put a fabulous blast of lemon sunshine in a bottle. Nuanced and sprightly.
Etat Libre D'Orange La Fin du Monde– I have been eagerly awaiting perfumer Quentin Bisch's first commercial release and Creative Director Etienne de Swardt gave him his first commercial brief. La Fin du Monde shows the rise of a new star in perfumery who gets the aesthetic of a perfume that believes the world ends in popcorn. For a fragrance that celebrates apocalypse La Fin du Monde seems meant to be the comfort scent for the day after the end of the world.
Ex Idolo Thirty-Three– Owner Matthew Zhuk takes a thirty-three year old oud oil and displays that age works wonders on perfume as well as wine.
Les Nez Turtle Vetiver Back– Honestly this always gets a slot every year because for me there is no more interesting study of a single note than what perfume Isabelle Doyen is doing for The Turtle Salon. Each new iteration explores something different about vetiver. This one dives deep into the woody aspects and made me re-examine them.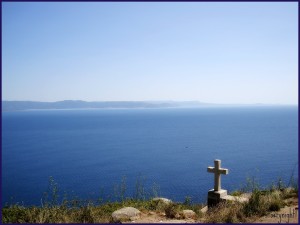 Cap Finesterre
Maria Candida Gentile Finesterre– In a style as hopelessly overexposed as aquatic fragrance perfumer Maria Candida Gentile reinvigorates it with the best new aquatic fragrance in years.
Neela Vermeire Creations Ashoka– Creative Director Neela Vermeire and perfumer Bertrand Duchaufour team up for the fourth time to create the best fragrance in the NVC line-up. Ashoka displays multiple layers of florals, spice, and wood in a tour de force that never disappoints except when it fades away hours later.
nu_be Mercury– This whole line of elemental fragrances feels like the beginnings of a new niche house to be reckoned with. I liked all of them and they would all be found in my top 100 fragrances of 2013. Mercury, by perfumer Antoine Lie, is the best of them all as it captures the idea of liquid metal carrying briliance and weight simultaneously.
Penhaligon's Iris Prima– Alberto Morillas brings backstage at the ballet to life as hairspray, powder, and used ballet shoes never smelled so good. Or to put it another way aldehydes, iris, and leather never smelled so good. My most worn fragrance over the last part of the year.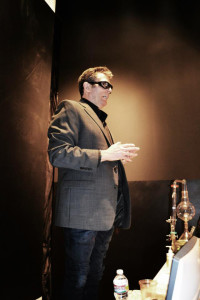 David Falsberg
Phoenecia Perfumes Skin Graft– If I remember 2013 for anything it will be for perfumer David Falsberg (our Best Discovery of 2013) as he has an uncompromising style of perfume making. His debut fragrance showed that off as he captured the scent of healing from trauma in a hospital and turned it into something breathtakingly poignant.
Roger & Gallet Fleur de Figuier– Francis Kurkdjian for $35/oz? The best Francis Kurkdjian of 2013 for $35/oz? Yes, please.
Serge Lutens La Fille de Berlin– I was beginning to worry that Uncle Serge was getting too enamored of these lighter styles. Perfumer Christopher Sheldrake assuaged my fears with an explosive rose among the best fragrances this line has ever produced. Plus the juice itself is a crimson red which makes it visually stunning, too.
Soivohle Carpathian Oud– Liz Zorn is one of the best indie perfumers we have and Carpathian Oud is a good example of why. This is a long term pleasure. It won't impress on first sniff but if you give it a few wears it will become an inseparable companion full of new revelations every time.
Sonoma Scent Studio Cocoa Sandalwood– Laurie Erickson took her first try at a 100% natural composition with Cocoa Sandalwood. This is a creamy smooth long-lasting study of the two notes in the title. I don't think there is anything Ms. Erickson can't do if she sets her mind to it.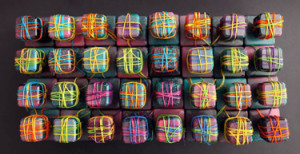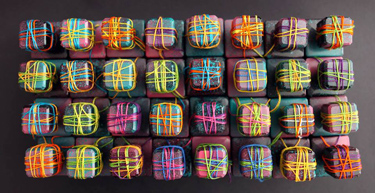 Accident Bottle Tops
Smell Bent Austin Young's "Accident"– I have happily followed Brent Leonesio of Smell Bent wherever he wants to take me. In 2013 he collaborated with visual artist Austin Young for an exhibition and created Accident. Accident is the most accomplished fragrance this very talented perfumer has created and is as good as modern perfumery gets.
Stephane Humbert Lucas 777 Khol de Bahrein– This list is full of Iris and Orris scents but the one which has blown me away the most in a year full of great iris fragrances is this one. Stephane Humbert Lucas created an intense beauty which envelops you in an enigma. Enjoy figuring it out.
Tom Ford Sahara Noir– Rodrigo Flores-Roux turned in one of the best incense fragrances of recent years. Even though this is for the mainstream Signature Collection it was better than any of the Private Blends released in 2013.
Honorable Mention (The final cuts): Aether Arts Burner Perfume No. 4: John Frum, Amouage Opus VII, Atelier Cologne Silver Iris, Dita von Teese Erotique, Erik Kormann Steampunk, Hermes Epice Marine, Le Labo Lys 41, Majda Bekkali Mon Nom est Rouge (2012 release but I tried it in 2013 it would have been top 5 in either year), Mona di Orio Violette Fumee, Tom Ford Private Blend Shanghai Lily, Union Gunpowder Rose.
As always I want to finish by thanking the creative directors, perfumers, PR firms, fellow bloggers, Facebook groups, and other friends in fragrance. All of you allow me to communicate my passion for perfume to our readers and I couldn't do it without you.
Happy New Year!
–Mark Behnke, Managing Editor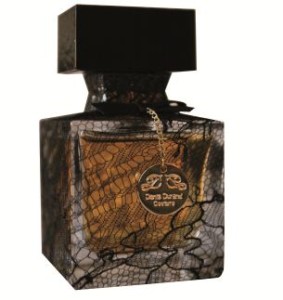 Martine Micallef and Geoffrey Nedjman of Parfums M.Micallef (check out their beautiful new website) wish all our CaFleureBon readers Happy Holidays. Thanks to their generosity we have a worldwide draw for 50 ml Le Parfum Couture de Denis Durand by M.Micallef, which was Michelyn and my Best Designer Perfume of 2013 as well. To be eligible, leave a comment with which of my Top 25 (and honorable mentions) made your "Best of Fragrance List" or those you are going to try in 2014. Draw ends January 1, 2014.
We announce the winners only on site and on our Facebook page, so Like Cafleurebon and use our RSS option…or your dream prize will be just spilled perfume
Editor's Note: For those who would like to have a chance to win a bottle of Ex Idolo Thirty-Three go leave a comment on the Best of 2013 link here. That draw ends on December 31, 2013. Tomorrow, Sr Editor Tama Blough, Sr Editor and Natural Perfume Editor John Reasinger, Sr Contributor Valerie Lee Vitale, Contributor Alex Law and Contributor Nancy Knows share their collective Top Ten best fragrances of 2013.