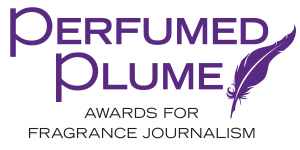 The First Annual Perfumed Plume Awards for Fragrance Journalism co –founded by Mary Ellen Lapsansky and Lyn Leigh, was held at the Salon at Rizzoli Books, in NYC April 7, 2016. It was a standing room only crowd with many friends and notables of the industry in attendance.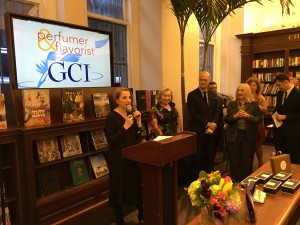 Mary Ellen Lapsansky, Lyn Leigh and consulting comittee members include Jeb Gleason-Allured, Miranda Gordon of Mane, Henry de Monclin, Ruth Sutcliffe, Lisa Lori, Raymond Matts, Lyle Saunders, MaryManning, Virginia Bonfiglio ,Bettina O'Neill (Photo Hernando Courtright)
Modeled after the Jasmine Awards in the UK and The Prix Jasmine in France, it is the first time in the US that dedicated awards and acknowledgment is given to writers and visualists "who bring to life for the general public the craft, the inspiration, the emotion and the sensory journey that is at the heart of each and every fragrance creation". The judges for Scent Stories are listed here and included Saskia Wilson Brown of the Institute of Art and Olfaction,and Karen Dubin of Sniffapalooza. Science of Scent judges are listed here. The top ten finalists in each category will be added to the permanent Perfumed Plume library annually.
Scent Stories in Mainstream Media – Magazines- Elle Magazine Escape Artists
Scent Stories in Mainstream Media – Newspapers-New York Times Power Perfumes Return to The Scene
Scent Stories in Digital Media (Digital Magazines, Blog Postings, Webzines) Colognoisseur, That Unobtainable Object of Desire: Avon Deneuve by Catherine Deneuve (Mark Behnke)
Visualization of Scent Stories – Overall Design Presentation: ÇaFleureBon Perfume as Opera Madama Butterfly and Turandot (original art by Jasia Julia Nielsen)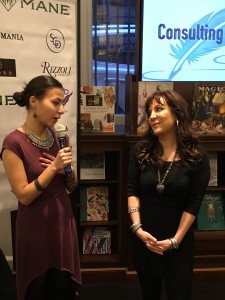 Dana El Masri and Michelyn Camen
Science of Scent Stories – ÇaFleureBon Flower Power: Scent Identity and Culture in the Middle East (Dana El Masri)
Fragrance Books WINNER Mandy Aftel Fragrant The Secret Life of Scent (announced previously) Mandy was in NYC with Foster to receive the award
We are thrilled and excited to have won these prestigious awards
-Michelyn Camen, Editor in Chief