In comparison to Michelyn and Mark, I can't rightly avow that I am as impassioned a follower of Haute Couture.
We all share a common love of beauty and quality, but I've never attended Fashion Week as press, nor have I ever attended a fashion show, period!
This youtube clip was too good to pass up, nonetheless-
As it gives one a sense of the talent which Libertin Louison, creator of Technique Indiscrète– possesses.
The recent Elements Showcase brought his fragrance line to my attention- and Miriam Driot, representative of the line- was extremely helpful and warm.
All of the fragrances I sampled [and I truly sampled them all, giving each one considerable attention!] were excellently composed.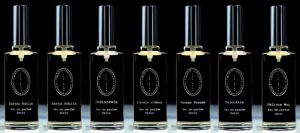 I wish I had had the opportunity of meeting Monsieur Louison, because his background is equally intriguing.
Libertin Louison was born in Anvers, Belgium 36 years ago, to an Anversoise mother and a French father of Russian / Polish Jewish descent.
Both parents' backgrounds colored his perceptions and sensibilities.
From his mother, he learned discipline, hard work, and love of country; from his father, a fanciful imagination; from his father's mother, deep respect and tolerance for people from every walk of life.
He finished his studies at barely 22 years old and left for Paris, where he spent the next ten years.
And what ten years!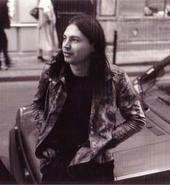 He studied fashion design at l'Académie des Beaux- Arts, after two years he then worked under Martin Margiela, all the while earning a pittance while dressing models for shows.
He lived in the Jewish textile quarter, where every evening, he observed Chinese neighbors rifling through the trash for scraps of fabric.
This inspired him to do the same, searching for pieces of jersey, which he sewed into patchwork T shirts- they soon sold like hotcakes.
Working day and night, Louison finally opened his own boutique/ atelier in 1996, which was frequented predominantly by very affluent Japanese clientele.
Louison realized a dream-creating truly unisex and women's fashion!
When a press rep from Lolita Lempicka recommended Louison give a showing [he was broke at the time] , he staged a fashion show in the street, three times!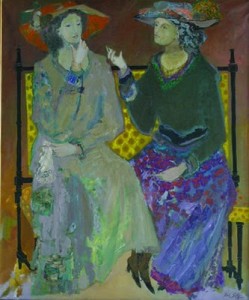 This led to his meeting Pierre Levy of YSL-
Who saw to it that Louison had a structured collection and showrooms in Milan and Paris within the year.
2003 was a pivotal year; Louison's father passed away, and he felt the desire to return home to Belgium and regroup.
During this hiatus, he sold everything in Paris, and opened a boutique in Bruxelles.
He applied to in Paris and studied perfumery with a passion.
In 2008, he launched his line Technique Indiscrète, inspired by his parfum Indiscrète.
In March of 2011, Louison created a lavender-based cologne "For Them "-
From which 100% of the profits were to go to Japan's village of Minami Sanriku, post-tsunami devastation.
The use of the tag "Libertin Louison" is a nod to his fashion label.
His full name is Louison Grajcar.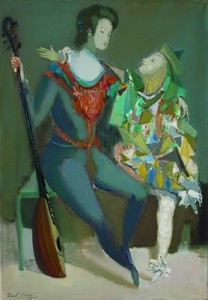 So, perfume.
I was able to sniff all seven at Elements, under Miriam's gentle direction.
Each has a story which accompanies the scent- just they way I like it 😉
Some of the notes listed sound fanciful- clearly, these fragrances combine both naturals and aromachemicals, as no botanical 'apple cake' exists.
Notes named soft wood, caramel vanilla, chypre accent, and blue lily of the valley make me scratch my head.
Never mind- the end result is tremendously satisfying, regardless of mysterious elements.
Indiscrète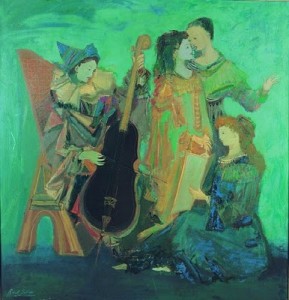 Notes:
Bergamot, fruits from the orchard, mandarine
Rose, jasmine, tuberose
White musk, soft wood, caramel vanilla, chypre accent
My impressions are those of open spaces, clean, playful liveliness.
When the copy says"freshly washed linens", they really mean it.
Airy, delicately fruity, with gently floral wisps and a peaceful drydown…
If this perfume were a tempo, it would be allegretto.
Veloutine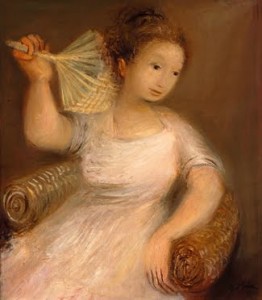 Notes:
Feuille de violette, fruits rouges
Fleur de violette, rose
Leather, musc, salicylates
Believe it or not, the late Dame Barbara Cartland was the inspiration for this heady rose / violet fragrance.
Velvety, éblouissant, over-the-top, larger than life.
This would be the Auntie Mame of Lipstick Rose, in a wonderful way.
This is as romantic as it gets, for rose-violet lovers- it's gorgeous.
Paname Paname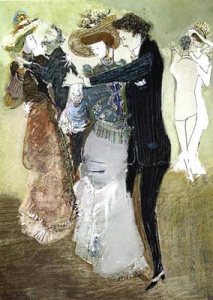 Notes:
Bergamot, green mandarin, cumin
Jasmin, lotus, apple cake
Vetiver, moss, white musk, amber, chypre accent
Alas, this sample was missing in my little packet! [Apparently, it is very well-liked in Paris.]
It was one of my favorites, so I will have to go by my olfactory memory on this one.
I remember finding this parfum to be classically seductive, in the finest Gallic fashion –
Earthy smoky base, lush citrus topnotes seasoned liberally with cumin, and a vibrant floral heart, deftly spiced.
This scent is one to watch, and to own.
Plaisir d' Amour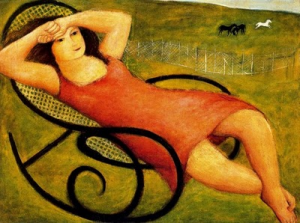 Notes:
Bergamot, kumquat
Jasmin, fleur d'oranger, rose, blue lily of the valley
Vetiver, patchouli, musc, oak moss, chypre accent
Plaisir d'amour ne dure qu'un moment;
Chagrin d'amour dure toute la vie…
So says the old song.
This parfum is modern, elegant, and enveloping, a very sensual floral chypre.
The base is like brocade, it is so textured and delightfully dense; the heart is unabashedly, unapologetically floral.
The piquancy of kumquat anoints the skin with effervescence.
I have no idea what is meant by "blue lily of the valley"- and I don't care.
You won't, either.
It doesn't matter; this beauty is as lovely as any Crepe de Chine-type floral chypre.
Santa Subita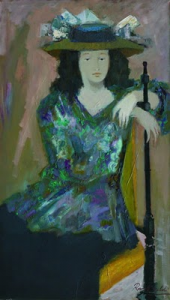 Notes:
Bergamot, lemon, orange
Cedar, patchouli, sandalwood
Benzoin, tree moss, vanilla, musk
The name suggests to me: suddenly sacred.
Inspired by icons and incense, this perfume bridges the voluptuous and spiritual, a very tenacious and rich woody oriental in character.
I can visualize Santa Subita being extremely comforting and strengthening, by turns.
It is pillowy and plush, never severe or astringent; one could swear that opoponax was lurking in there, unnamed.
If you adore Shalimar as I do, then I think this may be your next desire…
Oh my.
Safran Nobile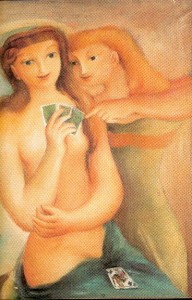 Notes:
Lemon, orange
Cardamom, anise, jasmine, saffron
Benzoin, patchouli, vanilla
Bollywood- ready beauties in wedding-worthy sari inspired Louison, and you can smell it immediately.
Copy tells us that "little by little, like a butterfly she leaves her cocoon to reveal a graceful and giving woman"..
I can't top THAT!
What I can reveal is that the saffron never waxes medicinal, although its presence is felt throughout the alchemical interweaving of notes.
Jasmine and saffron are old friends; they adore one another, and are thrilled to welcome anise and cardamom into their charmed circle.
Benzoin, patchouli, vanilla- more seductive bedfellows for our late afternoon détente.
You might need a fan- perhaps several-
And some of those magnificent young men to go with them.
This is going to heat up some cold winter's nights, I am certain of it.
Délivre Moi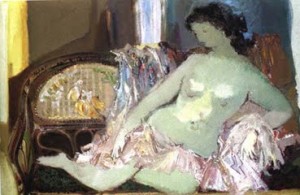 Notes:
Anise, eucalyptus
Geranium, heliotrope, jasmine
Almond, cypress, honey, musk
Of all seven, this is the most potent- and I feel, polarizing.
If you are smitten with L'Heure Bleue in extrait form, then you will swoon over Délivre Moi, beyond a doubt.
One can be animalic without civet; honey is one puissant floral-scented animalic, and when coupled with cypress, you feel as if you're drinking retsina, that resinous Hellenic marvel.
Almond and heliotrope feel like kissing cousins, with anise following closely on their heels.
The tonic addition of a touch of eucalyptus is an intuitive counterpoint to put you off center [which is what 'eccentric' was meant to be!]; geranium balances with its tart, rosy-floral edge, occasionally mint-tinted.
These notes accent the intense warmth and enveloping nature of this scent.
Louison's conception was a woman who is so giving, so reassuring, that one finds it difficult to detach- but he feels that these qualities mask her secret, and the belief is that secrets are very alluring indeed.
Herein lies the issue: will you feel cosseted, or suffocated?
A magnificent, bold scented statement of grand stature is this.
Dosage is all-important, whether you adore it or disdain it.
Too much, and you will wish you hadn't, so please, be judicious in application.
What can be heavenly might prove to be headache-inducing if you overdo.
I firmly feel that everyone ought to give this a sniff, just because.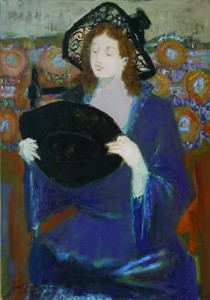 Well, my friends, I think you can surmise which ones I prefer.
I feel that all seven in the line are very well- executed, and that there is certainly something for everyone.( Editors note: you may remember we were the first to write about Cologne for Them created for the Japanese people during the tsunami)
–Ida Meister, Senior Editor
Senior Editor's Note:
Did I forget?
There are scented candles, scented teas, floral waters…
Many delights available online… http://www.techniqueindiscrete.com/
Art Direction: Michelyn Camen EIC- Art by Argentine Artist Raul Soldi (1905-1994)
As of September 2011, beautyhabit.com will be the first to carry Technique Indiscrète in the USA
There are two draw prizes
One commentor will receive the perfume of his or her choice.
One commentor will receive the sample pack.
To be eligible for reader's choice: please leave a comment on the fragrance you would like to try and in your own words what couture and fine fragrance share in terms of beauty and quality.FOR YOUR COMMENT TO COUNT TWICE MATCH A COUTURE ENSEMBLE WITH THE FRAGRANCE OF YOUR CHOICE
For the sample pack, name the fragrance you might like and something that you found interesting in this article. Draw ends September 2, 2011 EST