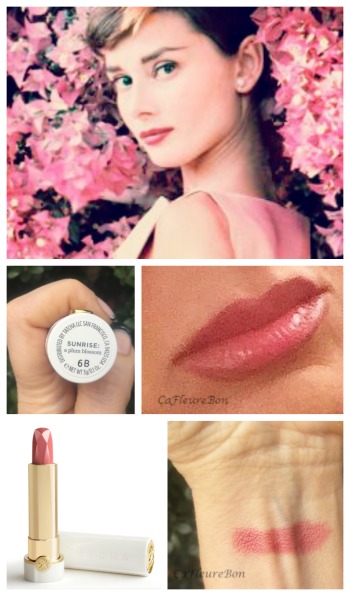 Photos of Tatcha Sunrise: A Plum Blossom on my lips, product shot, swatched under my wrist and Our Lady of Pink lipstick Miss Audrey Hepburn (photo Norman Parkinson 1955)
Do you know the newish brand Tatcha? They are an up and coming Japanese line best known for their skincare. I am testing a number of their secrets of Geisha beauty anti aging skincare products and while perusing their website ordered SUNRISE: A PLUM BLOSSOM LIMITED EDITION 23-KARAT GOLD ILLUMINATED LIPSTICK blind.
As Audrey Hepburn said "I believe in pink". The lipstick gods were smiling because I think I might have bought the last one on tatcha.com. And I am so very glad I did. The color is a medium pink with warm rosy undertones on my medium golden skin (Nars Stromboli, Kat Von D Lockit 53). Most definitely this is an YLBB (your lips but better) shade. These usually don't work for me…I need some brightness and less plum (blue) tones to flatter my warm complexion. Tatcha Plum Blossom is more pink than plum, a great color for every day and works well into the evening. A hallmark of Tatcha products is their 23 k gold infusion which in this case adds luster and dimension to this color; it is just gorgeous. The texture is creamy and glides on like fine silk. The formula is long lasting, hydrating and did not budge for hours, even surviving a power walk and three bottles of water without reapplying. I think that Sunrise A Plum Blossom would work on any woman; no matter the age or skin color. A friend of mine swiped it and it was deeper and less rosy. The alabaster case is gorgeous with the gold metal Tatcha flower logo on the top and where the lipstick opens. It is heavy in the hand, and when you put the cap back to close the lipstick it makes that satisfying snick sound as it clicks into place. Bototm line, I get more Audrey Hepburn that Geisha, which suits my love of Old Hollyood glamour just fine.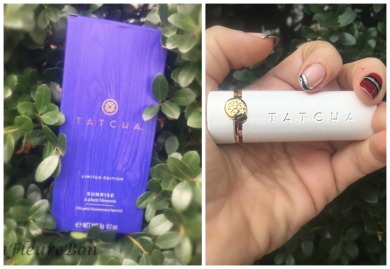 What you need to know: Sunrise A Plum Blossom is a collaboration between Tatcha and celebrated makeup artist, Matthew VanLeeuwen. Price is $55 /3 g which is expensive but worth it. The nice folks at Tatcha also included a huge sample jar(10g) of one of their hero products Tatcha Polished Classic Rice Enzyme powder for normal skin which is a 3 in 1 cleanser, exfoliator and toner. There are no gold flecks on your lips just an illusion of glowing luminosity
Ingredients:The lipstick contains Plum Fruit extract which the company has touted as a centuries old Japanese beauty ingredient (I need to check this out with Maria McElroy of Aroma M, our sensei of skicare and scent) and as in all Tatcha's skincare, the formula contains "HADASEI-3TM BIOACTIVE COMPLEX—A proprietary anti-aging complex of Green Tea Complete DNA, Okinawa Red Algae and Japanese Rice Bran extracts"
Attributes: Non-irritating. Non-sensitizing. Dermatologist tested. Formulated without mineral oil, synthetic fragrances, sulfate detergents, parabens, urea, DEA, TEA or phthalates
It is still available at Barneys.com and I am heading there right now for a backup.
Disclosure: From my own collection
Michelyn Camen, Editor in Chief