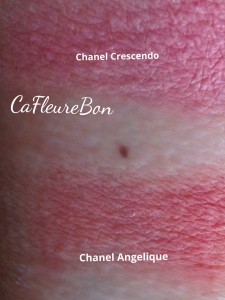 Swatched indoor lighting with eyeshadow brush MAC 23
I own less blushes than any other type of makeup. Maybe I am more of a bronzer kind if gal. I am really picky, hate shimmer and tend to gravitate to NARS Lovejoy by default. I was pleasantly surprised by Chanel's two Spring 2015 blushes Crescendo and Angelique.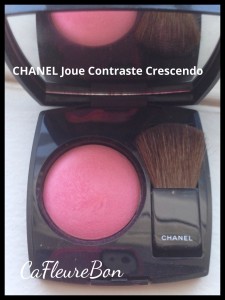 Chanel Crescendo 250 Joue Contraste Powder Blush: Not Barbie doll pink, but warm with golden undertones and a bit of a sheen. There was more of a glow than with Angelique. As in Angelique, the texture is wonderfully fine, the color buildable so it would take a heavy hand for it to appear too bright. This is a limited edition and currently not available on Chanel.com or on Bergdorf.com. Try your local Chanel beauty counter, there may be a few stashed away.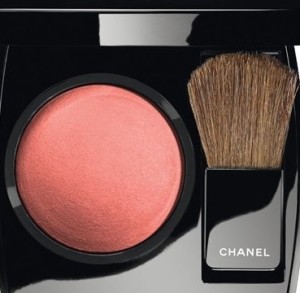 Photo: Chanel (true to color)
Chanel Angelique 190 Joue Contraste Powder Blush: At a certain age shimmery blushes show every line. I steer clear. Angelique is described as Coral, and it is, somewhere in the middle of pink and orange. It is also matte without being chalky. Angelique is warm with slight pink undertones that is sophisticated just in case you re thinking of those ladies in Boca. Finely milled, buildable color and although it has no sheen it doesn't look chalky. I went to a spin class and it was still perfect. Angelique had about 9 hours longevity on me. $45.00
Disclosure: Products sent from Chanel, opinions my own, all photos watermarked were taken indoors with my iPhone 5 no filters
–Michelyn Camen, Editor in Chief