Mary Cassatt's "The Cup of Tea II" (1879) -Mary Cassatt is one of Laurie Erickson's favorite American painters
I have loved fine fragrance all my life ever since my mother introduced me to the olfactory magic of the beautiful perfumes of the mid-20th century. Enjoyment of fragrant teas is a more recent discovery. For six years I have shared an office with a "perfume despising" co-worker and my dear husband has allergies that prevent me from wearing fragrance in my own home every Spring and Fall.
CaFleureBon's "Profiles in American Perfumery" series introduced me to Laurie Erickson of Sonoma Scent Studio. Her complex compositions remind me of fragrances that were made fifty years ago. Sonoma Scent Studio has become my favorite Perfume House and is a second "home' to me, an enchanted place that evokes memories of my youth, when I could spritz with abandon. I am so inspired by Laurie Erickson and as avid reader of CaFleureBon, I am thrilled to be a guest poster and share my tea and scent musings on a cold winter day in New York.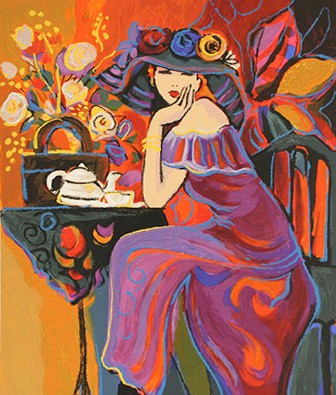 Isaac Maimon Tea Time
Harney and Sons "Paris" Tea and Sonoma Scent Studio Lieu de Reves
Imagine an early June morning, a petite young lady with golden hair and bright green eyes sits in an outdoor café in Paris, sipping a delightful black tea enhanced with sparkling notes of bergamot and fruit, tempered with the smooth, mellowness of creamy vanilla. From her fragile alabaster wrist wafts a delicate, fresh, powdery, violet-heliotrope fragrance… utterly feminine and perfectly matched to the tea. The tea is "Paris"; the perfume is "Lieu de Reves". I can attest to the fact that Paris is, indeed, a "place of dreams". Had I owned Lieu de Reves this would have been my perfume of choice to wear during my first trip to Paris in the early 90s. Incidentally, Lieu de Reves was my first full bottle purchase from Sonoma Scent Studio, as it so much reminded me of that dreamy city.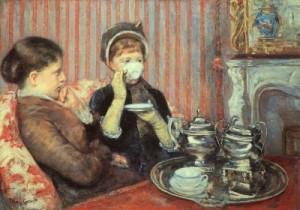 Mary Cassatt's "Five O'Clock Tea" (1880)
Mighty Leaf Tea Organic Earl Grey Loose Tea + Sonoma Scent Studio Nostalgie
I prefer my tea prepared in traditional fashion, loose leaves brewed in a teapot. Every Sunday morning I dig out my teal colored cast iron teapot and brew several cups of Mighty Leaf's flavorful Earl Grey tea. Earl Grey tea, a classic blend of black with bergamot notes, is what I pair with SSS Nostalgie. In my mind, Nostalgie is destined to become a classic as well. In one succinct word I can only describe it as utterly "elegant". My teenage daughter and I do not always see eye to eye with our perfume choices. Yet, with one whiff of Nostalgie she immediately recognized its beauty. It is as if she intuitively understood its classic grace. When she turns 18, we will be drinking Mighty Leaf Tea Earl Grey from my teal tinged pot as I gift her a full bottle of Nostalgie, the perfect scent to segue her into womanhood.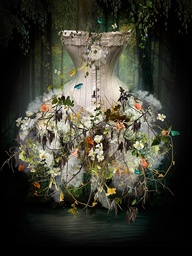 Mighty Leaf Tea "Spring Jasmine" Tea + Sonoma Scent Studio Forest Walk
When time constraints preclude me from the "brew in the pot" method, Mighty Leaf tea bags are the next best thing. "Spring Jasmine" is a simple blend of green leaves and jasmine petals encased in a soft muslin pouch, hand sewn shut with thick beige thread. The teabag itself is stunning. The tea is divine: florally robust with its potent jasmine note. I live in a small town in the Northeast where significant climate changes occur as we move from one season to the next. That transition from the bitter cold harshness of winter into the calm, cool, mild weather makes spring the season I so look forward to. For me it represents rebirth and renewal; a resurgence of all that grows lush and green. SSS Forest Walk exemplifies tea in the forest. When spring encroaches upon us I will be drinking my "over the top jasmine" tea while wearing my quintessential spring fragrance: SSS Forest Walk.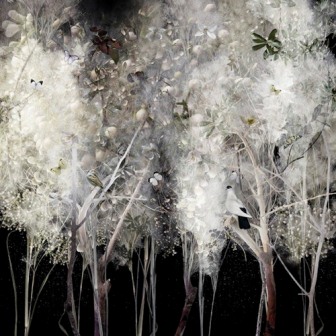 Wissotzky Bedouin Chai Tea +Sonoma Scent Studio Winter Woods
Bedouin Chai is a black tea blended with sage leaves and cardamom. Although it is bold at the onset, when combined with a dollop of organic raw honey and fresh cream, it becomes utterly smooth and mellow.
SSS Winter Woods is a complex, richly satisfying dry vanilla with wood notes (there is no vanilla listed but Laurie tells me that the amber may be imparting that vanilla-esque quality). Sitting in front of a roaring fire with my hubby on a snowy winter night drinking Bedouin Chai and scented in Winter Woods- now that is a winter's tale worth the telling.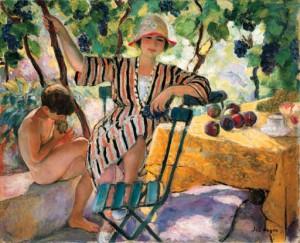 In Summer Garden, St. Tropez, Henry La Basque
Tazo Wild Orange Herbal Tea + Sonoma Scent Studio Jour Ensolielle
Much has been written about the mood enhancing properties of citrus essences. Wild orange, blood orange, bitter orange, petitgrain, neroli, orange blossom: when I smell these essential oils a smile emerges on my face. So it is no surprise that I adore Tazo's Wild Orange Herbal Tea. It is a fresh burst of pure orange and so utterly mood lifting. This is my "happy" tea. I would be remiss if I end my musings without mention of my absolute favorite of the SSS line: Jour Ensolielle. Whenever I smell Jour Ensolielle I envisage honey drenched rays of orange sunlight. Even on the days when perfume is "verboten" in my house, one whiff of Jour Ensolielle straight from the bottle instantly transforms my mood from miffed to a state of bliss. When that question emerges, "If you could only have one perfume for the rest of your life, what would it be?" My answer is Jour Ensolielle. Like Tazo's Wild Orange Tea, Jour Ensolielle is euphoric.
–Brie, Guest Poster
Art Direction- Michelyn Camen, Editor in Chief
Brie and Laurie have teamed up for a lovely giveaway of deluxe 1m samples of all five Sonoma Scent Studio fragrances, beautifully packaged by hand on a special card and a sachet of scented tea . To be eligible please leave a comment on which is your favorite fragrance from Laurie Erickson's line mentioned or one you would like to try and if you are feeling creative (and want your vote to count twice) imagine any fragrance you love and match it to a tea. Draw ends January 3, 2013.
We announce the winners only on site and on our Facebook page, so Like Cafleurebon and use our RSS option…or your dream prize will be just spilled perfume.
Editor's Note: Brie bought all these samples (in spite of Laurie's protests) because she wanted to share her joy with our readers who love perfume not ban it from their homes or offices. What a wonderful way to ring in the New Year with an act of kindness. Brie also studies perfumery and aromatherapy.Show a little tea and sympathy and share a cuppa with a friend.