When reflecting on the recent edition of Team Karen's (Karen Dubin and Karen Adams) Sniffapalooza Spring Fling 2018 held last month in New York City, it is clear that the more things change, the more they won't stay the same! Sniffapalooza Spring Fling 2018 is a blast!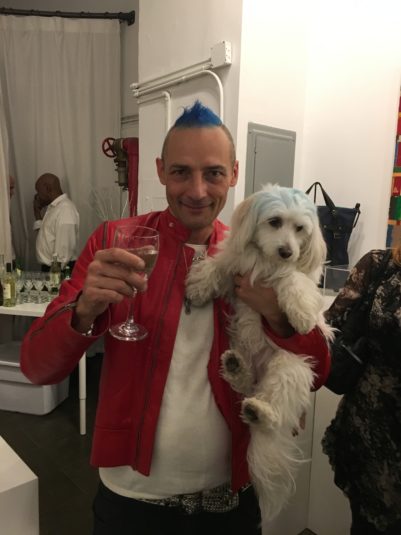 Christophe Laudamiel and friend
Sniffapalooza Spring Fling 2018- Thursday, April 28: A Thursday night pre-Sniffapalooza Spring Fling 2018 event was a special addition to start the weekend festivities. MAISON 10, the NoMad retail concept store and gallery presented 'The Zoo' by perfumer Christophe Laudamiel who recently won an Art and Olfaction award and a Perfumed Plume. The RSVP event was standing room only. With his singular storylines and innovative scents, Christophe made this an evening of ingenious scentual pleasures.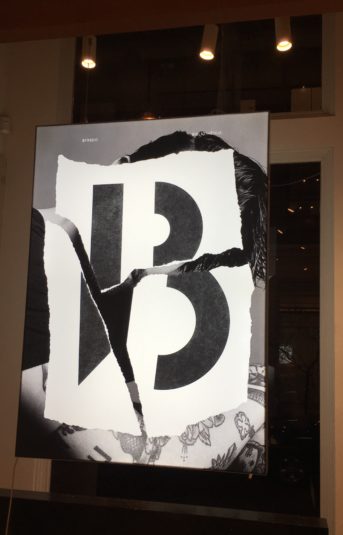 Sniffapalooza Spring Fling 2018- Friday, April 29: The Friday Night Cocktail party held at the Byredo boutique in SoHo was a fabulous opening night soiree.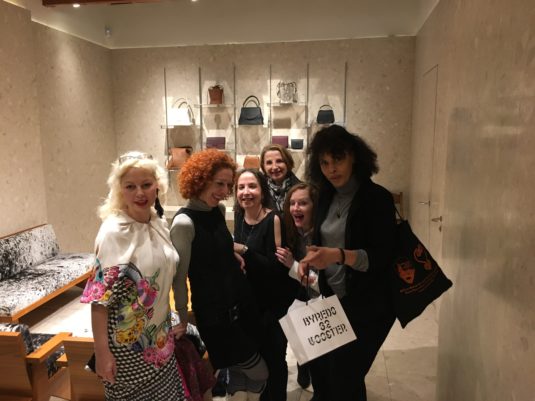 Karen Dubin, Mary Ellen Lapsansky, Simona Abaton and friends
New store manager, Zita Slonevsky, and staff showed the new Bibliotheque collection of fragrance, hair and hand cream products along with the new Black Saffron hair perfume, making its debut. Look for a June opening of the Byredo London Townhouse. The new three-story Soho outpost will be the fragrance brand's first UK store.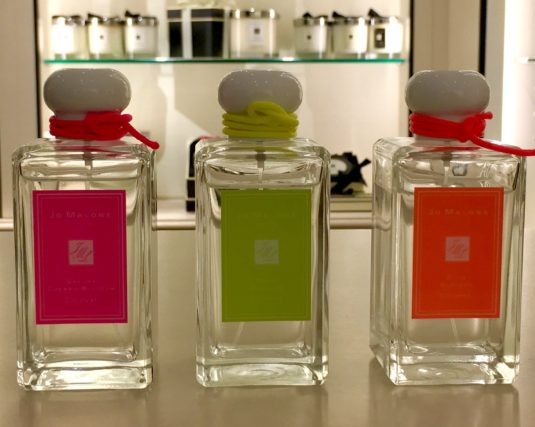 Jo Malone Spring Blossom
Sniffapalooza Spring Fling 2018- DAY ONE: April 28-For those that took advantage of the private Bergdorf Goodman shop experience (one hour before opening),there were special presentation by Jo Malone (Spring Blossom Collection), Atelier Cologne (Iris Rebelle), and Ex Nihilo Atlas Fever.
La Cristallerie des Parfums new and exclusive to Bergdorf in the USA
Making its stateside debut this week, and exclusive to Bergdorf Goodman, was the Parisian brand, La Cristallerie des Parfums presenting its two lines, Aeria Prestige and Aeria Luxe.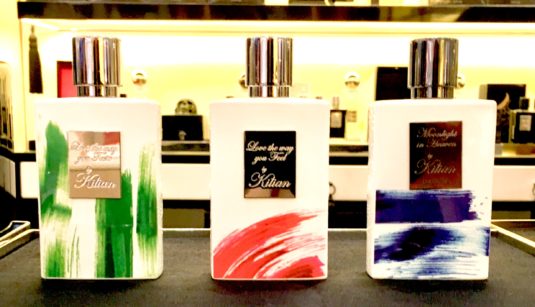 Brands being shown the love on the floor: Miami Vice from By Kilian, Lalique, Ex Nihilo's Amber Musk, the new EB Florals, Robert Piguet, Roja Parfums, and of course Tom Ford.
Sniffapalooza Spring Fling 2018: Lunch and presentations were held at Mangia.
Guest Speakers: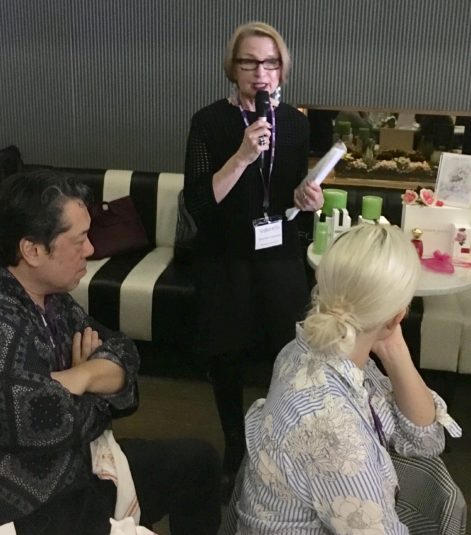 Mary Ellen Lapsansky of The Perfumed Plume spoke on their mission to honor excellence in fragrance journalism. Fresh off of the Third Annual Awards ceremony Mary Ellen announced the winners of the five awards and some upcoming initiatives. CaFleureBon was the recipientof the SCIENCE OF SCENT STORIES IN MAINSTREAM MEDIA MAGAZINES/NEWSPAPERS (PRINT AND DIGITAL) award (Ida Meister).

Mark Crames of Demeter Fragrance Library
Mark Crames of Demeter Fragrance Library spoke on his point of difference and of the line's new customization initiative.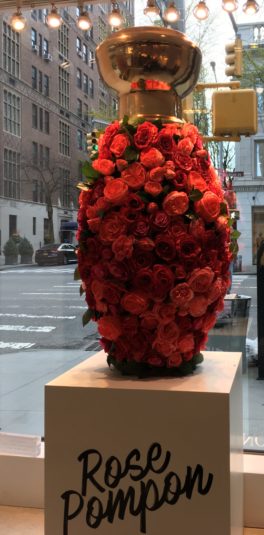 Francoise Alessi of Annick Goutal presented background on the brand and the new Eau de Parfum of Rose Pompon. Deep raspberry in color, I found the scent a more sensual version of the original.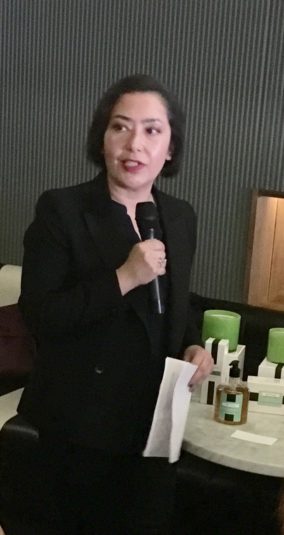 Barbara Herman of Eris Parfums, the high priestess of vintage perfumes, presented Mx.(Antoine Lie), her latest release. The gender-neutral titled luxury scent is a complex woody creation that straddles being both breezy and decadent.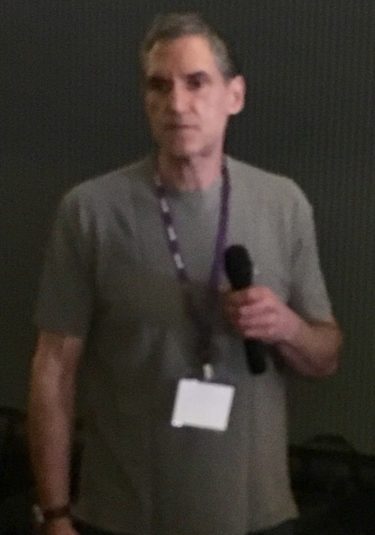 Jon Bresler of LAFCO New York: known for their candles and home fragrances schooled us on liquid soap. Their True Liquid Soap line is made entirely from premium natural olive oil rich in Omega fatty acids vital to maintaining skin health.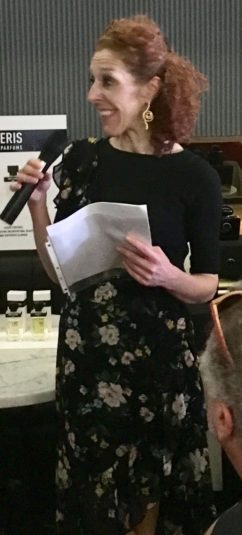 Simona Abaton of Abaton Corp. presented the Abaton Exceptional Luxury Brands, Chinotto Collection (Savona, Italy), Absolument Parfumeur, (French) and Sandalia Sardinia, Italy).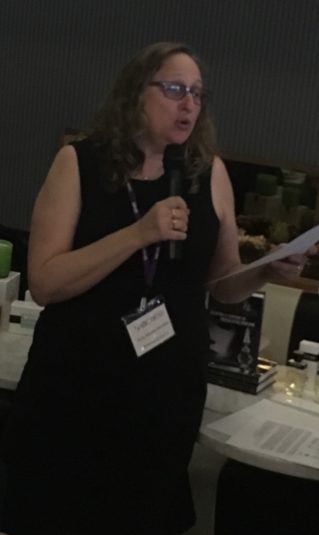 Amy Marks McGee of Trendincite
Listening to Amy Marks McGee of Trendincite at Sniffapalooza Spring Fling 2018 is like being with a fortune teller. She reveals what you will experience months before you know about it. Sleep with its ancillary products was one to be on the lookout for.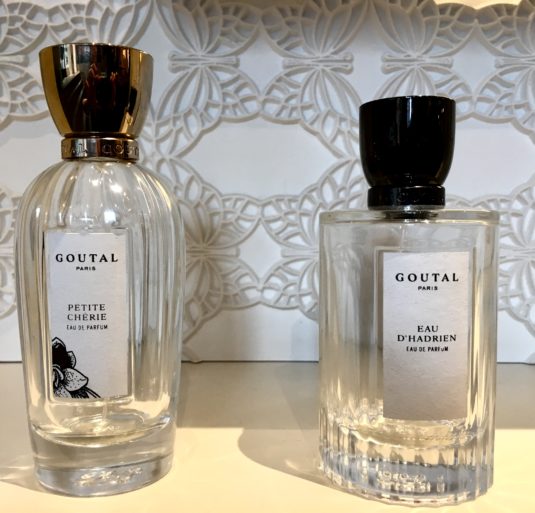 What do you think of the new Annick Goutal bottles?
Post lunch, visits to the Madison Avenue boutiques of Annick Goutal and Diptyque followed. At the tres chic Annick Goutal Flagship boutique, Store Director Francoise Alessi and staff greeted us warmly. The presentation included a preview of the new updated men's and women's bottles which make their debut this September.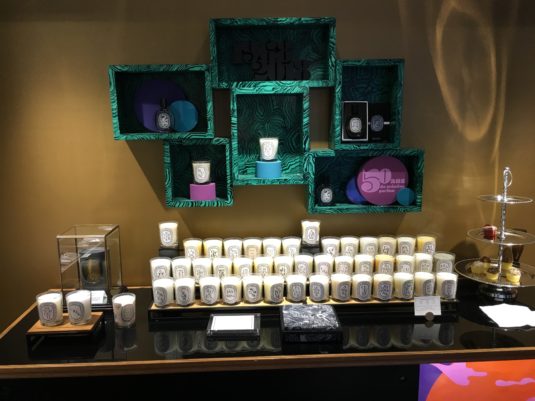 At Diptyque, celebrating their 50th Anniversary, new store manager Maya Fedaseyeva and staff presented the brand's latest fragrance releases, Fleur de Peau and Tempo (Olivier Pescheaux).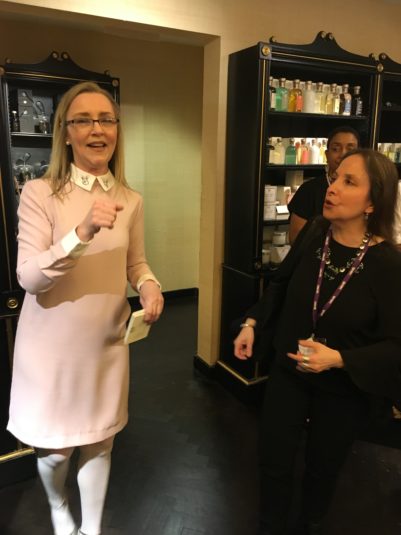 Kelly Fraser of Antica Farmacista and Karen Dubin
Italian fragrance house, Antica Farmacista's Cocktail Party ended the day in style on the Apothecary at Bergdorf Goodman's Decorative Home Floor. For their latest fragrant launch, Daphne Flower, Brand Ambassador, Kelly Fraser had a cocktail inspired by, created for the occasion. A wonderfully fragrant way to close out the day.
Sniffapalooza Spring Fling 2018 DAY TWO: April 29th
The morning began on Elizabeth Street at Malin & Goetz which features a complete environmentally conscious range of skin, hair & body care and fragrance products. The Leather perfume oil and Cannabis Eau de Parfum were clear favorites along with the Atelier Bloem Collection, inspired by the Amsterdam Flower Market.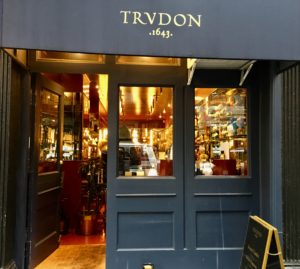 Cire Trudon NYC
Cire Trudon, the preeminent French candle house.now has a fragrance line that is seriously rich and deep, which we have written about extensively and Michelyn awarded in the best of 2017. These are not for the faint of heart. The brand was on "fire", which was apparent with numerous attendees carrying their shopping bags.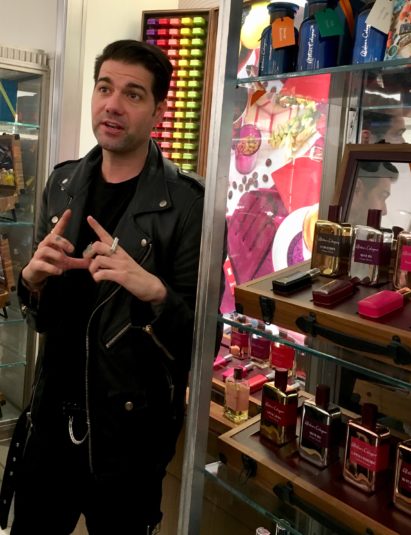 Ross Barry of Atelier Cologne
Atelier Cologne, the company that re-invented "cologne" on Elizabeth Street, was the next stop and General Manager Ross Barry welcomed us with a special cocktail and presented the brand's lineup including current release, Iris Rebelle (Ralph Schwieger), which was reviewed by Robert Herrmann, our Senior Editor.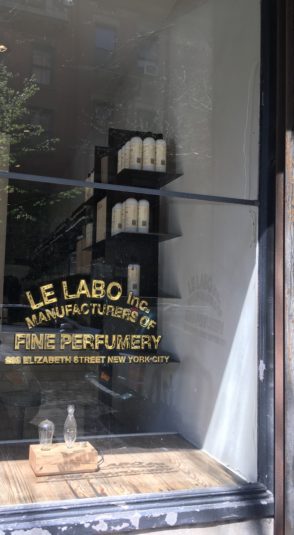 Le Labo is a not to miss stop for the group for its semi-bespoke experience, which now includes a newly added annex focused on its body, hair, and face care line.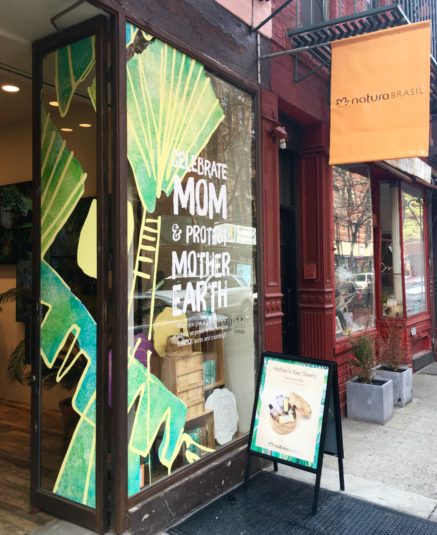 NATURA BRAZIL: the 49-year-old Brazilian brand (the Company operates the Aesop brand name) opened their first store last year on Elizabeth Street. In addition to scented candles, body sprays, hair oils, soaps, hand creams, and hair care they will soon to be launching a fragrance line of five next month. Very impressed.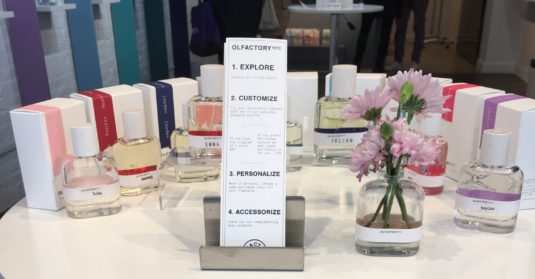 Olfactory NYC
Since my last visit, Olfactory NYC, the new kid on the other block (Mott Street), have expanded their offerings to include four new fragrances and a trio of candles. The very reasonably priced fragrances have been created by a most impressive "A" list of perfumers.
Lunch was held at Little Italy's La Mela. Fragrance Specialist David Ecker hosted the EAU (Emerging Artisans Uncorked) showcase.
Sniffapalooza Spring Fling 2018 Guest Speaker Highlight:
David Ecker with Lalique
David Ecker, fragrance specialist was the MC and also presented a number of fragrances from the Banana Republic line, and Christian Siriano's Silhouette (2014) and Silhouette in Bloom (2018).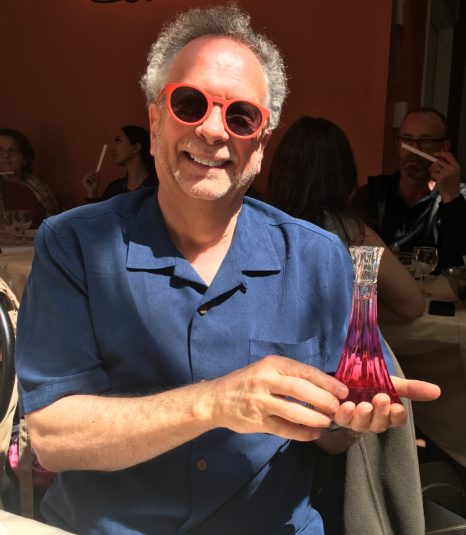 Jay McSherry of Nateeva with Christian Siriano's Silouette In Bloom
The unique bottles were passed aroundto a lot of oohs and ahhhs.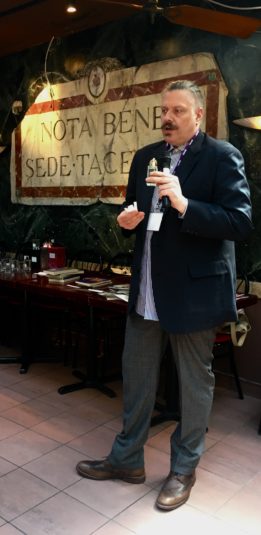 Stephen Dirkes of Euphorium Brooklyn premiered his latest creation, Ume. The fruity floral perfume, while a slight departure for him, was most welcomed by the group. Stephen is always shaking things up.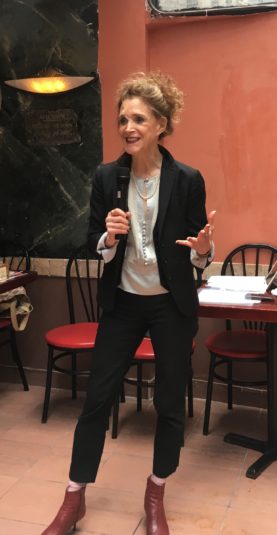 Jane Bernard – Curious Happening
Jane Bernard of Curious Happening is a visionary teacher and three times author on intuitive thinking is passionate about the role of Sensual Thinking to facilitate enduring positive change in our world. Fragrance plays a role in that for sure.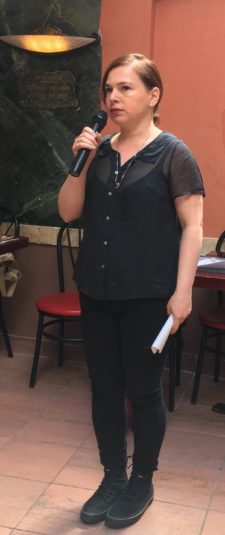 Irina Adam of Phoenix Botanicals
2x Art and Olfaction Finalist Irina Adam of Phoenix Botanicals debuted her latest natural wonder, Lotus Pollinator and 2017's Apple Iris Root. The scent blotters passed around confirmed her natural perfumes were spell-binding.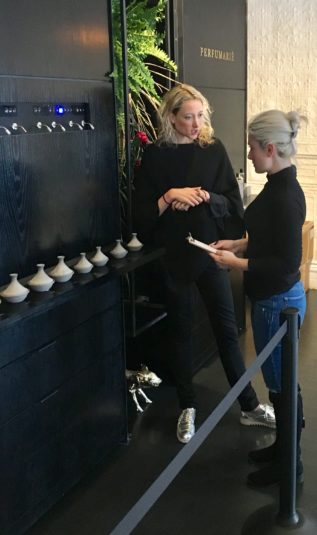 Perfumarie in NYC
Last stop was PERFUMARIĒ, the much talked about multi-sensory incubator and new retail concept store. The sensorial curated shop offers perfume flights, workshops, tastings, demos, pop-ups, and exhibits year round. Attendees were offered a guided experience through 25+ unlabeled scents on tap to experience without scent biases. A wonderful way to close out the weekend.
Thank you, Team Karen, (Karen Dubin and Karen Adams) for another scentually wonderful weekend. See you all at The Fall Ball 2018!
~Hernando Courtright, Senior Events Contributor and Brand Ambassador
All Photos by Hernando of CaFleureBon© unless otherwise stated.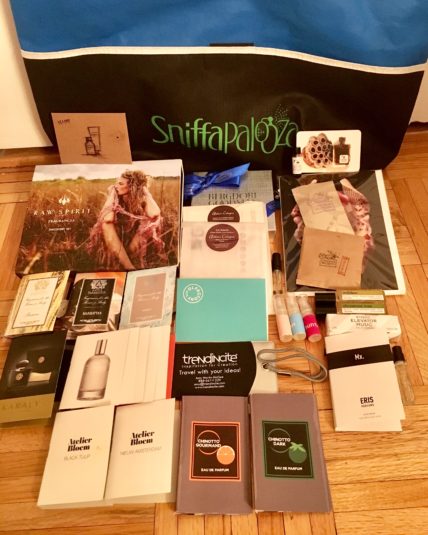 We have a scent filled Sniffapalooza Spring Fling 2018 swag bag filled with dozens of samples from the Spring fling including mini and sample size fragrances and goodies from Byredo, Diptqyue, Euphorium Brooklyn, Ex Nihilo, Malin & Goetz, Atelier Cologne, Antica Farmacista, Demeter, Simona Abaton, By Kilian and many, many others. To be eligible you must be a registered reader in the CON USA (you have to do this folks) and leave a comment with what you enjoyed about Hernando's very detailed Sniffapalooza Spring Fling 2018 report, if you have attended a Sniffa event before and which brand or perfume you are really excited to get your nose on. Draw closes May 18, 2018.
We announce the winners on our site and on our Facebook page, so Like Cafleurebon and use our Blog Feed…or your dream prize will be just spilled perfume.