Holiday Sprits at Annick Goutal Boutique 75th Street and Madison Avenue
The 2015 holiday season was in full swing in New York City and my best suits and festive attire were put to good use attending many fragrance events and Holiday parties. The unseasonably warm weather was welcomed as I went to as many as three events a day. One of the highlights, was The Sniffapalooza Seasonal Holiday Event held December 13th. Team Karen, Annick Goutal and Lladro hosted an Open House all day event for perfume aficionados.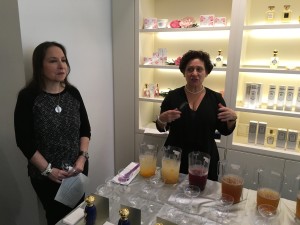 Francoise Allesi of Annick Goutal and Karen Dubin
The Annick Goutal boutique was festively decorated in blue and gold. Françoise Alessi, Retail Manager, and her staff warmly welcomed us and put us in the celebratory spirit with fragrant inspired cocktails and delicious edibles. Françoise gave an overview of the brand's history and Annick Goutal's varied professions: classical pianist, model and her original beauty and skin cream collection who opened the first boutique in 1980. It was her desire to incorporate scent into her product line that led her to Grasse where she spent seven years studying perfumery and in 1981 her eponymous fragrance line was launcehd with the iconic Eau d'Hadrien. Her subsequent passing of breast cancer was tragic but her legacy lives on as her daughter Camille Goutal continues to innovate and works with Annick's favorite perfumer Isabelle Doyen.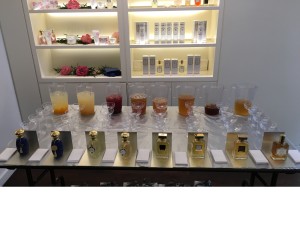 Sniffapalooza Founder Karen Dubin was on hand along with Francoise to share with us the fragrance-cocktail pairings. The eight Fragrant Pairings were arranged from light and fresh to rich and deep.
Eau D' Hadrien: Sicilian Lemon, Grapefruit and Ylang Ylang were paired with Prosecco, Cranberry juice, Blackberry liqueur and Cranberry fruit.
Petite Cherie: Rose, Pear and Peach paired up with Prosecco, Absolut Pear and Peach fruit.
Quel Amour: Rose Geranium, Pomegranate and Cranberry paired up with Prosecco, Cranberry juice, Blackberry liquor and Cranberry fruit.
Songes: Tiare Flower, Frangipani Flower, Patchouli and Spices paired with Prosecco, Vanilla extract, Scotch, Lemon and sugar cane.
Amber Sauvage (new 2015): Iris, Vanilla and Amber paired with Bourbon, Vanilla extract.
Vanille Charnelle (new 2015): Ylang Ylang, Tonka Beans and Vanilla paired with Absolut Vanilla vodka, Whisky, Cane sugar and Prosecco.
Ouds 101 (new 2015): Rose Myrrh and Oud paired with Absolut Vanilla, Whisky, Cane sugar and Prosecco.
Sables: Everlasting Flowers, Cinnamon, Sandalwood and Vanilla paired with Bourbon, vodka Vanilla.
Annick Goutal Boutique: 955 Madison Avenue, (NE corner of 75th Street).
To recreate your own fragrant pairing contact the boutique for recipes: nymadison@annick-goutal.us.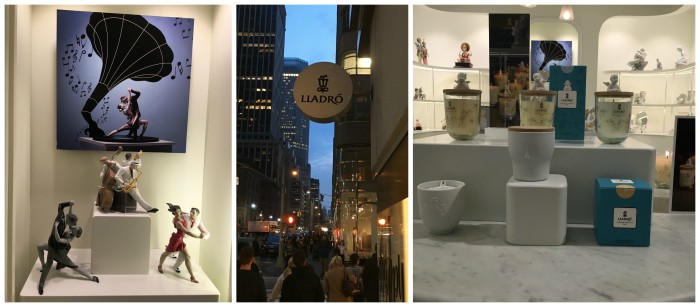 The Lladro Boutique, formally on West 57th Street, relocated their boutique three years ago to Madison Avenue. The new location showcases the brand's exquisite creations in a less formal atmosphere which enhances the shopping experience. Situated steps from iconic tourist destinations, St. Patrick's Cathedral and Rockefeller Plaza, whose Christmas Tree is New York City's world-wide symbol of the holidays and was a lovely backdrop to the day's festivities. Sniffapalooza attendees were greeted with a splendid cava and addictive sweets to indulge in while admiring the handcrafted porcelain creations. Cristina Egido, Communications & Events Manager, was on hand to expertly guide us through a tour of the company's rich history of this exquisite brand. She spoke of the origins of Lladro, based in Valencia, Spain. Founded in 1953 by three brothers, Juan, Jose and Vicente, they became a world leader in specialising in ceramic and porcelain sculptures. The company's history spans exhibits at the Hermitage Museum of Saint Petersburg, considered an art benchmark in the world to trend setting Hollywood TV Studios featuring the brand in shows The Nanny, Big Love and Will and Grace and The Soprano's. Lladro Home Fragrances Collection was re-launched in 2015. The candles combine natural essences offset by the artistic touch of handcrafted porcelain. Each Lladro fragrant candle tells a unique story. The Heavenly Dreams Collection consists of "Missing you", "Thinking of you" and "Dreaming of you." The Nose and Volutes candles are encased in porcelain vases. These Home Fragrances candles are available in three scents, Gardens of Valencia (notes of peach, jasmine and sandalwood), Mediterranean Beach (hints of orange blossom and notes of musk) and I Love You, Mom (notes of berries, vanilla. chocolate and honey).
Heavenly Dreams 200gr/ 7.05 oz – burning time last up to 45 hours. Nose and Volutes scented candles 160gr/ 5.64 oz – burning time last up to 35 hours.
Lladro Boutique: 500 Madison Avenue (corner of 52nd Street)
Hernando Courtright, New York Event Contributor and CaFleureBon Ambassador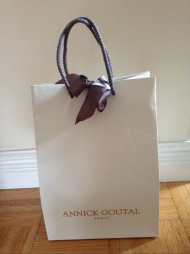 Thanks to Annick Goutal Madison Avenue and Francoise Alessi, we have a wonderful sampler and signature bag of the eight fragrances used for the Pairings from the Maison Annick Goutal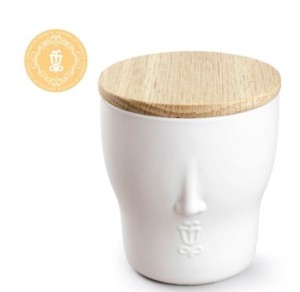 Thanks to Lladro USA, East Coast Global Director Abbe Loewenthal and Asst. Mngr Natalia Maslij we have one porcelain Nose Candle valued at $65 (please specify if you would like to win either Gardens of Valencia. Mediterranean Beach or I Love you Mom)
This draw is open to a registered CafleureBon reader US reader. To be eligible please leave a comment with your favorite Annick Goutal perfume pairing from the event and what you enjoyed about Hernando's report. Draw closes 12/28/2015
We announce the winners on our site and on our Facebook page, so Like Cafleurebon and use our RSS option…or your dream prize will be just spilled perfume