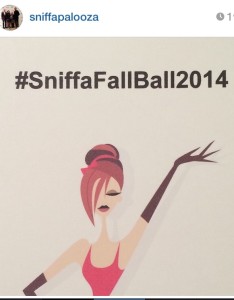 Sniffapalooza Fall Ball 2014: Regram @sniffapalooza
The 10 anniversary of Sniffaplooza Fall Ball took place last weekend (Oct. 11th/ 12th) in New York City and included fragrance aficionados from Mexico, Canada, South Africa, the UK, France and numerous states jetting in for the event. This past weekend was a milestone as it has been ten years since Founders Karen Dubin and Karen Adams held their first Sniffapalooza for just a few friends and perfume lovers. What a difference a decade makes!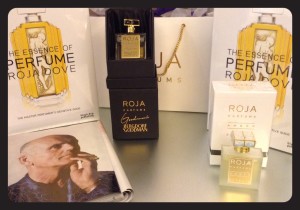 Roja Dove Amber Extrait, Roja Parfums Bergdorf Exclusive and The Essence of Perfume 2014
October 11th – Saturday is always Uptown Day and begins bright and early with the Bergdorf Goodman Breakfast (the 21st Sniffapalooza Breakfast ) for sixty-five attendees. One of our favorite SAs Tom Crutchfield got the sniffing started with two new fabulous Roja Dove Parfums, the Amber Extrait and Goodman (BG exclusive) for men (the collection now stands at 30 releases). Roja's newly revised The Essence of Perfume book was available for purchase.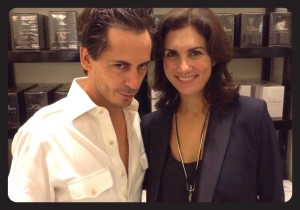 Kilian Hennessy and his wife Elisabeth Noel Jones
More milestones; Jean Patou celebrates their 100 year anniversary with three new releases, Patou Pour Homme,Patou Chaldee and Patou Eau de Pateau under the direction of In House Perfumer Jean-Claude Duriez . The House of Creed fetes its 250 year anniversary (2nd oldest fragrance house) with the Acqua Originale Collection. Notable new releases included B by Balenciaga, Maison Francis Kurkdjian's Masculin Pluriel and Feminin Pluriel (wonderful chypre floral the review is linked), Bottega Veneta's Knot and the new Diana Vreeland Perfumes Collection. The buzz became a roar when Kilian Hennessy entered and presented the By Kilian Addictive State of Mind Collection along with his new jewelry line, The Jewels and Leathers of L'Oeuvre. The following two hours were spent at the fragrance counters and greeting friends and making new acquaintances. At high noon Karen Dubin raffled off three baskets filled to the brim with wonderful bottles! Lucky winners!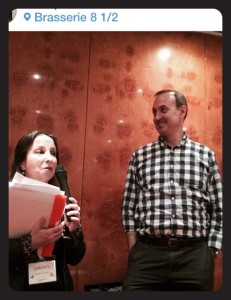 Karen Dubin and Chandler Burr at Restaurant 8 1/2 NYC
Proceeding to Restaurant 81/2 for lunch and speaker presentations was next on the agenda. The highlight was Karen Dubin's interview of Chandler Burr. Similar to "Inside the Actors Studio, Karen delved into the man not the fragrance expert. Well done! We might see this as a regular feature going forward (you heard it here first).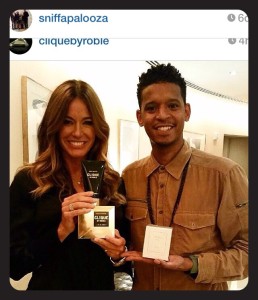 Chef Roble Ali and the new CliquebyRoble (regram @sniffapalooza @cliquebyroble)
The history of the House of Carthusia by Madeline Johnson was fascinating and informative. Chef Roble Ali spoke of his new fragrance CliquebyRoble which smelled amazing and was composed by Firmenich Sr. Perfumer Frank Voelkl of Le Labo fame. It is the first perfume by a world renowned chef.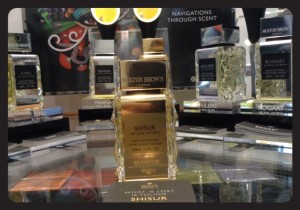 Navigations Through Scent Molton Brown Shisur
Next stop was the new Molton Brown Flagship boutique. We experienced the new Oudh Accord and Gold Collection and previewe Shisur, the ninth scent in "The Navigations Through Scent Collection". Notes of orris, frankincense and cedar dominate this creation.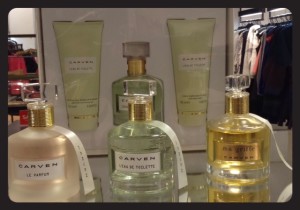 , L' Eau de Toilette, Carven Le Parfum and the classic Ma Griffe at Saks Fifth Avenue
Saks Fifth Avenue was our last stop on Saturday and we were treated to a Master Class with Carven Parfums, hosted by Alton Suggs of IC Perfume (Hanae Mori, Creed and Carven). Learning the history of the House along with testing three scents, L' Eau de Toilette, Carven Le Parfum (Francis Kurkdjian) and the classic Ma Griffe was truly enlightening.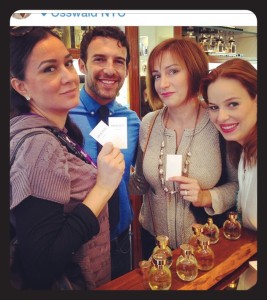 Carlos Huber and friends at OsswaldNYC regram: Osswaldnyc
Sunday is Downtown Day and focuses on emerging and up incoming hoses and perfumers. The morning started at Osswald the cutting-edge fragrance and beauty emporium. Over breakfast treats we scented our way around the wonderful collections. Carlos Huber of Arquiste was the Guest Speaker. He premiered his latest scent, The Architects Club (developed by Yann Vasnier, a woody vanilla scent which harkens back to early 20th Century London. By the end of our visit every bottle sold out. Our Editor in Chief Michelyn Camen has already shortlisted it as one for the best perfumes of the Year.
Heading down to the Scentarium was next. This is fragrance expert Sue Phillips new space where she conducts workshops and does her blending for her custom fragrance creations. She debuted her new Deluxe Perfume Making Kit for us. Lunch was at Little Italy's La Mela for a five course meal! Mark Benke MC'd the event introducing us to creators. Highlights from the lunch was when Sue Phillips explained the making of a custom scent, when Francois Damide of Crafting Beauty walked us through the production and manufacturing for private labels, and when Christine Daley of Perfumer Supply House held an ingredients workshop.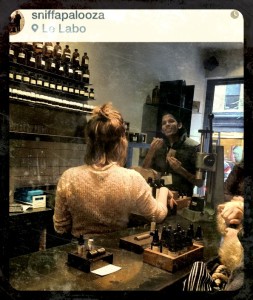 Le Labo Elizabeth Street NYC (regram and "La Labo"ized by @cafleurebon)
We worked off our lunch with the walk to Le Labo to sample their line. All of us were so excited that the nice folks at Le Labo made the City Exclusive Scents available for us, although the window to purchase them this year had closed. Next, a short walk to the ever hospitable Atelier Cologne Boutique, also on Elizabeth Street. Founder Sylvie Ganter was there to greet us with special cocktails concocted for Sniffapalooza (based on French 75) which paired well with Cedrat Enivrant (Ralf Schwieger).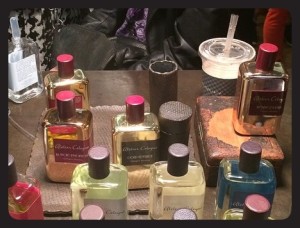 Atelier Cologne Boutique NYC
We all had a rendez-vous with Rendez-Vous (Jerome Epinette), the newest addition to the Atelier Cologne Collection Metal. Our last stop, was a side trip to the recently renovated (fabulous) Bond No. 9 store where we sniffed new scents. As always, meeting friends -in -fragrance who share the same passion is a delight and we cannot thank Team Karen enough for their hard work and dedication .
–Hernando Courtright, Guest Contributor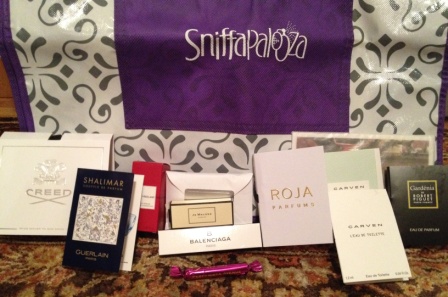 Luxury, Niche and Designer Perfume samples
Thanks to Hernando, Bergdorf Goodman and Team Karen we have a Sniffapalooza Fall Ball 2014 swag bag with samples of new and/or coveted perfumes; Carven – L'eau de Toilette, Carven – Le Parfum, Robert Piguet – Gardenia, Atelier Cologne – Santal Carmin, Roja Dove – Gardenia Extrait, Creed – Vetiver Geranium, Guerlain – Shalimar Soufflé de Parfum, B by Balanciaga, Diana Vreeland – Perfectly Marvelous, Jo Malone – an assortment (seven!!!), a Bond No. 9 – Perfumists Avenue for our CON USA readers. To be eligible, please leave a nice comment about Sniffapalooza Fall Ball 2014, if you have ever attended and which fragrances you would have loved to sample from this recap. Draw closes October 20, 2014.
We announce the winners on our site and on our Facebook page, so Like Cafleurebon and use our RSS option…or your dream prize will be just spilled perfume