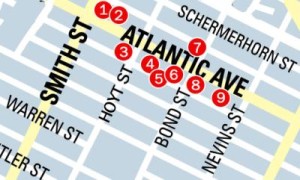 Blame it on Jay-Z? Since the Barclay's Center opened on 620 Atlantic Avenue, there's been media frenzy as attention turns away from Williamsburg and onto Boerum Hill in Brooklyn. Over the past several years, Nolita outposts of fashion and accessory stores such as Erica Weiner and Jonathan Adler have been attracting more and more shoppers to the upscale community known as BoCoCa (Boerum Hill, Cobble Hill and Caroll Gardens). In 2010, Refinery 29 named Atlantic Avenue Brooklyn's hottest shopping block, and now in 2013, the area is even hotter. What's been missing amidst the fine dining and designer outposts? Fragrance! Now Boerum Hill welcomes Niche perfumery to the neighborhood's brownstones and tree lined streets with the opening of two new fragrance boutiques– Atelier Cologne and Twisted Lily Fragrance Boutique and Apothecary.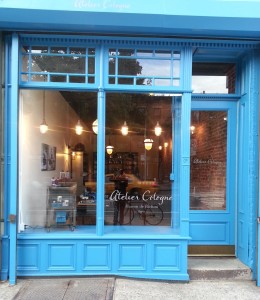 Atelier Cologne, located at 357 Atlantic Avenue mixes its signature Parisian style with eclectic Brooklyn décor. The space is 650 square ft and is the home to the third Atelier Cologne boutique worldwide. The location is also the showroom and North American headquarters for the Company. Former head merchandiser from Fresh, Robert Colannino is the store manager.
"We imported antiques selected by Sylvie Ganter and Christophe Cervasel from Paris and supplemented with lighting fixtures from the 1920's from New York as well as treasured finds direct from Atlantic Avenue. Next stores planned include another in Paris, Shanghai and the West coast of USA", says Gerard Camme, President of Atelier Cologne.
Atelier Cologne, 357 Atlantic Avenue (between Bond &Hoyt) Brooklyn, NY 11279; 718-260-8008 Hours 11:30-7:30 every day www.ateliercologne.com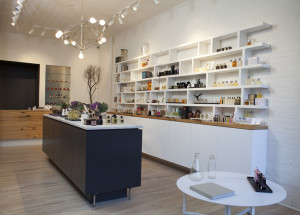 Photo: Thatcher Keats
Across the street is the new haven for perfumistas with a penchant for niche fragrance, Twisted Lily Fragrance and Apothecary is at 360 Atlantic Avenue and boasts over thirty coveted perfume brands. According to Twisted Lily owners Eric Weiser, (who was born in Brooklyn and whose family has been in fragrance retail for three generations), and Stamatis Birsimijoglou, (they are the founders of the top ten fragrance e-commerce site Parfum1.com), the duo wanted to go beyond the experience of selling perfume online. They envisioned a more intimate fragrance journey starting in Brooklyn and through the magic of scent traveling the world.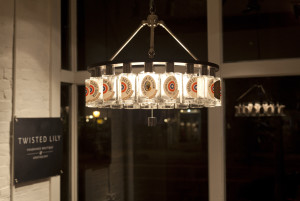 Etat Libre D'Orange chandelier
The store is 650 square feet with an airy but quirky design concept constructed with reclaimed pine wood found from an old Brooklyn factory, Atlantic Avenue Antiques, a chandelier created from Etat Libre D'Orange Bottles and a spacious Fragrance Island that will feature seasonal and regional scents as well as act as a hub for in-store events. Twisted Lily is a one stop shopping experience for New York area fragrance aficionados who now don't have to travel uptown, downtown, crosstown for their favorite perfumes. The boutique will also offer a selection of Brooklyn perfumeries such as D.S & Durga, CB I HATE PERFUME and Joya.
Twisted Lily Exclusives in NYC: – Maison Dorin (purveyors to Court of Versailles since 1780); Jardins d'Ecrivains, Seattle indie brand Slumberhouse, Smellbent; and Providence Perfume Co..
Twisted Lily Exclusives in Brooklyn: Maison Francis Kurkdjian, Amouage, Montale, Belle Fleur Candles, Patricia de Nicolai, Tommi Sooni, Maria Candide Gentile, Undergreen Paris, Penhaligon's, L'Artisan Parfumeur and Cult beauty brands Rouge Bunny Rouge and In Fiori natural skincare.
Twisted Lily, 360 Atlantic Avenue (between Bond & Hoyt), Brooklyn, NY 11279; 347-529-4681. Hours: 12:00 P.M. -7:00 P.M Tuesday –Sunday www.twistedlily.com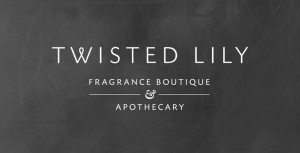 To celebrate their Grand Opening, Eric and Stamatis are offering CaFleureBon readers 15 percent off all purchases over $100 (except Amouage) through September 27, 2013. Now all of our readers from Seattle to Sydney can have a scented souvenir from Brooklyn. Use Code CFBtwisted at checkout www.twistedlily.com
Editor's Note: Sephora is slated to open its first Brooklyn outlet in the Brooklyn Municipal Building sometime in 2014 Can a location in BoCoCa be in the works as well?
source: Atelier Cologne and Twisted Lily Fragrance Boutique and Apothecary
–Michelyn Camen, Editor in Chief (2nd generation Brooklyn)