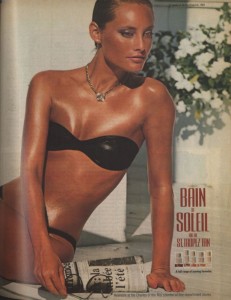 Vintage Bain de Soleil ad 1980s
For my generation, tanning was mandatory when we were young. I have been shunning the sun since the 90s, but I saw too many Bain de Soleil Commercials so the images of those impossibly bronzed and beautiful women are forever etched in my psyche. In the '80s, Clarins introduced a self-tanner, and it turned me oompa loompa orange. And the smell!
Fortunately, sunless tanning technology has advanced over the past decade, especially over the past five years, so now there are slew of self-tanning creams, lotions, sprays, and mousses on the market that approximate a real tan (which we know is no good for us; no such thing as a healthy tan). One moment of preaching: Over 76,000 new cases of melanoma were diganosed in 2016 in the US and it is the leading cause of skin cancer deaths. More people develop skin cancer from tanning than from lung cancer.

Recently I discovered a line of self-tanning products with name Skinny Tan. Before testing, I cringed at the name… so you dear reader need to get over it because the results and formulation are terrific. It is the best self-tanner I have ever used.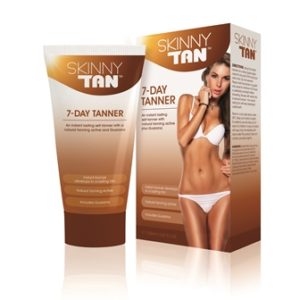 Skinny Tan 7-Day Tanner
'Skinny Tan' is sold in Australia, the UK and is now available in the USA. It is marketed as the first ALL NATURAL self-tanner and that it also reduces the appearance of cellulite. It is PETA approved and cruelty free. The collection is sold to salons and to consumers and includes a 7 day self tanner ($39.95), a Gradual Tanner (29.95/5 oz), a body mousse ($39.95 5.07 oz). There are also two kits; Skinny Tan & Tone that includes a pre tan primer and the 7 day sunless tanner (54.95 products are full size ) and a Skinny Tan & Glow that includes a "gloss" after tan moisturizer $(54.99). A tanning mitt is sold separately for $9.95 and is highly recommended unless you want stained palms.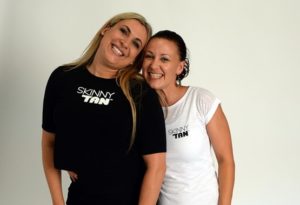 Kate Cotton and Louise Ferguson cofounders of Skinny Tan
The founders are UK natives and entrepreneurs, Kate Cotton and Louise Ferguson, who were on maternity leave when they had the idea to create an easy-to-use sunless tanner that was indistinguishable from an actual tan so they would look less pale and dimply post baby. Their formula, perfected in Australia, was named Skinny Tan and sold 'down-under' where it became popular in Australia. They appeared on the UK equivalent of Shark Tank (called Dragons' Den) and it was a hit!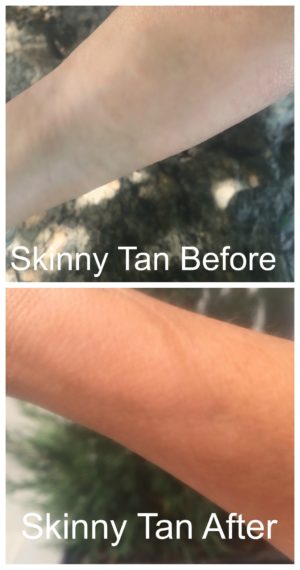 Before and After using the Skinny Tan 7-Day Self Tanner (after photo is day 2 post 3 mile run in 80 degrees heat) No filters were used and taken outdoors
Most ordinary sunless tanners work with a synthetic chemical DHA that drys my skin and has that awful odor. Skinny Tan products use a natural tanning agent derived from the seeds of the Brassica napus plant instead. The active ingredient works naturally with the amino acids in the skin to create the darkening reaction for a natural looking tan. The tan I achieve is based on my own natural medium light golden complexion. Your tan will be customized for your own skin tone. I tested the products on myself and a very fair freckled red headed friend and she achieved a golden lt. brown color. Mine was more brown bronze with a hint of red. NO ORANGE for either of us. Both of us were asked repeatedly how we were enjoying the beach this summer. That is the greatest compliment of all especially since my friend walks around with an umbrella during high noon.
Now for the claim of reducing cellulite. There is Guarana in the formula, a caffeine derivative that is an important ingredient in popular firming and cellulite creams. I didn't see a noticeable effect other than when your skin is darker any cellulite is less obvious. You may have a different result. Or I may try investing in a full length mirror.
I sometimes break out using sunless tanners, especially on my chest. That did not happen with Skinny Tan. To the claim that it lasts 7 days, it lasted 5 on me, but I ran outdoors and worked out in 90 degrees weather. The color did not flake off and it was an even fade. It is recommended that you leave on for five hours or overnight. The longer the better. I left the product on 5-6 hours.
There is a scent similar to that of monoi, very slight of coconut, gardenia and aloe vera. It actually smells good. The scent fades after you rinse the guide color off in the shower. It is much stronger in the Skinny Tan 'After Glow'and smells strongly of coconut.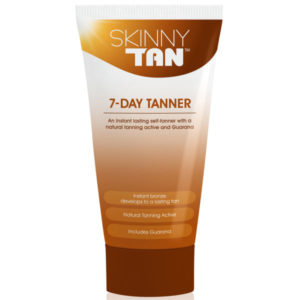 The consistency of the Skinny Tan 7 day self-tanner is that of chocolate pudding. Apply it to the mitt and all over your body and face. If it looks streaky on application, but don't worry as it is a guide color and when you rinse it off there is no streaking. Although the company sells an "after glow" moisturizer as part of its Tan and Glow set I found that product too thick, sticky and viscous; I hope they work on the absorbency issue.
Ingredients listed: Purified Water (Aqua), Prunus Amygdualus Dulcis (Sweet Almond) Oil, Dihydroxyacetone, Helianthus Annuus (Sunflower) Seed Oil, Caramel (Cl 150d), Cetearyl Alcohol, Sorbitan Stearate, Peg-40 Stearate, Glycerin, Paullinia Cupana (Guarana) Seed Extract, Benzyl Alcohol, Dehydroacetic Acid, Citric Acid, Sodium Citrate, Hydroxyethylcellulose, Parfum, Coumarin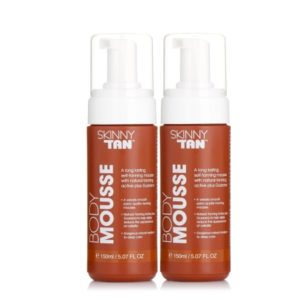 The Body Mousse combines two green base certified tanning agents plus organic coconut along with guarara berry extracts. It has a green tones when applied, a good thing as your tan will be brown toned. Leave that on for 6-8 hours. I used it on my face with no problems
Ingredients: Aqua, Dlhydroxyacetone (certified natural), Aloe Barbadensis (organic Aloe vera) leaf juice, Glyceria, Ethoxydiglycol, Paullinia cupana (Guarana) seed extract, Erythrulose (certified natural), cocos nucifera (Organic Coconut) oil, Dimethicone, D-Panthenol (Vitamin B5), Decyl glucoside, Caramel, Carrageenan, Ethylexyglycerine, Phenoxyethanol, Sodium metabisulfite, CI42090, CI19140, CI16035, CI17200, Parfum, Coumarin, Benzyl alcohol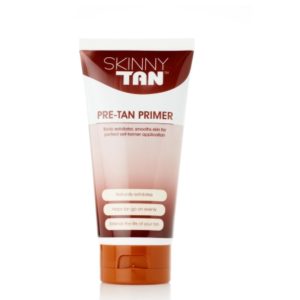 I was impressed with the Pre-Tan Primer which gently exfoliates using crushed walnuts and doesn't irritate my skin; it also seems to mositurize and soften as well.
Cons: I am petite and I am only able to get three –four tans per tube, which lasted me about a month. I might have used too much product, but I used the same amount as I do with any other sunless tanners. I would like to see both the seven day tanner and mousse in a larger size. There is a spray tan available for professional use that I am jonesing for but it is sold out on their site so I hope it will be available to consumers. There are also many more SkinnyTan products on the Australian site… hopefully they will be sold in the US soon
Overall rating: 9.5 for both the Skinny Tan 7 Day Tanner, and for the Mousse. ½ point taken away for the smallish size of the tube and mousse container. The Pre Tan Primer gets a 10. The After Glow a 5.
Disclosure: Products supplied by SkinnyTan USA; opinions my own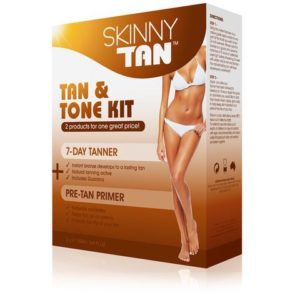 Thanks to the generosity of Skinny Tan USA we have a Skinny Tan & Tone kit that includes full sizes of the 7 day self tanner and the pre-tan primer (valued at $54.95) for one registered reader (you must do this to be eligible) in the USA. Please leave a comment with why you would like to win and if you are interested in an all natural self tanner. Please Like Skinny Tan on Facebook, and support small women owned businesses. Draw closes 9/27/2016
We announce the winners only on site and on our Facebook page, so Like Cafleurebon and use our RSS option…or your dream prize will be just spilled perfume