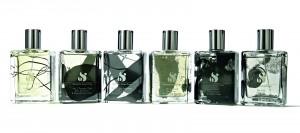 In my guise as Men's Style Editor for Fashion Tribes I enjoy going to New York Fashion Week twice a year and while the names I know mostly deliver; it is that moment when a new designer really begins to take off that is usually one of my most memorable collections from a given season. Although fragrance has no formal Fashion Week I also get the same thrill when a perfumer who I have admired finally gets their chance to work with their vision and the ingredients they want and in that effort produce something memorable. This is why Joseph Quartana's Six Scents project is always of interest to me. His stated credo for Six Scents is this:
"We choose the rising stars of the fashion industry who will one day be big enough to have their own fragrance but who are too small to have it just yet. So we steal from the future and offer it now."
With the six sets of fashion and fragrance designers from Givaudan, once again, Mr. Quartana has curated a diverse and quirky collection of six different perfumes which reflect creativity on the leading edge of both fashion and fragrance.
No. 1 "Beau Bow" by Alexis Mabille and Rodrigo Flores-Roux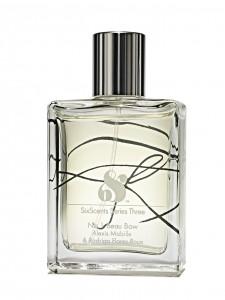 The combination of Alexis Mabille and Rodrigo Flores-Roux was one I thought would work for exactly the reason M. Flores-Roux stated in the press materials:
"Alexis wanted his fragrance to be very chic, very bourgeois, quintessentially French. Both of us share a nostalgic memory of the ideal image of France in the 1970's, elegantly modern, but strangely, still romantic, a bit hazy, like a David Hamilton photograph."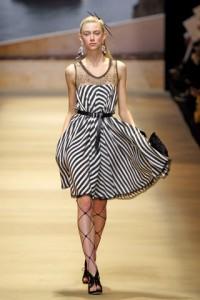 Beau Bow opens on an almost traditional Eau de Cologne as a full course of citrusy Hesperidic notes are on display. Lavender, basil, and mint continue the cologne comparison but then M. Flores-Roux turns that classic cologne recipe and adds his own modern twist as violet leaf, galbanum, and lentisque resin. This combination turns something classic into something "elegantly modern" just like M. Mabille's fashion. As Beau Bow turns distinctly floral it turns "romantic" as rose and jasmine dominate the heart. The base is a modern chypre and ends Beau Bow on a "hazy" memory of a classic base.
No. 2 Trompe L'Oeil by Mary Katrantzou and Shyamala Maisondieu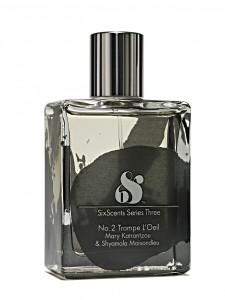 Calling the collaboration between Mary Katrantzou and Shyamala Maisondieu Trompe L'Oeil very much fits the design of Mme. Katrantzou especially her recent Spring 2011 collection in which many of the looks contained bold graphics very like trompe l'oeil. Mme. Maisondieu describes her creation as:
"It is feminine and fluid but with a strong character, her (Mary Katrantzou) designs are colorful and imaginative, and I wanted to create a fragrance which responds to all these characters. I wanted to create a floral note with a distinctive signature."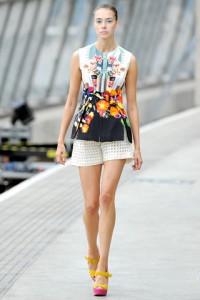 The signature note she chose was mimosa which almost explodes with life out of the citrus and pear top notes. Mme. Maisondieu chooses some of perfumery's richest floral notes to support the mimosa as absolutes of orris, tuberose and rose help to complement and delineate the central mimosa note. The base turns classically oriental in content with a mix of musk, tonka and vanilla and imparts a deep sensuality to the end of Trompe L'Oeil.
No. 3 Can't Smell Fear by Juun.J and Natalie Gracia-Cetto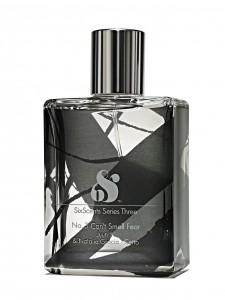 Juun J. designs menswear which exemplifies the name of his fragrance "Can't Smell Fear". His designs are distinctly modern in architecture and Natalie Gracia-Cetto clearly understood that as she says:
"I tried to capture some of Juun J's childhood memories: the smell of the skin in a city with concrete and wooden building. I wanted to create a fragrance that provides comfort that protects you in an urban somewhat hostile universe."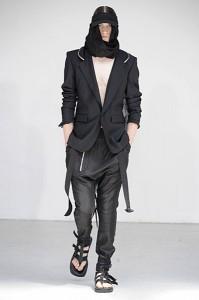 Can't Smell Fear goes spicy to start as pink pepper and nutmeg give a slightly sweet, slightly piquant introduction to the heart. That heart is musk, cedar and incense all orbiting orris. The base turns into a refined leather accord which has some sandalwood but it is almost entirely leather in nature. Can't Smell Fear is a fragrant leather jacket full of attitude that will suffice in that "urban somewhat hostile universe".
No. 4 Ascent by Rad Hourani and Christophe Raynaud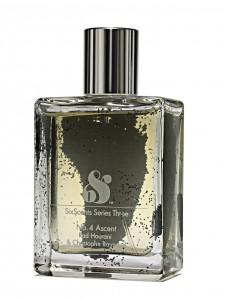 Christophe Reynaud gave the inspiration behind his co-production with Rad Hourani on Ascent as:
"I was inspired by Rad's vision of the cycle of life, going from birth to death, from ashes to ashes, as in David Bowie's song. ….. The result is a contrasting fragrance, luminous yet dark, shiny and mate, like Rad's fashion."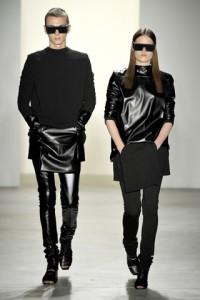 Ascent definitely begins as a very green fragrance with violet leaf made to feel a little less sharp by the presence of a watery accord. It transitions in to a very leathery phase which is made less animalic by cedar and rose adding in distinctly woody and floral notes to it. Ascent concludes on a resinous note as incense grounds the entire composition. I'm not sure about the "cycle of life" but it definitely is "a contrasting fragrance, luminous yet dark".
No. 5 #087 by N.Hoolywood and Stephen Nilsen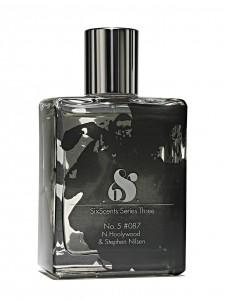 When I attended the N. Hoolywood Spring 2011 menswear collection, at last September's Mercedes-Benz Fashion Week in New York, I really liked Daisuke Obana's designs. They had a feel of a modern Japanese aesthetic applied to a 1920's era wardrobe. I was expecting the same from a fragrance with N. Hoolywood on the bottle. The perfumer, Stephen Nilsen chose to raid Mr. Obana's childhood for his inspiration:
"For Daisuke's fragrance, I wanted to capture a quintessential moment from his life that had made an impression on him– an olfactive snapshot that defines who he is. When we first spoke, he wanted a fragrance to recreate the feeling of arriving in Los Angeles airport from Japan 30 years ago."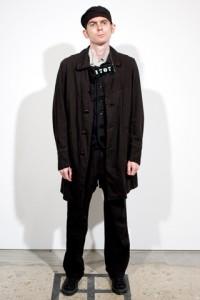 M. Nilsen does this quite well and it makes #087 the most interesting of the Six Scents in this series. It starts off in a very austere, clean Japanese woodiness from Hiba wood, cypress and sugi leaves add slight greenness to the top notes. Then as #087 arrives in LA it carries a distinct Jiffy Lube note of motor oil over a marine accord. If you are a fan of the oil can accord of Knize Ten, #087 will be something you will want to try as it is similar throughout the middle phase of #087's development. The choice of adding a marine aspect to it is different and I found it unusually good on me but I don't think this is a fragrance for the casual perfumista. Even though the base settles into a traditional spicy woody mix of nutmeg and sandalwood the trip from Japan to the US and the attending clash of culture is quite creatively displayed in the early part of #087.
No. 6 M by Ohne Titel and Yann Vasnier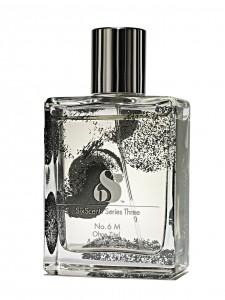 Another designer who was really eye-opening this Spring 2011 Fashion week was the team of Alexa Adams and Flora Gill who create the Ohne Titel collection. Their choices of a very narrow palette of white, navy, and black made sure that it was their intricate tailoring and the use of neoprene to give a sleek texture to things that made them a standout collection. The palette Yann Vasnier used in designing M was similarly restrained and equally creative as he described what he was attempting to create:
"Meeting Flora and Alexa, you are immediately struck by the level of ease, familiarity and cohesiveness of their conversation together. They build off each other's ideas, sharing the same open vision….. Alexa and Flora spoke about their rebellious side when growing up, night clubs and late outings, the feeling of warm, slightly sweaty skin. I tried to recreate their attention to intricate tailoring, architecture of design, their care of detail…."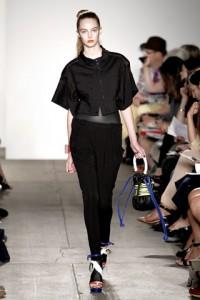 It is that warm sweaty skin accord in the base which makes M my favorite of the Series Three fragrances. Before we get there we start off with a beautiful opening of cardamom zesty and spicy before heading into a very smooth leather in the next part of the development of M. It is once we enter the night club and we start dancing in our leather ensemble that the salty sweaty animalic accord appears. M. Vasnier uses a mix of synthetic musks along with civet, castoreum and tonka beans. As the leather persists and the heat of a body mixes with it, it makes for a very memorable fragrance experience. M. Vasnier has made a fragrance which shows "attention to architecture" through "care of detail".
All of the Six Scents Series Three Fragrances have average longevity and average sillage.
I found that I really gravitated to the more unusual fragrances of #087 and M because they present something different and pleasantly unusual. That is not to say that I didn't find all six fragrances well-executed but with fragrance as with fashion a man has to have his favorites.
Disclosure: This review was based on Samples provided by Six Scents.
Photo Credits:
Images from Spring 2011 Fashion collections from Style.com
-Mark Behnke, Managing Editor