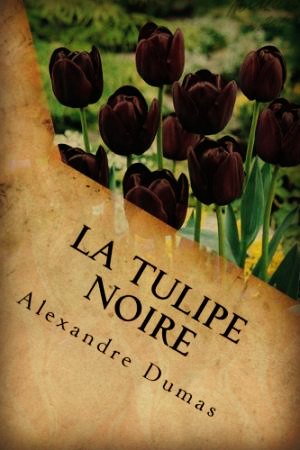 'To have discovered the black tulip, to have seen it for but a moment..." – Alexander Dumas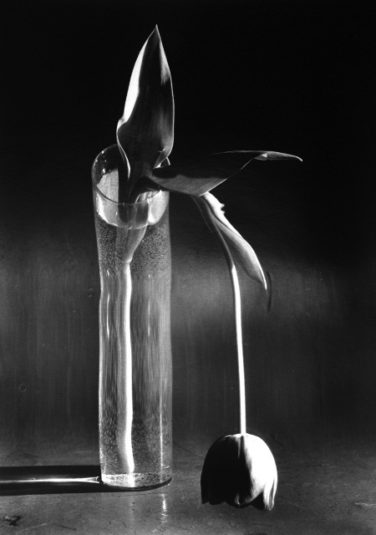 Melancholic Tulip – 1939 Estate of André Kertész/Higher Pictures
In March 2018, Shay & Blue will debut a new fragrant tribute to that most stunning of spring flowers, the black tulip. Since the moment I first heard of the Shay & Blue Black Tulip I have been eager to try it and wondering how creative director Dom de Vetta and in-house perfumer Julie Massé would employ fragrance to convey the illusive hues of the legendary flower.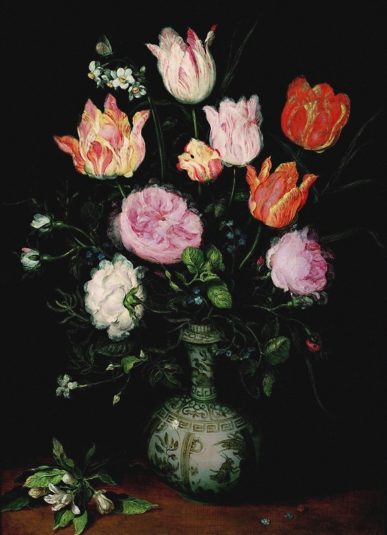 Jan Brueghel The Elder – Flowers In A Wan- Li Vase 1609
The myth of the Black Tulip, the unattainable floral ideal, began with wild species tulips growing in the high mountains of Iran and Central Asia. Artists and poets, Ferdousi, Rumi and Hafez among others, celebrated the beauty of cultivated tulips in paintings and verse. In 1593 the tulip made its way from the high mountains of turkey (via Vienna, Austria), to the low country fields of Holland. Dutch horticulturalist Carolus Clusias and fellow botanists began hybridizing for shape, size and color, unwittingly, propagating bulbs infected with a virus that created stunning flame-patterned blossoms. These "broken" blooms are best seen in the colorful still life paintings of Jan Brueghel the Elder (1568-1625). Before the first decade of the 17th century had passed, Dutch Tulip Mania was in full bloom. A single bulb of the red and white flamed Semper Augustus tulip sold for enough money to buy a house, a horse and a carriage!
Tulips, Robert Mapplethorpe, 1979
Nevertheless, the most sought after tulip of all, the mythical pure black, continued to elude hybridizers. When the speculative bubble in tulip futures burst in 1637, the pure black tulip did exist – but only in the imagination of gardeners, artists and botanists.Published in the year 1850, Alexandre Dumas' La Tulipe Noire, his last major work of historical fiction, revived public interest in the legendary flower. The writer's tale of love, jealousy and obsession revolved around political personalities and events associated with the bulb market crash of 1637.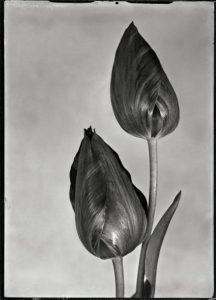 'Tulipa, La Tulipe Noire' by Leenderk Blok
Inspired by the Dumas novella, hybridizers in Holland once again began the search for a true black tulip – a quest that continues to this day. There have been many "not quite black" tulips over the years, 'Queen of the Night', 'Black Parrot' and 'Paul Scherer' to name but a few, all flowering in hues of deep purple, magenta and aubergine.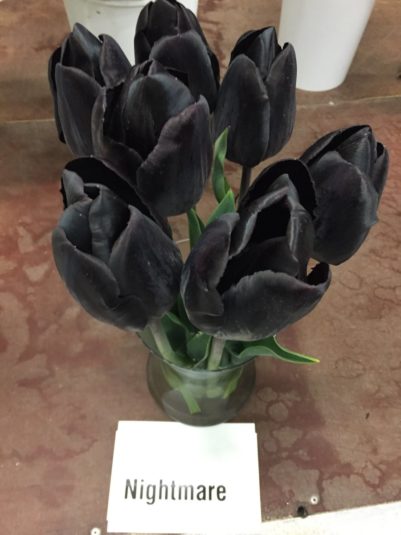 Black Nightmare Tulip via @dutchgrown
In the 21st century, despite advances in genetic engineering, a truly black tulip is still only a dream. The summer of 2017 saw the birth of a tulip called "Nightmare". This new cultivar may be the blackest bloom to date.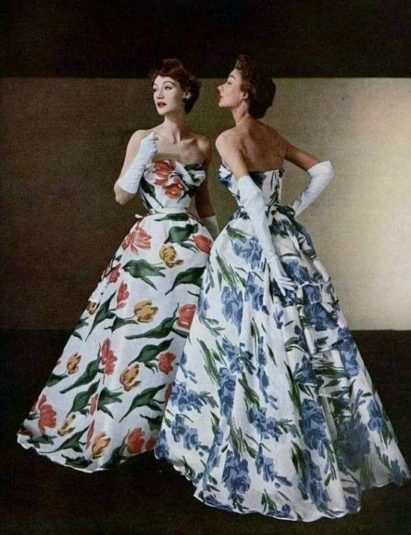 Vintage Balenciaga tulip gowns via flickr
With the introduction of Black Tulip, Shay & Blue joined the writers, poets and visual artists of the past, bringing the image of the black tulip to life, this time as an enchanting perfume. Shay & Blue Black Tulip opens cool and wet, like drops of dew cradled in a the heart of a blossom or the clean white and green of snowdrops dripping with rain. This first breath is colored with the juicy effect of ripe plum and the sweet, delicate freshness of cyclamen.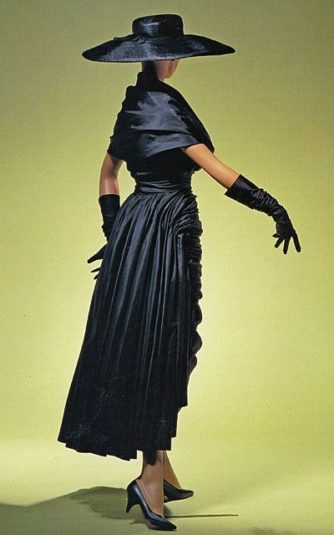 Balenciaga fashion editorial via flickr
Ten minutes pass before I recognize the rare scent of early season tulips. (Only about 15 to 20 percent of tulips have any discernable fragrance). The tulip accord at the heart of Shay & Blue Black Tulip, like the first tulips of spring, treats me to olfactory elements of freesia and fruit. A touch of coconut and white chocolate lend a warm, semi-gourmand taste to the scent of the flowers.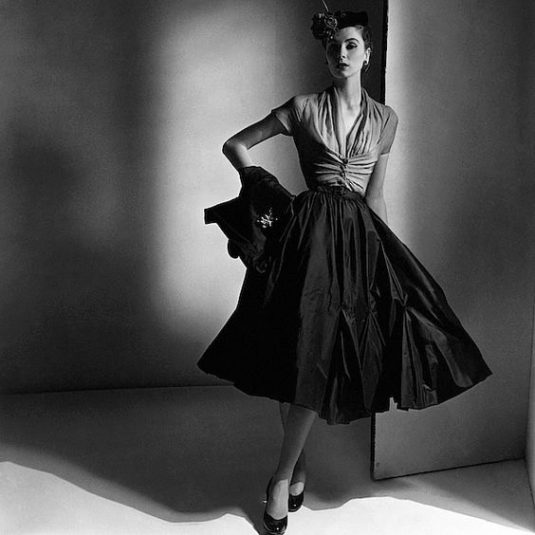 Suzy Parker Wearing A Dior Dress And Jacket, March 15th, 1952 by Horst P. Horst
At about thirty minutes the petals begin to darken as suggestions of black magic come to life in notes of cacao noir, oud and musk. Discrete and elegant to the end, the black tulip of myth and legend lives on my skin for at least eight hours before it disappears into a dark forest of shadowy, soft woods.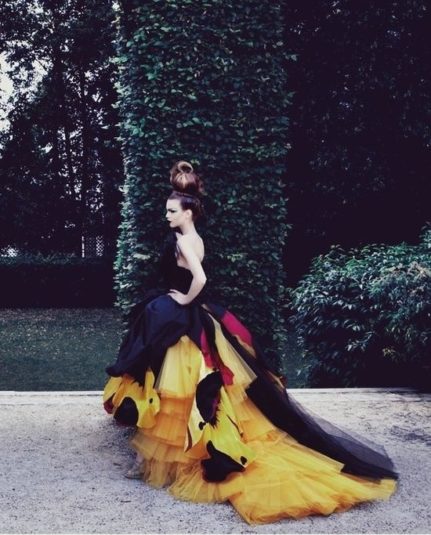 Christian Dior Couture 2010
For years the impossible dream of the black tulip has inspired artists, fashion designers and gardeners everywhere. In Alexandre Dumas' novella La Tulipe Noire, the flower serves as an emblem of perfect human love, blooming and triumphing despite all odds and obstacles. Shay & Blue Black Tulip is a dark, gently tender romance, a fragrant enchantment that carries me from the gloomy days of winter into the new life and promise of spring. Notes: Snowdrops, cyclamen, black tulip, plum, white chocolate, soft woods, cacao noir, coconut, dark oud and musk.
Disclaimer: I would like to thank Shay & Blue and Dom de Vetta for my treasured bottle of Black Tulip. My opinions are my own.
Gail Gross – Senior Editor
Michelyn Camen, Editor-in-Chief and Art Director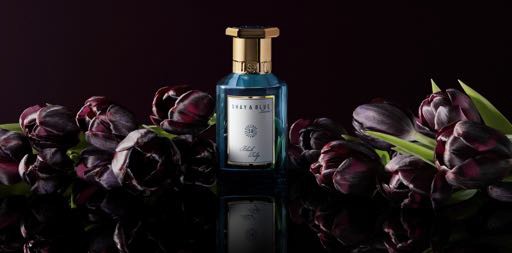 Shay & Blue Black Tulip photo Shay & Blue
Thanks to the generosity of Shay & Blue London and Dom De Vetta we have one 30 ml bottle of Black Tulip for one registered reader in the US, the EU or Canada (be sure to register or your comment will not count). To be eligible, tell us where you live, what appeals to you about Gail's review, your favorite tulip or fragrance by Shay & Blue. Draw closes 2/1/2018
We announce the winners only on site and on our Facebook page, so Like Cafleurebon and use our blog feed…or your dream prize will be just spilled perfume.