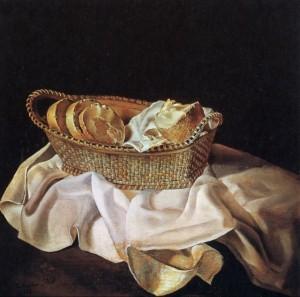 Like many perfumes lovers, Serge Lutens's work has made my heart beat for many years. My First Serge Lutens was "Ambre Sultan", discovered in the famous Palais-Royal boutique but now my 'urge for Serge is a 'constant craving'… " Mauresque", "Tubéreuse Criminelle" or "Santal de Mysore" are part of my fragrance répertoire. In April 2010, I was able to get to the Palais-Royal boutique, going there on the train just to smell the new "baby" Lutens and to get reacquainted with some beautiful bell jars just for fun.
What's the buzz among Parisian 'perfumistas'? The new Lutens smells like bread!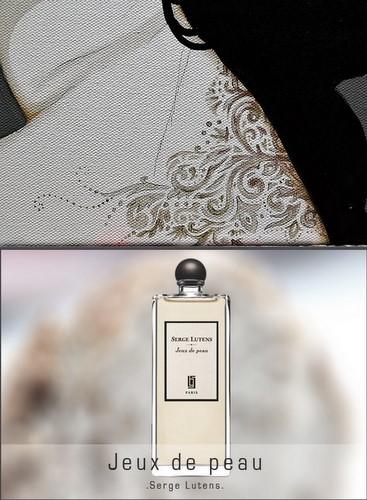 In any case, that's the official statement given by the Master himself, as an "avant-première" at the Salons du Palais-Royal on February 1, 2011 (the rest of the world will have the opportunity March 1, 2011). Hardly the first samples and bottles were circulating in the capital; the nostrils were in full swing to capture the scent of this new composition, aptly named "Jeux de Peau" ("Skin Games").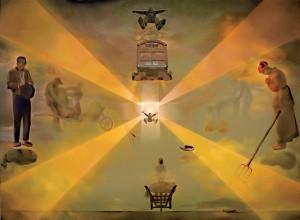 My Journey From the Center of the Earth: Salvatore Dali
The grand launch of a new Lutens is always an EVENT, and I try to attend each one. Unfortunately I had left Paris for the south of France, and missed it, due to working long hours(Oh how difficult especially because I was in Perpignan, near the train station certified "Center of the World" by Salvador Dali). During those weeks, my rare excursions to Paris were like meetings with long distance lovers, much anticipated. But finally thanks to my colleagues I managed to go to the Palais Royal and test Jeux de Peu.
All Lutens are highly anticipated Lutens, but the smell of bread? Many of the earlier SL creations are Oriental and now considered "classics", they were provocative for their day too. Jeux de Peau is a neat construction, both gourmand, childish and sensual. Yes, this "baker's jus" plays with us! And Serge Lutens plays too, as he evokes his childhood in northern France, the smell of warm bread that he would buy at the bakery when coming back from school, a toasted bread, then spread with butter for the 4 o'clock snack..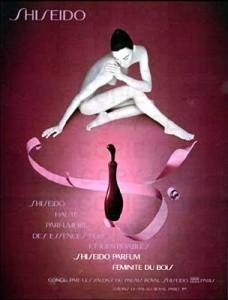 The creator of "Féminité du Bois" is a wonderful storyteller and he takes you into a magical world, often very personal, guiding you like a compass (except for the "Eau de Lutens", that many of his fans, myself included, have not yet fully understood the whys and hows).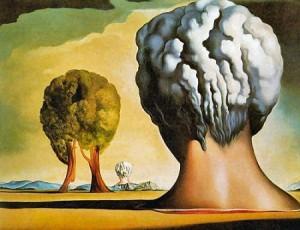 The Three Sphinxes of Bikini: Salvatore Dali
But there's one caveat with the charismatic Serge Luten; sometimes, you feel "obliged" to understand his work exactly the way he explains it to you. With the risk of not being on the same wave length of the Master, you can feel frustrated or ignorant, since you didn't 'get' the same reading on your skin (this is where we have to appreciate our own impressions and judgments and let our unique experience and personality speak).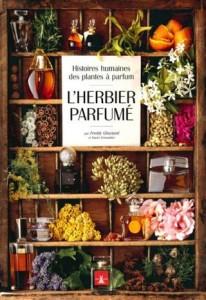 For me, "Jeux de Peau", evoked a French toast ("pain perdu") just turning golden in a skillet and then sweetened with condensed milk spread. The apricot gives a slightly fruity note, which "wakes up " the milky appearance. Now, a big thank to Elizabeth de Feydeau, a great French historian of perfumes, who identified the note that I couldn't put a name to: chicory. This coffee drink, very popular in France for breakfast, adds to the "grilled" perfume sensation and blends perfectly with the world of "Jeux de Peau". In terms of "true" composition, it speaks of sandalwood, spices, licorice, buttery notes … A real fantasy!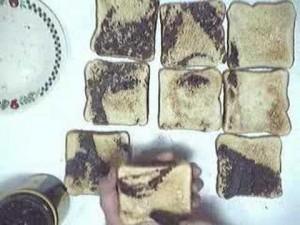 How did I feel wearing the new Lutens? At first a sense of attraction to its warm side, But not love at first sniff I could not tune in on the fantasy behind the fragrance. The day that I really let go and lost my own sense of judgment of Jeux de Peux was when it played games with strangers to my skin – with the friend with whom I met for an appointment, the waiter in the restaurant and my neighbor in the subway; all asked me what I wore … finding this fragrance absolutely delicious. Just like "Carnal Flower" a few years ago, my skin had spoken to others before it whispered to me
"Jeux de Peau" is an invitation to explore both skin games and head games in a fragrance… Enjoy!
Emmanuelle Varron, Contributor
(Michelyn Camen, Editor-In-Chief: Art Director)
Editor's Note: I have not had the pleasure of testing this fragrance, but I am reminded of Fran Lebowitz quote below (Ms. Lebowitz is the quintessential New Yorker known for her wit, recently featured in a HBO documentary Public Speaking directed by Martin Scorsese).
"Do you know on this one block you can buy croissants in five different places? There's one store called Bonjour Croissant. It makes me want to go to Paris and open up a store called Hello Toast."
Fran Lebowitz
UPDATE: THE DRAW IS NOW FOR 5ML FLACONS AND ENDS AT 6PM FEBRUARY 28 AT 6PM THANK YOU TO THE FLAGSHIP PALAIS ROYALE STORE IN PARIS
If you want to discover "Jeux de Peau", please leave a comment. Two names will be drawn and the winners be sent one 1ml sample each directly from Salons du Palais-Royal. Tell us why you have an 'urge for Serge', your favorite SL perfume , a memory of a beloved snack from your youth, a comment on Dali and of course why you want to try this fragrance. Draw ends February 27, 2011 .
*********************En Francais *******************
Jeux de Peau : une arme de séduction gourmande…
Comme beaucoup d'amoureux des parfums, le travail de Serge Lutens me touche depuis de longues années. "Ambre Sultan", découvert dans le fameux écrin du Palais-Royal, a été mon initiateur, mais déjà exercée à changer quasi quotidiennement d'accompagnement parfumé, je lui faisais quelques infidélités fraternelles à coups de "Cuir Mauresque", "Tubéreuse Criminelle", ou encore "Santal de Mysore".
Et quel est le buzz qui fourmille ces dernières semaines dans le tout Paris des perfumistas… Le nouveau Lutens sentirait le pain !
En tout cas, c'est le message que le Maître a malicieusement fait passer pour évoquer sa toute dernière création disponible depuis le 1er février en avant-première aux Salons du Palais Royal et que le reste du monde découvrira le 1er mars. A peine les échantillons et premiers flacons circulaient-ils dans la Capitale, les narines étaient en pleine effervescence pour capter la Vérité de ce nouvel opus, judicieusement baptisé "Jeux de Peau".
La naissance d'un nouveau Lutens a toujours été un véritable événement, et je n'ai jamais manqué d'être au rendez-vous le jour de la sortie. Puis je suis partie dans le sud de la France, et là, j'ai un peu perdu le fil, d'autant qu'à Perpignan, nous avions beau posséder une gare certifiée "centre du monde" par Salvador Dali, en matière de parfumerie, nous étions un peu en bout de quai. De retour sur Paris en avril 2010, enfin, j'ai repris mes bonnes habitudes au Palais-Royal, m'y rendant régulièrement pour refaire connaissance avec certaines créations pour le plaisir du nez, et de l'esprit. Et pour "Jeux de Peau", je ne me suis pas fait prier, d'autant que par le biais d'un collègue, j'ai pu le découvrir avant sa première sortie parisienne.
Tous les Lutens sont très attendus, mais quid de l'odeur du pain ? Bon nombre des précédentes créations ''Lutésiennes'' évoquent l'univers oriental, désormais connus comme des "classiques" mais à l'époque considérés comme provocants. ''Jeux de Peau'' a une construction aussi soignée que ses ainés, à la fois gourmand, enfantin et sensuel. Car oui, il joue avec nous, ce jus boulanger ! Et Serge Lutens aussi, évoquant son enfance dans le nord de la France, l'odeur du pain chaud qu'il allait chercher en rentrant de l'école, ce pain grillé, puis tartiné au goûter…
Le créateur de "Féminité du Bois" est un merveilleux conteur d'histoires ; il vous emmène dans un univers magique, souvent très personnel, avec une ligne directrice très identifiable (si l'on excepte l'Eau, mais là, beaucoup de ses fans, et moi-même, n'avons pas encore complètement compris le pourquoi du comment).
Le seul piège, avec le charismatique Serge Lutens, c'est que vous vous sentez parfois "obligée" de comprendre ses créations comme lui vous les explique. Au risque de ne pas être, parfois, sur la même longueur d'ondes, et de vous sentir frustrée ou trop bête pour adopter son parfum, puisque vous, vous n'en avez pas la même lecture (c'est là où il faut couper le cordon, prendre en compte ses propres impressions et jugements, afin de vous-même l'imprégner de votre vécu et de votre personnalité).
Pour "Jeux de Peau", ma lecture se dirige plus vers un pain perdu, qu'on aurait tout juste doré à la poêle puis qu'on aurait tartiné, à chaud, de lait concentré sucré. L'abricot lui donne une note légèrement fruitée, qui "réveille" l'aspect laiteux. Un grand merci à Elisabeth de Feydeau, grande historienne du parfum, qui a identifié la note qui me tournait dans la tête et sur laquelle je n'arrivais pas à mettre un nom : la chicorée. Cette boisson au café, très populaire du petit déjeuner en France, rajoute en effet une pointe "grillée" au parfum, et se marie à la perfection à l'univers de "Jeux de Peau". Pour ce qui est de sa composition ''officielle'', on parle de santal, d'épices, de réglisse, de notes beurrées… Un vrai fantasme !
Ce que j'ai ressenti, en portant le nouveau Lutens ? Au premier abord, une attirance, un côté doudou, chaud, plus généreux que nombriliste. Mais pas le coup de foudre, en tout cas pas au diapason avec un fantasme inavoué. Ce sont les autres qui m'ont ouvert les yeux… et le nez. Le jour où je l'ai réellement porté, c'est-à-dire pas sur un bout de poignet, mais comme un véritable parfum, l'amie avec qui j'avais rendez-vous, le serveur du restaurant et ma voisine de métro m'ont demandé ce que je portais… trouvant ce parfum absolument délicieux. Tout comme "Carnal Flower" il y a quelques années, ma peau a parlé aux autres avant de me parler à moi-même.
"Jeux de Peau" est une invitation à l'exploration, celle de l'alliance entre la peau et l'imaginaire… A déguster !
Si vous souhaitez découvrir "Jeux de Peau", n'hésitez pas à laisser un commentaire. L'un d'entre eux sera tiré au sort et se verra envoyer par les Salons du Palais-Royal un échantillon de ce merveilleux nouveau parfum…