Jean Patou Joy (1929)
"Perfume and incense bring joy to the heart." ~Proverbs 27:9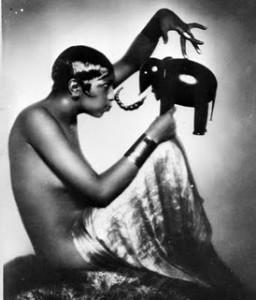 It is said that Josephine Baker sprayed Worth Je Reviens on her pet pig. However, for herself Baker chose the most expensive perfume in the world at that time: Joy by Jean Patou. Born to poverty, Baker must was relished the fact that she could afford such a luxury. The name "Joy" was deliberately picked in response to the somber mood of the Great Depression. The reason for the high price tag is the use of over 10,000 jasmine flowers in every ounce! Joy is a floral erupting in notes of rose, jasmine, ylang-ylang, tuberose, sandalwood, musk, and civet.
The winner of Joy is Elise
We don't contact you, so please email michelyn@cafleurebon.com by March 13, 2011 10:00 AM est. Joy will be subject to a redraw. Like us on facebook, or right here on this page. RSS and never miss the best in scent.
Look for Part 2 in Editor-in-Chief Michelyn Camen's series of literary 'scandalous' women..