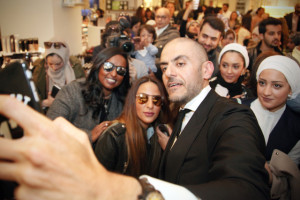 Sheikh Majed Al Sabah taking selfies with his fans Courtesy of WWD
What is it about a large crowd milling about that draws us in. What has attracted them and why aren't we part of it? In Manhattan, this is almost an everyday occurrence; celebrity spottings or gala events. On Wednesday April 13, walking up Fifth Avenue I was curious; why were there a few hundred people in front of New York City's haute temple of fashion and beauty, Bergdorf Goodman's main entrance. I asked the doorman what the occasion was thinking it was a fashion designer. He told me that it was a private event for a fragrance launch at this entrance and that I should enter on 57th Street if interested to shop. A fragrance launch? That was all I needed to hear and I hurried down the escalator to the Beauty Level to seek out the origin of this event. Signage announcing TFK, their fragrance debut and an overwhelming sea fo people, the size I had not witnessed before at Bergdorf Goodman.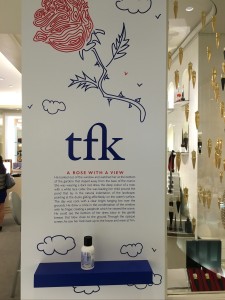 The Fragrance Kitchen TFK signage Bergdorf featuring A Rose With A View: Photo Hernando
I was informed that Sheikh Majed Al Sabah (a member of Kuwait's ruling dynasty) was here to open the first location in the USA for his fragrance brand, TFK (The Fragrance Kitchen) and launch "A Rose With A View", his signature fragrance created especially for Bergdorf Goodman, inspired by New York City. The Prince was also hosting a gala later that evening at the Nomad Hotel (his entourage included friends and family he flew in for the occasion on two private planes). Clearly this was not an ordinary fragrance launch.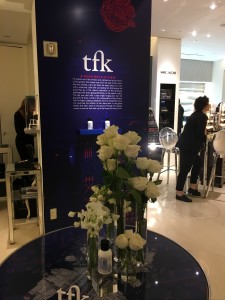 The Fragrance Kitchen TFC Rose with a View Display Photo Hernando
Due to the crowd surge I was not able to get to their counter but was able to secure a spray on my wrist from a free standing bottle. "Rose With a View" is a gorgeous woody floral bouquet that combines rose, bergamot sandalwood and musk. On my way home I stopped in to a shop where the women behind the counter asked what I was wearing. I told to her the back story how I came across the scent and she exclaimed that I should buy it for my wife. The next day, spraying "Rose With a View" on a strip, the TFK Sales Associate said that Sheikh Mahad Al-Sabah created it for his Bergdorf Goodman customers to bring the romance of the Arabic rose to fast paced New York City. He enquired if I would be interested smelling some of his personal favorites and proceeded to present me six in the line of forty available in at Bergdorf Goodman (the TFK line has close to one hundred worldwide). I was impressed by almost every scent.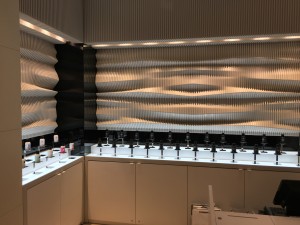 TFK Counter at Bergdorf Goodman Photo Hernando
Back at my office I researched the House. I was sufficiently intrigued and decided then to return once again, Thursday, to smell the entire line and glean some intel from their two SA's."How were so many aware of this launch", I asked. I was told that the Sheikh announced his appearance on social media to his many followers. I would guess that between 500-1000 attended the launch and shopped up a storm; The Fragrance Kitchen sold out of their stock within hours. The Fragrance Kitchen's perfumes' prices range from $225 to $320 per bottle and are created by the Sheikh; from his memories of Arabic souks and European gardens, and his grandmother's kitchen where she blended oils; true to its "East Meets West" motto.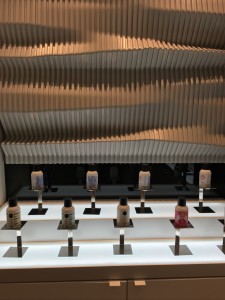 The Fragrance Kitchen Boutique at Bergdorf Goodman
Friday morning, I called the TFK BG boutique to fact check for this article. The SA answered my question and also informed me of a second exclusive fragrance Palm Fiction, available only at the Beverly Hills Neiman Marcus store. She mentioned that she had a tester (hidden) and if I was interested I was welcome to come in to experience it as I have family and many friends in Beverly Hills. I made the trek back to Bergdorf Goodman and had a chance to smell from the tester and spray on my skin a small amount. What I got was Bergamot and Pink Pepper top notes and some Sandalwood, Musk and Patchouli. This is a fabulous gents scent.
TFK The Fragrance Kitchen collection consists of four groupings: Exclusive, the core of the line; My Collection, Al-Sabah's personal scent wardrobe; Tribute, an ode to his favorite cities; and Modern Heritage, an olfactory celebration of the Arab world today. Sheikh Majed credits Tom Ford – with whom he worked closely while opening Villa Moda's Gucci and Yves Saint Laurent boutiques – as an inspirational force behind TFK. The Sheikh mixes his scents by hand at home, then sends the formulas to Grasse, France, where they are reproduced.
Author's Note: The Fragrance Kitchen's boutique launched at Bergdorf Goodman this past Monday and "A Rose With A View" on Wednesday.
–Hernando Courtright, NYC Events Contributor and ÇaFleureBon Brand Ambassador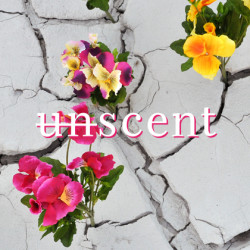 Photo Courtesy of Intertrade Europe UNSCENT URBAN GARDEN
Editor's Note: While at Esxence March 31-April 1, 2016 I was invited to attend the UNSCENT Urban Garden exhibition hosted by Intertrade Europe, who distributes many niche brands including TFC The Fragrance Kitchen, Blood Concept, Agonist, S-Perfumes (Nobi Shioya), A Lab on Fire, Andree Putnam, Danielle Ryans Roads, SoOUd, Czech & Speak Azagury and Boadicea the Victorious. If only I could have cloned myself
We managed to secure a 1/2 ml vial of A Rose with a View and 1/2 ml vial Palm Fiction for a US registered reader. To be eligible please let us know if you had ever heard of The Fragrance Kitchen or Sheikh Majed Al Sabah and if you live closer to The East or West Coast. Draw closes 4/19/2016. There is no spilled perfume.
We announce the winners on our site and on our Facebook page, so Like Cafleurebon and use our RSS option…or your dream prize will be just spilled perfume