Sean Connery as James Bond in Goldfinger
Carnation – the flower of life, love and remembrance. Carnation – the preferred boutonnière of dandies and dancers, stars and statesmen.The delicate, unmistakably spicy aroma of the carnation (also known to many as "dianthus", the flower of the gods) has been incorporated into myriad perfumes for at least a century. Today we have become so familiar with the scent of carnation, either by way of skillfully created accords or expensive carnation absolutes that many of us have come to take for granted this wondrous, fragile flower.
Carnations, illustration from "Laurels From Browning", 1906, from Gail's collection
A list of carnation perfumes reads like a history of olfactory art. I adore the scent of the flower, full blown, wafting from the likes of Krasnaya Moskva (1913- 1925), Caron Bellodgia, (1927) and DSH Perfumes Oelliets Rouges (2003). Olfactory classics such as Guy Laroche Fidji (1966), YSL Opium (1977) and Dior Poison (1985), to name but a few, rely on carnation for a spicy punch or a bright green edge. There is no doubt that the scent of carnation in perfume is at once playful, innocent and provocative. It can even be downright salacious.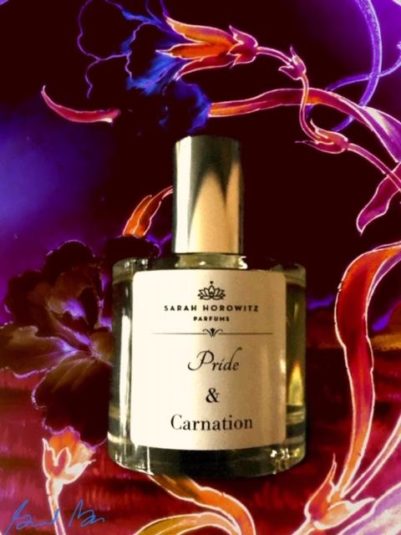 Pride and Carnation Bottle Art by Gail ©
All that being said, I wondered, when I first heard of Sarah Horowitz Parfums Pride and Carnation, if anything original could possibly be said or done with this old floral favorite. My first whiff instantly revealed that Sarah Horowitz-Thran's newest perfume, her homage to the legendary JAR Golconda, is indeed a rare, original, beautifully crafted and balanced carnation. More than a solifore, Sarah Horowitz Parfums Parfum Pride and Carnation is, simultaneously, a fresh, sultry, rich, glimmering, lustrous, velvety-smooth take (Yes! All of those things!) on the flower of the gods.
Sarah Horowitz Thran of Sarah Horowitz Parfums
A Limited Edition Banq de Parfum, Pride and Carnation, named for Sarah Horowitz-Thran's engaging, very personal and self-reflective first experience of JAR Golconda (see Sarah Horowitz Parfums Smell-o-Vision for the full story) opens with a wet, slightly green and spicy carnation, fresh from the garden or the florist's cooler. This bright and gentle wake-me-up wafts just enough peppery sweet clove and cinnamon to put a smile on my face and a twinkle in my eye. Within moments the sparkle of Sarah Horowitz Parfums Pride and Carnation melts into warm, cozy relaxation as an aura born of Moroccan roses, stargazer lilies and what seems to be jasmine lends rich and sensual warmth to the dewy, cool carnation.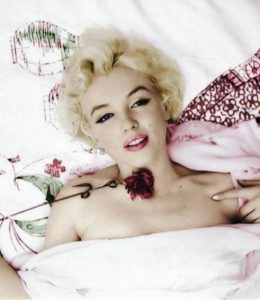 Marilyn Monroe with Carnation Cecil Beaton
Everything that is most alluring and satisfying about carnations and full-bodied florals simmers in the heart of Parfum Pride and Carnation. I simultaneously sense the ruffled edge of the spicy bloom and a hint of the smooth indolic, intimate warmth that characterizes the lush aromas of white flowers. The perfectly proportioned bouquet that is Pride and Carnation lasts for hours, never overpowering, remaining gently pervasive throughout the dry down, supported by nuances of golden amber and resting on delicate suggestions of benzoin and the subtle, deep, dark mysteries of labdanum.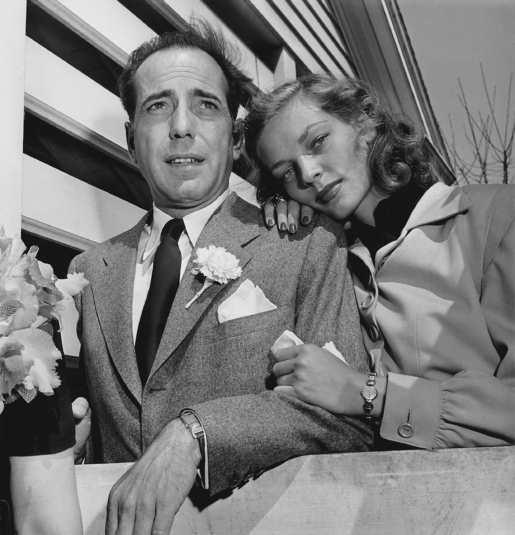 Newlywed actors Humphrey Bogart and Lauren Bacall attending wedding reception at the home of novelist Louis Bromfield. Time Magazine
Even though the unabashed floral quality of Pride and Carnation might seem to suggest a strictly feminine scent, I would love (and intend) to smell Pride and Carnation on my man!
Notes: Carnation absolute, Moroccan rose, Stargazer lily, cinnamon, clove, amber, labdanum and benzoin.
Disclaimer: Many thanks to Sarah Horowitz Parfums for the generous samples of Banq de Parfum Pride and Carnation Eau de Parfum. My review is based on my experiences of the Eau de Parfum as well as the Parfum Extrait, which I purchased myself. My opinions are my own.
Gail Gross – Senior Editor
Art Director-Michelyn Camen, Editor-in-Chief
Pride and Carnation is a limited edition Banq de Parfum and the recipient of two CaFleureBon Best of Scent 2018 awards (Gail and Ida)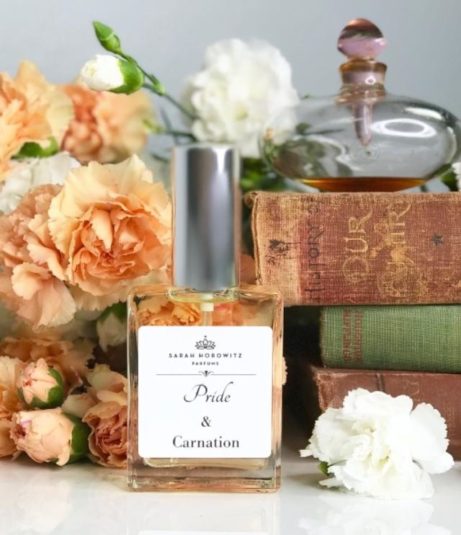 Thanks to the generosity of Sarah Horowitz Parfums, we have one 30 ml bottle of Sarah Horowitz Parfums Pride and Carnation for one registered reader in the Continental US only. To be eligible, please leave a comment saying what appeals to you about Sarah Horowitz Parfums Pride and Carnation, based on Gail's review. You can also tell us about your favorite fragrance from Sarah Horowitz Parfums or if you are inclined to wear carnation perfumes. Draw closes 1/13/2018
Follow us on Instagram: @cafleurebon @azarsmith7 and @sarahhorowitzparfums
We announce the winners only on site and on our Facebook page, so Like ÇaFleureBon and use our Blog feed…or your dream prize will be just spilled perfume.