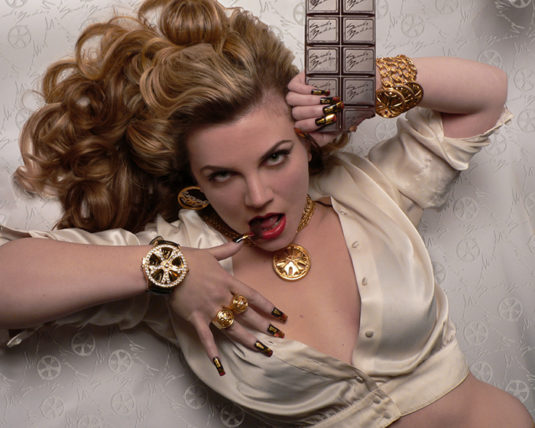 Sarah Baker Time Piece 2007© 8×10 Photographic Edition
London-based artist Sarah Baker of Sarah Baker Perfumes adores that slender thread between authenticity and fakery; she's created performance art, story-telling which revolves around her fully-fleshed fictional characters (one of whom is "Sarah Baker", a well-heeled socialite representative of the nouveau riche). Originally her focus was parodical self-portraiture – which has moved on to soap opera-like tales exploring how we view consumerism, 'personalities' who fashion themselves into icons, marketing themselves, branding themselves: think the Kardashians and Paris Hilton. It's personality, creativity and narrative which matter…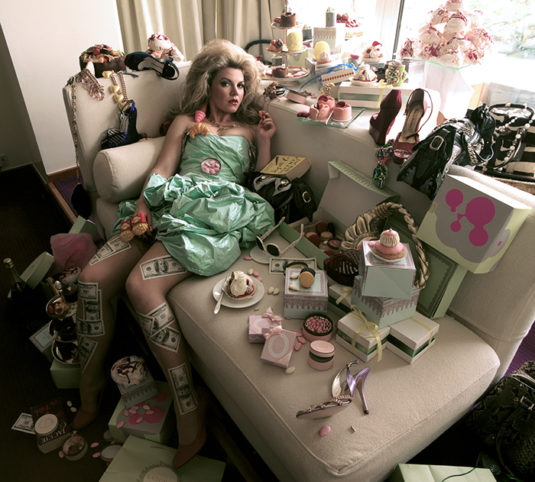 Lucky From Sarah Baker Cakes Series Photo by Ian McKell©
Sarah had invested her considerable energies and talents into every detail: creating her own brand Sarah Baker Perfumes, fabrics (she silk-screened heaps of fabric!); she employed milliners, fan-makers, costume-makers to this end. Why not segue into the arena of aroma: how might the characters smell? What do their environs reveal on an olfactory plane?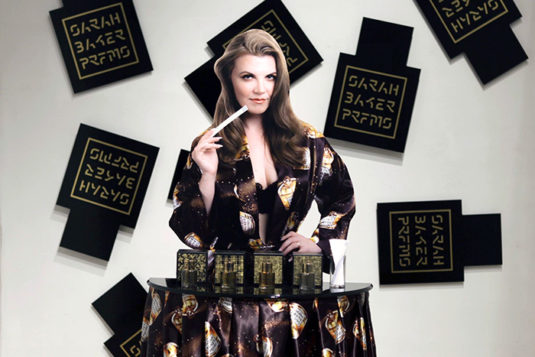 Sarah Baker Installation at the Institute for Art and Olfaction LA 2017
She had been collaborating with perfumer and Director of Education Ashley Eden Kessler from the Institute of Art and Olfaction since 2013; it didn't require much of a stretch. Now, let's investigate two of those fragrant forays. I chose these from the four samples I'd recently received precisely because of their dissimilarity.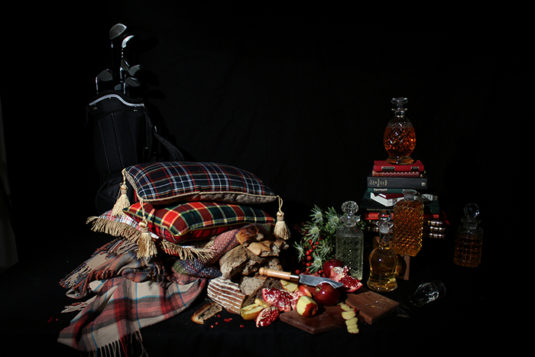 Tartan Perfume Still Life © Photo by Sarah Baker
Sarah Baker Perfumes Tartan (composed by Sarah McCartney): Sarah McCartney of 4160 Tuesdays and Sarah Baker have been hanging out with Her Majesty in the Highlands if the copy has anything to do with it. You'll need both a pedigree and a pedigreed pet; clearly it's corgis only per Regent's request. Sarah suggests that you tuck yourself up in a venerable tartan blanket (The choice of plaid is up to you – but if it were me I'd research them carefully first. Ideally, it should coordinate nicely with your family heraldic crest.) in front of the hypnotic fireplace adorning your vast floor-to-ceiling library. That divan upon which you are reclining is leather, well-weathered. Naturally, you are weary from combing the moors in pursuit of ancient moss-laden ruins with those furry low-hanging fruit nipping at your heels (corgis are SO frisky!). Why not reward yourself with a finger or three of a choice Macallan? You've earned it, after all. Noblesse oblige.
How does it smell? The first blast is potent enough to knock you off your trotters; it's dry, dark and slightly dusty, actually. Cedar cedar. Ms. McCartney has artfully interwoven some intriguing notes – a crust from the morning's loaf pairs nicely with hops and a leather which reminds me more of chaps than sofa. Tobacco leaves are dry regardless of the humidor.'s efforts. The inimitable Scottish damp is evoked by resinous, smoky boozy Buddha wood and seaweed-and-humus redolent Cedarmoss. Hedione's radiance and diffusivity beside tannic aromatic jasmine tea bestow lift. In the drydown Tartan smells like a really posh, weedy dank manor, in the best possible fashion. Wear it with tweed, jodhpurs and Wellies. Notes: Virginia cedar, Atlas cedar, Cedarmoss, bread, leather, hops, tobacco, Buddha wood, Hedione, jasmine tea, labdanum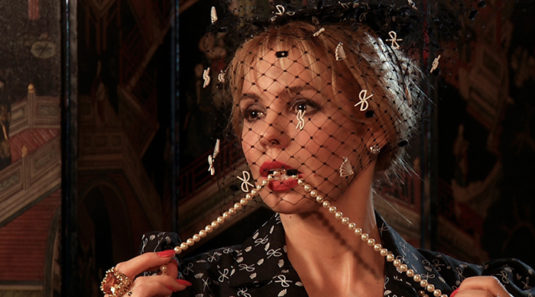 Sarah Baker Impirioso © film still Starring Olivia d'Abo
Sarah Baker Perfumes Leopard (composed by Ashley Eden Kessler): It's a night on the town in a chauffered limo: anything goes, and it already has. If you think that a dash of rose and violet is going to save your sorry hinder… well. Think again, my dear. Not bloody likely (NBL for short, in our house). You are getting up to all sorts of mischief and the night's not over yet. Cassis really would prefer to be fruity but she'll only tarry there: cast in unholy wedlock with a generous dose of galbanum, vetiver, patchouli and labdanum she yields up her cat-urine glory and the combined effect is distinctly cannabis. We'll pepper her with spice, a powerhouse woody amber (Cetalox), underscore it with darkly musky castoreum and gentle it with honeyed beeswax and cushiony Cashmeran.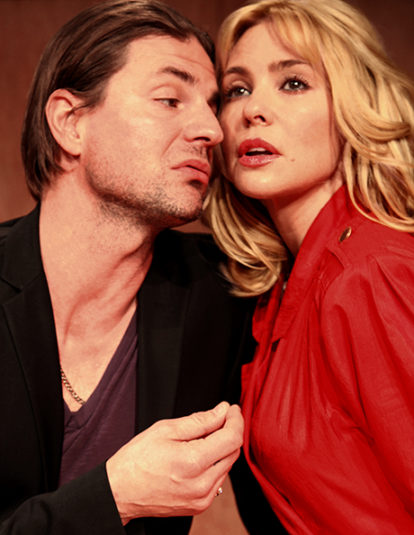 Sarah Baker© Rocco Rosso Riche Live at National Theatre Studio London Starring Olivia d'Abo and Gale Harold
Here we are, up against the pub railing snogging a complete stranger – doesn't it feel good? There's no room between you two for the Holy Ghost. That seedy barroom floor doesn't look any too clean, but you're too blotto to be bothered. Back in the limo, you're leaning out the moon roof inhaling the night air and bellowing the lyrics to the Spice Girls: "Tell me what you want, what you really, really want."
Notes: frankincense, black pepper, cardamom, galbanum, cassis, rose, violet, sandalwood,patchouli, vetiver, labdanum, Cetalox, castoreum, beeswax, Cashmeran, musk
Samples kindly provided by Sarah Baker Perfumes– thank you! My nose is my own…
~ Ida Meister, Senior Editor and Natural Perfumery Editor
~ Art Direction: Michelyn Camen, Editor-in-Chief
Thanks to the generosity of Sarah Baker Perfumes we have one a reader's choice of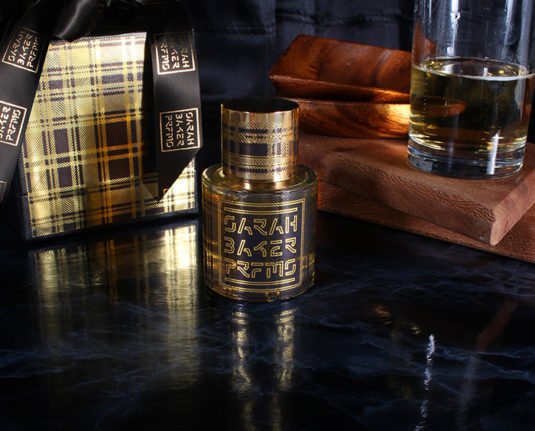 Sarah Baker Perfumes Tartan by Sarah Baker©
OR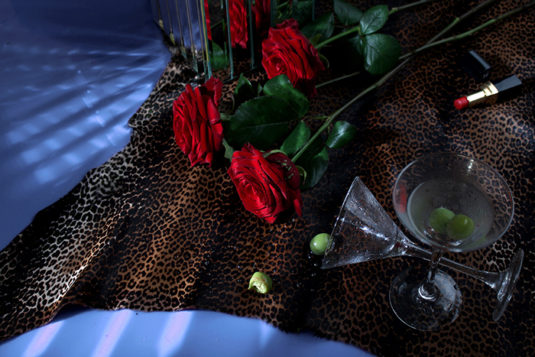 Sarah Baker Perfumes Leopard EDP photo by Sarah Baker©
available to one registered reader in the E.U. USA or Canada. Be sure to register or your comment will not count. To be eligible please let us know where you live and what appeals to you about Ida's review of Sarah Baker Perfumes Tartan and Sarah Baker Perfumes Leopard, and which you would want to win Would you preder a night on the town in a chauffeured limo or wandering the moors with the Queen and a stallion? Draw closes 10/18/2018
At the Experimental Scent Summit, 2018 Group selfie bySarah McCartney©. Also pictured Dawn Spencer Hurwitz, Beckielou Brown, Maxwell Williams, Oswaldo Macia, Julieanne Lee, Sarah Baker, and Anna D'Errico.
Note: ÇaFleureBon has been a proud media partner with Art and Olfaction Awards since 2015
We announce the winners only on site and on our Facebook page, so Like ÇaFleureBon and use our Blog feed…or your dream prize will be just spilled perfume.