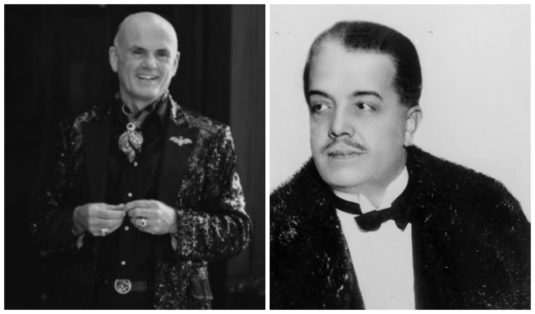 Roja Dove and Segei Diaghilev
Imagine a perfume so evocative it can summon ghosts. That is the feeling I get when I smell Roja Parfums Diaghilev.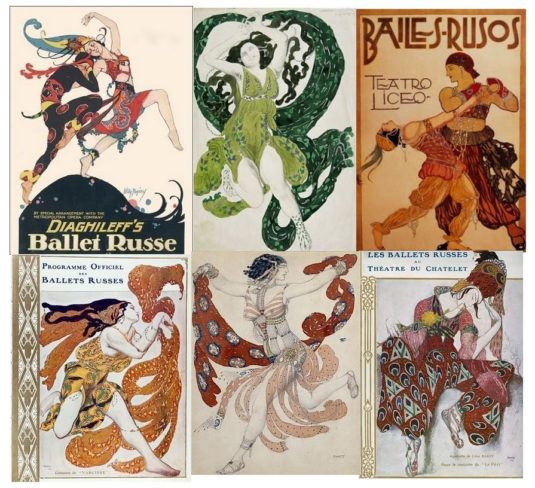 Ballets Russes Collage
I am transported back in time to the early 1900s when Russian born Sergei Diaghilev changed the history of dance, art and music with his visionary Ballets Russes dance company introducing ballet and Russian culture to a largely European audience. During this time (1919), Jacques Guerlain debuted Mitsouko, considered one of the greatest chypres of all time and said to be worn by Diaghilev himself.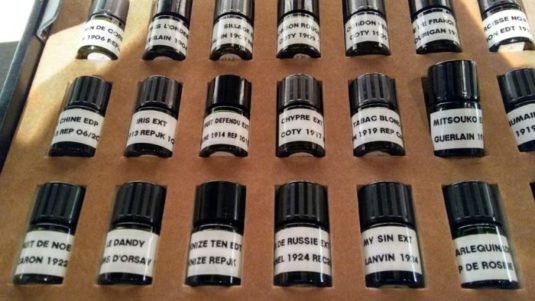 Photo By Michelyn(Mitsouko middle row second from right)
Roja Dove was inspired by both the period and the perfume to create his modern masterpiece Roja Parfums Diaghilev evoking the 1919 original but bringsing a modern sensibility to the time honored classic (which I had the opportunity to smell at the Osmotheque booth at Esxence). Roja Parfums Diaghilev is built on a similar chypre structure of bergamot, oakmoss, and labdanum. And like Mitsouko, Roja Parfums Diaghilev opens with the most exquisite peach note, but Roja Dove puts his own signature on this perfume. Each time I wear this luxury parfum extrait, I get a "ghost" trail of another ingredient—the sweetness of ambrette, dark dryness of leather, ripe fruit and animalic musk. It is simply one of the most exquisite perfumes of the mid-2000s.
Sr. Contributor Sebastian Jara of the YouTube Channel Smelling Great, and founder of a popular Facebook group, admittedly told me that Roja Parfums Diaghilev was one of the most difficult fragrance he has ever reviewed, as its beauty and complexity as a chypre is unequalled. –Michelyn Camen, Editor-in-Chief
DISCLOSURE: Sebastian and I received our bottles of Roja Parfums Diaghilev for use in a review, opinions are our own.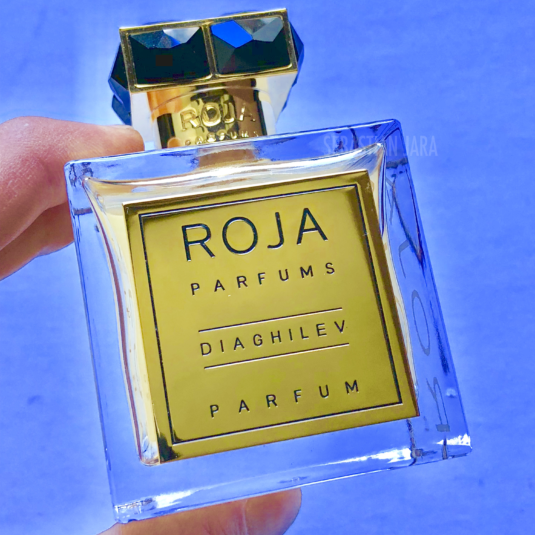 Thanks to Europerfumes the US distributor of Roja Parfums have a 100 ml tester bottle of Roja Parfums Diaghilev for a registered CafleureBon reader and Smelling Great subscriber in the USA (if you are not sure if you are registered click here (you must register on our site or your entry will be invalid). To be eligible please leave a comment ON THIS SITE with what you enjoyed about Sebastian's YouTube review AND Michelyn's written introduction, if you have a favorite Roja Parfums or favorite chypre. Draw closes 7/17/ 2018. You can follow us @cafleurebon @lookfeelsmellgreat @rojaparfums @official_europerfumes on Instagram.
Please note that the winner may not be announced on 7/18/18. It will be announced in order
You can purchase samples of Roja Parfums Diaghilev at Luckycent.com and if you live in NYC, be sure to stop by Bergdorf Goodman to smell (and buy).
We announce the winners on our site and on our Facebook page, so Like Cafleurebon and use our Blog feed…or your dream prize will be just spilled perfume