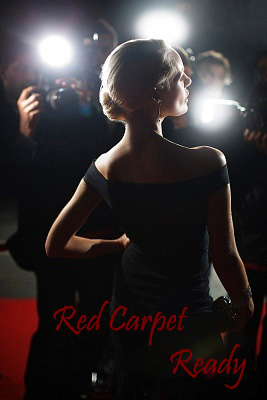 With the awards season in full swing and our DVRs filling up with the Golden Globes, the SAGs, Sundance, the Grammys and the Oscars, we've been wondering how current red carpet celebs compare to the iconic stars from yesteryear. While results are mixed, a handful of stars have successfully pulled off timeless looks that channeled old Hollywood glamour, thanks to the help of some brilliant beauty products. We picked the best of the lot and paired them with perfume suggestions we think express their sense of style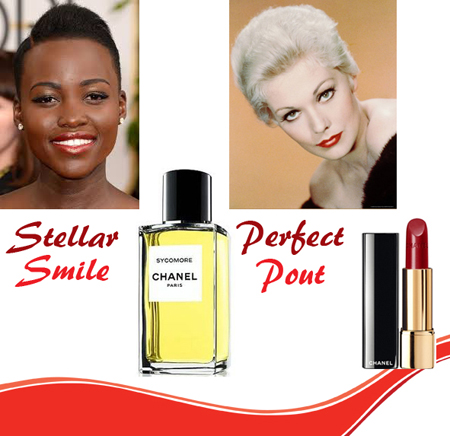 Lupita N'yongo (Photo Courtesy of Chanel) at the Golden Globes, Kim Novak Studio Shot, Chanel Rouge Allure Luminous Intense Lip Colour Pirate, CHANEL Les Exclusifs Sycomore EDT
The simplest shortcut to achieve instant glamour is with a red lipstick; we know the color that strikes fear in the hearts of many women who think they cannot "do red". Lupita N'yongo (the young actress whose breakout performance in 12 years A Slave, earned her Best Supporting Actress at the Golden Globe and SAG Awards) and Kim Novak, who won a Golden Globe for Best Young Actress of the Year in 1948, may not seem to have much in common, but that is exactly why we are pairing them. Understated makeup and a perfect red pout look great on all skin tones.
At the Golden Globes, Chanel makeup artist Nick Barose filled in Lupita's lips with lip liner Le Crayon Lèvres Precision Lip Colour in Rouge Profond, and then topped it with CHANEL Rouge Allure Luminous Intense Lip Colour in Pirate, applied with an angled lip brush. Whether you're pale as parchment or reach for the darkest shade of foundation, wearing a beautiful red lipstick with blue undertones instantly turns up the wattage of your smile.
Lupita has a unique contemporary style and if we were her scent stylists, we would choose Chanel Les Exclusifs Sycomore Eau de Toilette for Lupita (available chanel.com). Sycomore is bold, self-assured without trying hard. It does away with extraneous embellishment to present warm, bold balsamic notes such as toasted nuts, vetiver, tobacco and sandalwood, glamourized with the signature Chanel aldehydes.This fragrance was originally envisioned by Coco Chanel in1930 and carries through Chanel's aesthetic of less is more. Executed by Jacques Polge in 2008, it is the bridge between modern Hollywood and timeless chic.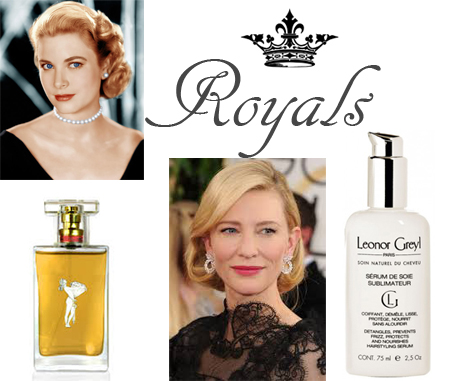 Grace Kelly Black dress Studio Shot, Tommi Sooni Jinx perfume, Kate Blanchett at the Golden Globes 2014, Leonor Greyl Serum de Soie Sublimateur
Royals
Cate Blanchett, who snagged Best Actress accolades for Blue Jasmine at the Globes and SAG Awards, wins our "chic hair" award hands-down, with her modern version of the iconic Oscar and Golden Globe Best Actress, Grace Kelly's luminous waves. While some other attendees strained for style, Cate kept it simple and regal with an elegant look that accentuated her delicate features rather than competed with them. To create this look, stylist Ricardo Rojas for Leonor Greyl gave Cate's fine hair lift with Leonor Greyl Voluforme hairspray, working her hair into an updated bob with Leonor Greyl's Natural Boar Bristle Brush. He added thickness and subtle luminescence to Cate's locks with Serum de Soie Sublimateur.
As for her scent? We would spray this Australian princess with Tommi Sooni Jinx,(available at Indigo Perfumery). Until Tommi Sooni, Australia wasn't known for fine fragrance, and this one gets top billing with its lush floral bouquet of lily, rose wardia, and ylang ylang, worthy of Grace Kelly's bridal bouquet. Green notes of fig, basil and a blast of aldehydes add a cool classic vibe that is a modern day homage to vintage perfumes of the past.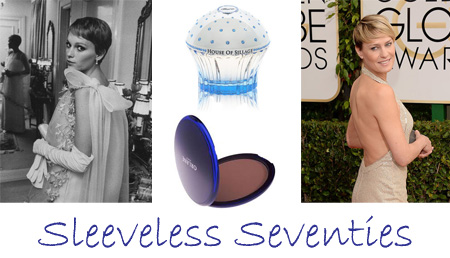 Mia Farrow 1979, House of Sillage Tiara, Orlane Paris Bronzing Pressed Powder Soleil Cuivre 02, Robin Wright at the Golden Globes 2014
One of the strongest themes running through the awards season so far this year is 1970s style, perhaps inspired by Oscar frontrunner for Best Movie American Hustle. Golden Globe winner Robin Wright's skin glowed and she showed off this look beautifully, wearing a backless halter gown that reminds us of nine time Golden Globe nominee Mia Farrow in 1979. Can you get away with showing this much skin if you don't have a personal trainer and make-up artist on call? Yes, if you have Orlane's Refining Arm Cream and Bronzing Pressed Powder Soleil Cuivre 02. Robin Wright's makeup artist applied the former to moisturize and tone her skin, and the latter to contour (contouring helps slim arms in high definition!). Of course, this bronzer is perfect to give your face a sunkissed look sans soleil. Two easy products made the sleeveless part of Ms. Wright's grand entrance perfect (too bad Orlane couldn't help her with the wardrobe malfunction!).
For a updated 70s' style fragrance, try House of Sillage Tiara, available from Parfumerie Nasreen. This floral chypre starts off fresh and clean with Calabrian green tangerine and cinnamon, then becomes effortlessly feminine with heart notes of bulgarian rose, peony and cedar. Warm notes of Madagascar vanilla, musk and amber keep the composition in perfect balance.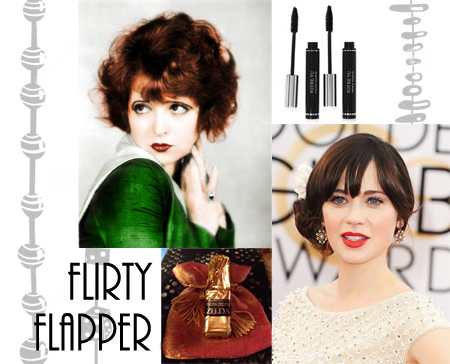 Zooey Deschanel at the Golden Globes 2014; Clara Bow, studio still, year unknown; Votre Vu Eiffel Power Mascara; En Voyage Zelda Perfume
Zooey Deschanel knows one of the biggest secrets of red carpet beauty– play up your best feature. Because her eyes are so arresting, they need little to dress them up except to accentuate her lashes. Although their coloring is different, her style harks back to first generation movie star Clara Bow, who also played up her eyes and did a cupid's bow mouth. This jazz age look requires a first rate mascara to make the eyes stand out. To accent your own eyes, Votre Vu Eiffel Power Mascara in Carbon creates volume and curl by individually coloring every lash from root to tip with an innovative brush design. It also deposits cellulose fibers for extraordinary length, creating the drama of false eyelashes without looking at all fake. It provides that dark dramatic lash that flappers used to communicate with flutters.
For a fragrance worthy of the world's most famous flapper, try Envoyage Perfume's Zelda, inspired by the wife of F. Scott Fitzgerald, 1920s it-girl extraordinaire. Its citrusy, spicy top notes mix with a heady heart of magnolia that magnetizes, while vintage versions of accords like sandalwood, mousse de chene, musk and vetiver makes us kick up our heels.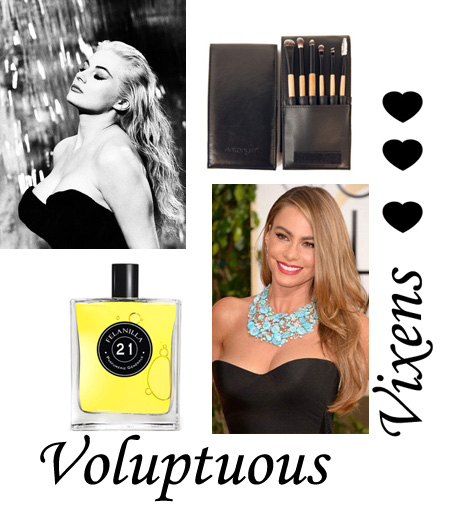 Anita Ekberg in the Fellini Film La Dolce Vita 1960, Antonym 6 piece EyeBrush kit, Parfumerie Generale Felanilla, Sophia Vergara 2014 Golden Globes
Two time SAG award winner, and four time Golden Globe and Emmy Nominee Sofia Vergara has stand-out sex appeal on any red carpet. She has gorgeous hair, a figure that would make Jessica Rabbit jealous and magnificent cleavage, but much of her appeal are her sultry cats eyes, reminiscent of Golden Globe winner Anita Ekberg at the height of her glory in La Dolce Vita. If you don't have an A-list hairdresser or a C-cup bra, don't despair. Come hither eyes can be accomplished easily with quality makeup brushes like the Antonym Cosmetics 6 piece Eye Set. Moisten the small angled brush and use with dark shadow to emulate the cake eyeliner from Max Factor days. Its delicate size and precise line enables even the clumsiest of us to recreate this look. Every make-up artist agrees the secret to achieving smoldering eyes and a noble brow are in the brushes. This set of sustainable bamboo handle, eco friendly brushes are all the tools you need to achieve red carpet ready eyes in a few minutes.
Seductive eyes calls for a a fragrance that makes them purr. Try Parfumerie Generale's Felanilla, an alluringly animalic Tahitian vanilla. The feline base is warmed up with amber, hay and saffron notes, and claws come out through metallic Italian iris and banana leaf.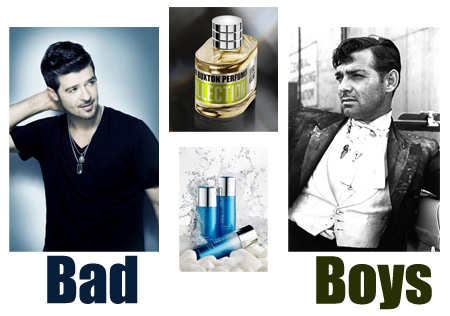 Robin Thicke, Sexual Healing by Mark Buxton, Intraceuticals REJUVENATE Daily Serum, Hydration Gel Moisture Binding cream and Clark Gable
Grammy Nominee Robin Thicke may have "Blurred Lines" of good taste with some of his recent antics, but he looked better at the Golden Globes than most of his masculine counterparts. His look was reminiscent of another famous bad boy, five time golden Globe Nominee Clark Gable, with a pencil moustache and five o'clock shadow. But how does Thicke manage to look great when he's running around from award show to award show with stops in Paris to kiss women he shouldn't?
His secret is the skin care line Intraceuticals which first became famous for its oxygen facials and now offers at-home treatment systems; our pick is Rejuvenate. This time of year, harsh weather can dehydrate the skin, and so can air travel. This innovative professional-grade three-step anti-aging treatment replenishes the moisture in skin of all ages and restores that rakish glow using hyaluronic acid, the finest humectant available. (Kim Kardashian, Molly Sims, Fergie, Channing Tatum, Naomi Campbell and Miranda Kerr are also huge fans.) A few days of this gentle but effective treatment and you'll look like you spent a week with an aesthetician at Sundance. Use Intreceuticals Rejuvenate Daily Serum to hydrate your skin and "blurr lines"
Our scent reccomendation for Robin Thicke is Mark Buxton's Sexual Healing. Its sensuality is as in-your-face as Robin Thicke. Top notes of davana, a powerful aphrodisiac and blackcurrant ,intoxicate, while its heart notes of elderberry absolute and osmanthus beckon and base notes of cistus and castoreum bring to mind warm flesh before and after the deed is done.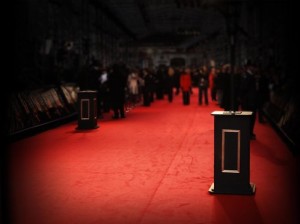 Photo: BAAFTA
Are you ready for the red carpet? Thanks to the generosity of Antonym, Intraceuticals, Votre Vu, Leonor Greyl, En Voyage Perfumes and Orlane. We are giving away a 'Grammy Style' swag bag filled with six gorgeous beauty, haircare and fragrance goodies worth hundreds of dollars to one US resident: The Antonym Eye Brush Kit, Intraceuticals Rejuvenate Serum, Leonor Greyl Serum de Soie Sublimateur, VotreVu Eiffel Power Mascara, Orlane Bronzer and 4ml Zelda Parfum from Shelley Waddington of En Voyage Perfumes. To enter the contest, please leave a comment indicating which of these looks was your favorite, or which was your favorite red carpet moment this year or in years gone by. Draw closes January 28, 2013.
Disclosure: Products were sent to us for promotional purposes or are from our own collection.
The 56th Grammy Awards will be held January 26, 2013 at the Staple Center in Los Angeles. Robin Thicke's Blurred Lines is nominated for Record of The Year, Best Pop Duo, and Best Pop Vocal Album
Nancy Knows, Contributor, and Editor of Make Perfume, Not War with contributions from Michelyn Camen, Editor in Chief
Art Direction: Deputy Editor Tama Blough
We announce the winners only on site and on our Facebook page, so Like Cafleurebon and use our RSS option…or your dream prize will be just spilled perfume.