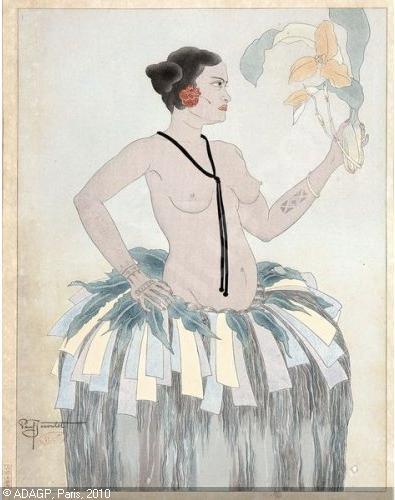 In perfumery, the list of scent notes and accords available to work from is long and all-encompassing, from sweet blossoms to tar. It seems fairly inevitable that there will be a note or two we find incomprehensible, if not downright repellant. My difficulty has been in understanding one of the greatest perfumery notes of all: the noble iris.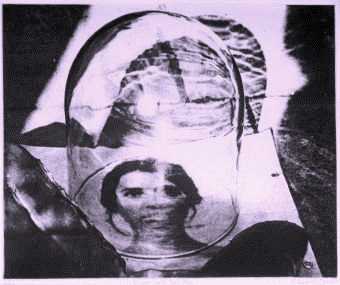 Very early in my days of becoming a devoted perfumista, I read a lot of comments about a fragrance in the Serge Lutens non- export line called Iris Silver Mist, created by Maurice Roucel. The perfume community was raving about this stellar masterpiece of perfumery, so of course I had to order a sample. I dabbed some on, and was immediately both transfixed and repelled. What on earth was this weird rooty smell? I wore it around that evening, taking whiffs, and decided if I ever wore it at all it would have to be to an avant-garde art opening of some kind, just to make a statement, and a slightly unpleasant, anti-social one at that. I didn't exactly dislike it, but didn't know why it was so beloved.
After smelling a few other iris-based scents I determined that iris was going to be a difficult perfume note for me to warm up to, The very popular Prada Infusion d'Iris seemed cold and foreign. A generously-donated sample of the famed Chanel #19 in vintage extrait was too weird to me: harsh, bitter, almost an anti-perfume. What was it about this cold, dreary, graveyard smell that everyone was waxing so rhapsodic about?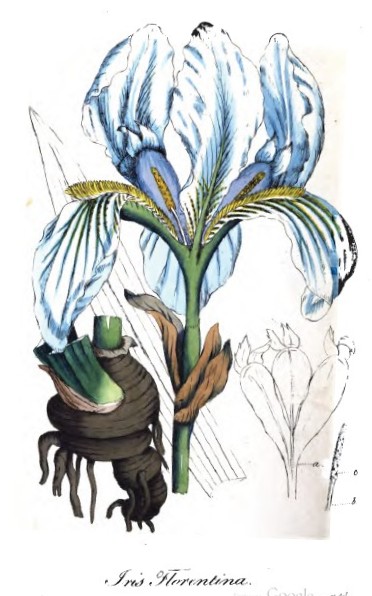 I learned that the scent associated with iris perfume is actually derived from the rhizome of the iris flower, commonly known as orris root. Steam distillation of the iris rhizome produces orris root butter, which is a costly and precious perfumery substance. Since I was obviously missing something, I was determined to find an iris perfume to love.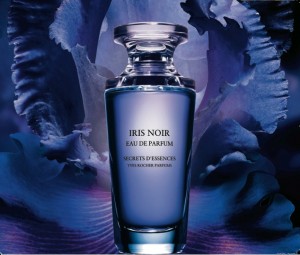 Enter Yves Rocher, a substantial beauty and fragrance company based in France. I took the leap and bought an inexpensive mini bottle of their Iris Noir. I gingerly applied it from the pretty little bottle and was pleasantly surprised. It was fresh and clean, a little floral, and easy on the nose. No graveyard notes here, no damp chill, but a light, fragrant summer breeze. Definitely a step in the right direction!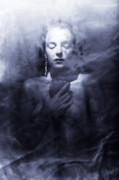 Next up, Jacques Guerlain's masterpiece of melancholy, Apres l'Ondee. I think of this as more a violet scent, and also a bit reminiscent of that paste kids like to eat, but its beauty is unique. The iris brings a bit of damp earth to the exuberance of the violets, lending it that sad air that makes it so hard for some people to wear. I bought a bottle, but I don't think of it as my first real bottle of iris perfume.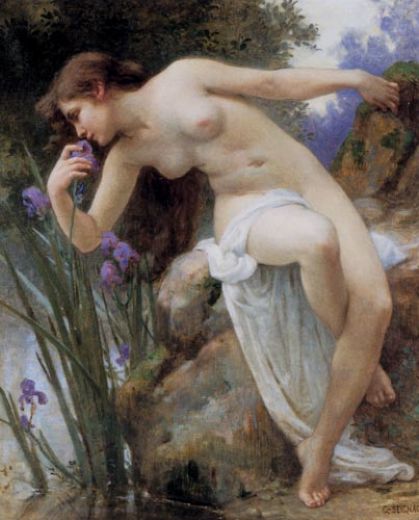 Santa Maria Novella Iris provided me with my true breakthrough iris. This cologne-style, light fragrance splashes on, giving the impression of the scent of a warm spring garden, where the dirt has been freshly turned for planting. Here the violet flowers, while definitely present, take a back seat to the orris, with excellent effect. I swooned around all afternoon after testing Iris on my arm, and went back to buy it not long after. I could feel my nose becoming more in tune with my nemesis note.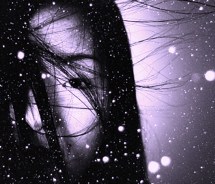 T

he final push over the edge came from the glorious Iris Poudre, by Pierre Bourdon for Editions de Parfums Frederic Malle. Much more floral than other iris scents I had tried, Iris Poudre was a puzzle. With nose to skin, the fragrance is very root-based, and I very nearly decided I didn't like it. Once I caught a whiff of my own sillage, I was hooked. How could a perfume so odd directly on skin create such a divine cloud? More sweetly powdery than other irises I had tried, I was beginning to realize that I preferred an iris tempered by flowers and warmth. Iris Poudre was in the running not long ago when I was looking to add to my Malle collection, but another iris-based perfume in the line, Jean-Claude Ellena's gorgeous and sneaky winter cologne, l'Eau d'Hiver, won out. Two iris scents competing for my affection? I think my enemy has become my friend at last.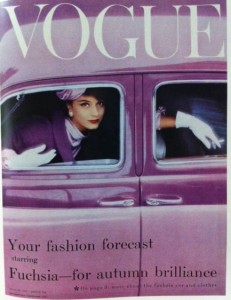 I have found that I appreciate iris when she is wearing a cashmere sweater or eating some candy more than when she is stomping around naked in a snow bank. Some other iris scents I have tried that give off warmth and sweetness over chill are Acqua di Parma Iris Nobile, Guerlain Iris Ganache, Dawn Spencer Hurwitz Route d'Iris, l'Artisan Iris Pallida, Chanel #19 Poudre, and Van Cleef & Arpels Bois d'iris.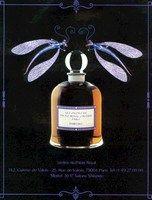 Of course, this journey would not be complete if I did not revisit Iris Silver Mist. Oh, how my nose has grown! Although the iris pallida essence in this creation has exceptional presence, I no longer think of it as a cold mortuary scent. The resins and woods in the composition give it warmth that brings the loamy quality of the iris into a vibrant light. I would be happy to wear it, and am sad that it is only available at the glorious Salons du Palais Royale shop in Paris. Perhaps someday Serge Lutens will release this beauty to the rest of the world.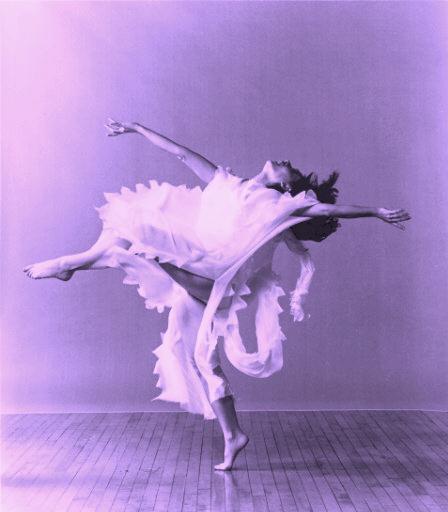 My new iris-loving self might snap it up in a heartbeat, but it had better become an export fragrance quickly, as I have discovered Xerjoff´s Irisss. The exquisite Irisss manages to dance on my skin and become the composite of all those different varieties of iris perfumes I have learned to love in one single scent. It is all about the orris warmed with streaks of earthy coolness and I embrace its complexity, with notes of carrot seeds, orris, absolute of rose and ylang, rare woods and resins, incense and musk. Irisss is easy to love. In the end, isn't that what my journey was all about?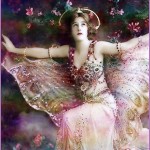 Thou art the Iris, fair among the fairest,
Who, armed with golden rod
And winged with the celestial azure, bearest
The message of some God.
— Henry Wadsworth Longfellow, from Iris
–Tama Blough,Contributor
Art Director: Michelyn Camen
Do you have an ode to Iris.(or just tell us why you want it and why you love Xerjoff) Leave a comment and you are eligible to win a 15ml of Xerjoff Irisss. Draw ends Sept 15, 2011