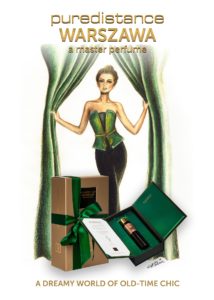 I have noticed Eastern Europe continues to attract so many new readers, niche fragrance lovers and quite a few perfume boutiques have been opening there. Poland in particular.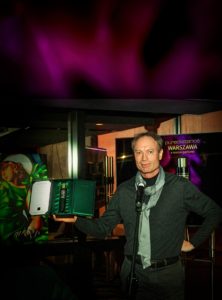 Jan Ewoud Vos
Almost 30 years ago, Puredistance founder Jan Ewoud Vos played the song WARSZAWA from David Bowie. Not only the music itself, but also the sound of the name WARSZAWA deeply touched him and he traveled to the city and learned of it pre-war culture. PUREDISTANCE's new fragrance WARSZAWA was inspired by "the class and elegance of Polish women and the rich history of the city of Warsaw during the golden days of Fashion and Perfume". As a tribute to the name and city of WARSZAWA, the perfume was exclusively available in Warsaw for one year through the perfumeries of Quality Missala in Poland. and the Missala family was also involved in the creative process, showing photos of days gone by.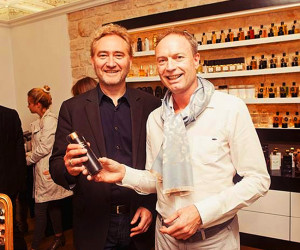 Photo of Antoine Lie with Jan Ewoud Vos 2015
Jan engaged Master perfumer Antoine Lie for WARSZAWA, the 3rd fragrance (Black and White) he has signed for Puredistance. M.Lie was inspired by old photos and Chopin's Nocturne No 20 as well as a short film created by Jan Ewoud Vos. Thinking in colours, WARSZAWA is a composition of noble green, rich golden and chic grey hues.
Notes: Galbanum, Grapefruit, Violet leaf, Jasmin Absolute, Broom absolute, Orris butter, Patchouli, Vetiver and Styrax.
Puredistance WARSZAWA is pure perfume extrait (25% perfume oil) and will be available in November 2017 at select stockists in 3 different sizes: the 17.5 ml perfume spray, a 60 ml perfume flacon and a 100 ml perfume flacon. 175 euro for 17.5 ml, 295 euro for 60 ml and 490 euro for 100 ml.
Via Press Release and my own Synopsis
–Michelyn Camen, Editor-in-Chief
In 2015 Jan wrote one of the most comprehensive and fascinating Creative Directors in Perfumery articles. I encourage you to read it here