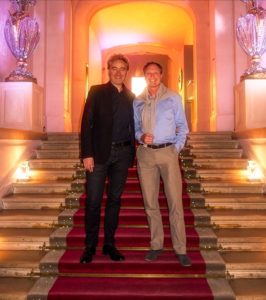 Antoine Lie and Jan Ewould Vos of Puredistance in Paris
Puredistance's WARSZAWA, which is now being offered worldwide after a year of exclusivity in Poland, is a perfume with an inspiration, history and character all its own. WARSZAWA took two years to complete, requiring intensive collaboration between Creative Director Jan Ewoud Vos and Master Perfumer Antoine Lie of Takasago. The inspiration which translated into fragrance emerged 30 years ago when a youthful Meneer Vos first heard David Bowie's intriguingly dark, affecting performance piece Warszawa: Bowie's utterance was hypnotic, riveting, indelible.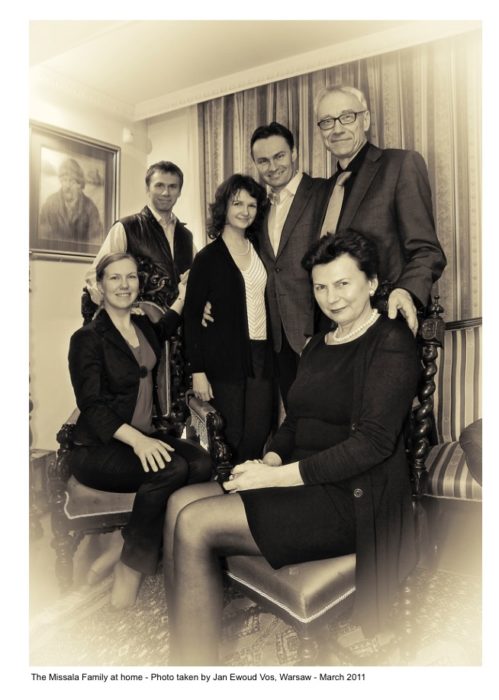 The Missala Family at home: Photo by Jan Ewoud Vos 2011
When Jan visited Warsaw years later, his photographer's eye absorbed its atmosphere as a breathing organism – teeming with activity, elegance, old-world charm. Fashionably garbed women trod its streets, beautifully poised. Jan was enchanted. Jan's relationship with the Missala family – Stanislawa Missala in particular – contributed to his vision of a classically refined voluptuous perfume bearing the bone structure, élan and strength of character which she possesses. A connoisseuse of fine fragrance, Mme. Missala has created niche perfumeries throughout Poland which rival sumptuous boutiques all over Europe. Her vitality and chicté personified the dynamic glamour which Jan wished to convey aromatically.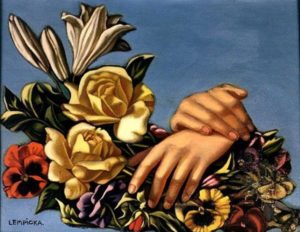 Tamara Lempicka Hands with Flowers© 1946
WARSZAWA is an éblouissant floral chypre, every bit as floral as a chypre can be. There are no timid blossoms amidst lusty feral jasmine and ebullient broom. In folktales, the broom-flower is used to cast a narcotic sleeping spell; it is among my favorite absolutes. Broom has a rich scent profile – honeyed, herbal/floral/fruity, the stuff of dreams. Orris concrete's waxy silvery irones impart a woody violet hue, bestowing yet another layer of floralcy and contributing to its charmeuse-like texture.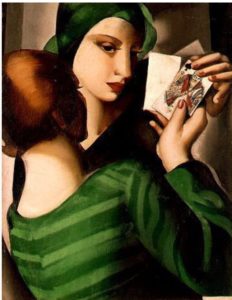 Tamara Lempicka The Card Game 1926
This headiness in the heart is bookended by skillful sleight-of-hand galbanum, grapefruit and limpid violet leaf as introduction (verdantly crisp, watery, sulfur-tinged citrus) and the shadow-selves of patchouli, vetiver and styrax. In such a manner we experience the chiaroscuro which makes this perfume so enigmatic. It is a brilliant composition.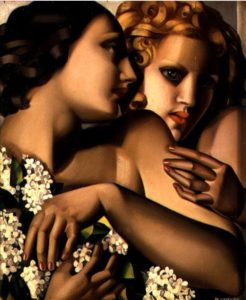 Tamara Lempicka 1920s
WARSZAWA is a further foray into the dominion of classicism, beauty in proportion, as well as fragrant tribute to a modern metropolis which continues to flourish despite its history of travails. It gazes upon the wearer flashing a brilliant smile; its eyes speak of the sorrows it has endured and transcended. WARSZAWA is a floral flourish, triumph over adversity, and the refinement of grace under pressure.
That's how diamonds are formed…
Notes: Galbanum, Grapefruit, Violet leaf, Jasmin absolute, Broom absolute, Orris butter, Patchouli, Vetiver and Styrax
Sample provided by Puredistance; thank you! My nose is my own…
~ Ida Meister, Senior Editor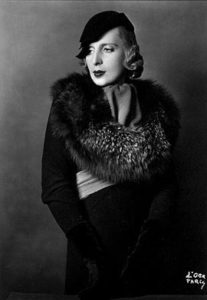 Photo of Tamara Lempicka in Fur Fox 1929 via Lempicka.org
~ Art Direction: Michelyn Camen, Editor-in-Chief (photo images from PUREDISTANCE). I chose the Pre-War and Post-War Paintings of Polish artist Tamara Lempicka. I think she would have loved WARSZAWA. Both perfume brand and artist are instantly recognizable.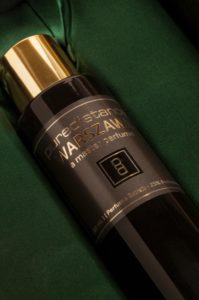 Thanks to the generosity of Puredistance, we have three 2 ml samples of WARSZAWA for three registered readers ANYWHERE IN THE WORLD, so be sure to register if you have not done so. To be eligible, please let us know what appeals to you about Ida's review, which Puredistance fragrance is your favorite, and please "Like" the Puredistance Facebook page.
We announce the winners only on our website and on our Facebook page, so like Cafleurebon and use our RSS feed…or your dream prize will be just spilled perfume.