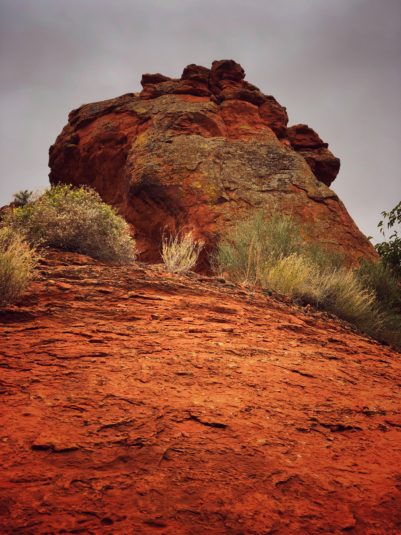 Sedona sandstone photo © by Sandi Lundberg
"God created The Grand Canyon but he lived in Sedona"-New York Times, 1997
Native New England natural perfumer Charna Ethier is always someone to watch: she's a bona fide original with her own distinctive iconoclastic aesthetic. Charna can summon dreams with finesse, including climes and locales I've yet to encounter in my travels. Providence Perfume Co. Sedona Sweetgrass is her latest composition and it's stunningly evocative; I've always longed to experience the desert with its vast coloration and variations of stillness – and now it has me pining for the piñons. The solitary majesty of Sedona, Arizona and its famed red sandstone formations cropping up organically from the soil like mythical beings inspires awe in all but the soulless. It provides the opportunity to feel both at one with the immensity of the universe and one's own cosmic insignificance.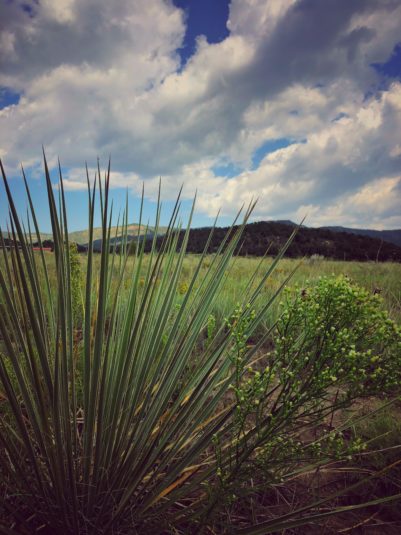 Desert photo © by Sandi Lundberg
Reverence, reflection, and communion, isolation: the gravitational pull of these instills the desire to be alone with nothing more than the bare essentials required to keep body and spirit together. Providence Perfume Co. Sedona Sweetgrass is such a soul-soothing, meditative fragrance, I find. It smells wild and true, gentle and fierce in the manner of untamed and untameable things – in other words, very close to my heart. It's my fond hope that you too will be similarly moved…
Pinecone photo © by Sandi Lundberg
The piñon pine is an ancient conifer possessed of the rich jamminess one sometimes finds alongside their hallmark terpenic quality and tonicity. It combines that brisk, clean aroma punctuated with a hint of lemon, of peach. The coumarin-intense nature of sweetgrass (hay) delivers a hazy glow redolent of fine tobacco which is amplified by the grassy, delicate smokiness of Charna's choice of vetiver and is highlighted by sage's haunting herbalcy. Just a smattering of incense to punctuate; nowhere in this eau de toilette is there an overdosage of any component. What I love about it is its equilibrium, sense of proportion – all is intimated, not cudgeled. The campfire, mezcal are insinuated; they whisper.
"If you find me in a gloom, or catch me in a dream
Inside my lonely room, there is no in between
Whispering pines, rising of the tide
If only one star shines
That's just enough to get inside
I will wait until it all goes 'round
With you in sight, the lost are found." ~ Whispering Pines, written by Richard G. Manuel and Robbie Robertson of The Band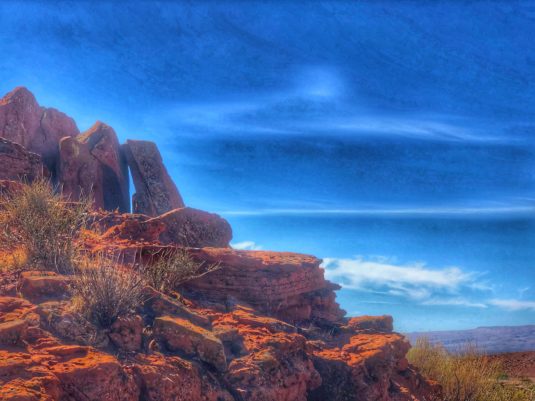 Sedona sandstone photo © by Sandi Lundberg
Part of the wonderful ephemeral character of Providence Perfume Co. Sedona Sweetgrass lies in its fragrant format, eau de toilette, to which this scent is well-suited. This assures that one is not trapped inside a bucket of Pine-Sol, but sheltered underneath the wraith of the desert zephyrs and all the subtleties which that suggests. I suppose I've found myself a new favorite and Southwestern compadre. Notes: Piñon pine, sweet grass, sage, vetiver, incense, mezcal, campfire
Providence Perfume Co Sedona Sweetgrass samples kindly provided by Charna Ethier – I love them. Thank you! My nose is my own…
~ Ida Meister, Senior Editor and Natural Perfumery Editor
~ Art Direction: Michelyn Camen, Editor-in-Chief —With gratitude to Sandi Lundberg, Associate Contributor (who is also a fan of Providence Perfume Co.) for the use of these jaw-dropping desert photos used in the review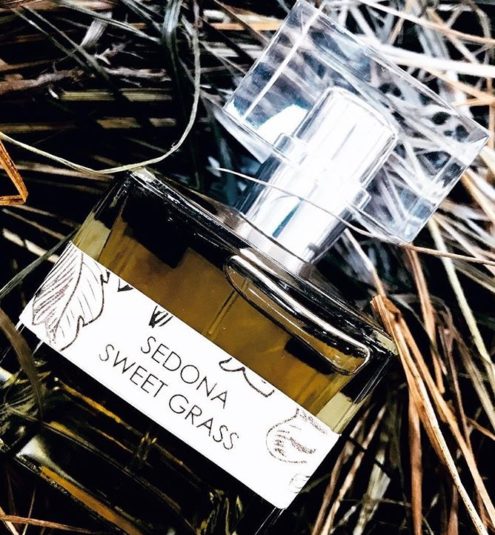 Thanks to the largesse of Charna Ethier of Providence Perfume Co. Sedona Sweetgrass we have one 5ml rollerball of available to one registered reader worldwide. Be sure to register or your comment will not count. To be eligible, please tell us what you enjoyed about Ida's review of Providence Perfume Co. Sedona Sweetgrass, where you live, and what it is about the desert that appeals to you. Draw closes 10/20/2018
We announce the winners only on our website so like Cafleurebon and use our Blog feed…or your dream prize will be just spilled perfume.